Sunday, January 29, 2017
By JC Baumuller
Special to NJS.com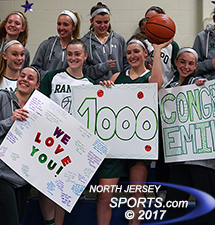 Ramapo had a lot to celebrate with Emily Calabrese scoring her 1,000th career point in a 47-25 win over Holy Angels in the BCWCA Tournament's Round of 16.
DEMAREST – Ramapo withstood an extremely poor shooting performance in the first half to defeat Holy Angels, 47-25, in the Round of 16 of the Bergen County Tournament Saturday afternoon.
"We knew it's four quarters," said Ramapo coach Sandy Gordon. "We've been up, we've been down, we've battled from behind. We're battled tested and we just had to stick with the plan. And they did it."
The Raiders flew out of the halftime locker room with a 16-3 run to break the game open. Senior Emily Calabrese, who had scored 12 of the Raiders' 20 first-half points, got it going with a free throw and drive to the basket. After Angels junior Colby DeBellis tied the game at 23 with a 3-pointer, Ramapo junior Nikki Butler canned a trey of her own. Then Tori Muller tallied a 3-point play, senior Jayne Moynihan hit a shot and Calabrese drained a 3 to give the Raiders a 34-23 lead.
"We picked each other up, played good defense, got some steals and started to get some momentum," Calabrese said.
After a timeout Raiders senior Olivia Kraebel stole the ball and dribbled the length of the court for a layup and the lead was 13. In addition to the increased scoring prowess Ramapo also tightened up its defense.
"I wasn't sure we could guard them man-to-man because, depending on my lineup, we're not the quickest group," said Gordon. "But at halftime I asked them if they were confident they could play man and they said yes."
Junior Elena Pulanco scored 13 of Holy Angels' 25 points.
"We didn't get many shots off in the second half," said Angels coach Sue Liddy." I think our legs got tired and when you're down one kid somebody else has to rotate in."
The "one kid" Liddy is referring to is forward Elizabeth Garcia, a 5-foot-10 senior. She injured her knee against Paramus Catholic earlier in the week. A doctor said he doesn't think it's an ACL and Liddy is hoping it's just a "tremendous bruise." Over the weekend an MRI will determine her status.
"My kids played hard," said Liddy. "Nobody can say they didn't. They got out after them but they were just too big for us. We were way smaller. Without Liz's inside presence it hurts."
Although Calabrese drives to the basket with the best of them, many of her game-high 25 points came from far outside, including one 3-pointer.
"She doesn't usually hit threes like that," said Liddy. "Teaneck killed us with threes and they don't usually hit threes. So every time somebody plays us it's like a 'three-fest. We got her away from the basket and she went out and started shooting threes. What are you going to do? It was tough just to defend."
Holy Angels led for most of the first half. Junior point guard Elena Pulanco, who broke a 6-6 tie with a trey, scored nine of her team-high 13 points in the first quarter. She also hit a buzzer-beater to give the Angels a 15-10 lead and close out the first quarter.
But the Raiders defense, Butler in particular, held her to only four more points the rest of the way, none in the fourth quarter.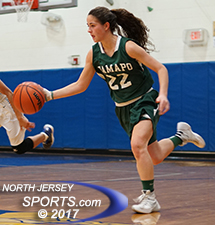 Nikki Butler and Ramapo advanced to the quarterfinals where it will get a shot at defending champ Saddle River Day.
"Nikki Butler did a great job on Elena (Pulanco)," said Gordon. "She's (Pulanco) a great player. They just did a great job. They listened to the scouting report and made plays at both ends."
Holy Angels grabbed an eight-point lead, 18-10, a minute into the second quarter before the Raiders went on an 8-0 run.
Calabrese stole the ball, dribbled coast-to-coast and scored to tie the game at 18. As the ball dropped through the net with 1:44 to go in the half, the horn sounded at the scorer's table and the Ramapo players on the bench and on the court ran toward Calabrese.
She had just scored career points 1,000 and 1,001.
"I had no idea," Calabrese said. "My teammates came onto the court. I was like, 'Oh my gosh.' It was an amazing moment. That definitely picked us up. We knew we had to win."
"Emily had no clue," added Gordon. "That's Emily. She didn't know and that's how we wanted it because you know how that is."
The special moment might have been an encouragement to the Raiders as they headed to the halftime intermission. They had shot poorly but the game was tied.
"We didn't shoot particularly well in the first half," said Gordon. "We did a good job of moving the ball in and out. We know teams are going to try to double us. All the kids are confident. They think the next one's going in. We did a nice job on the defensive end. I tell our kids they can be awful on the offensive end but if we play good 'D' we'll always be in the game."
The Raiders move on to face Saddle River Day, 70-35 winners over Ridgefield Park, in a quarterfinal game February 4 in Fair Lawn.
"It's amazing," Calabrese said. "We didn't even know if we would make it here. We just have to keep playing – we have nothing to lose."
"We had a tough stretch where we had to find ourselves and other kids have stepped up," said Gordon. "We got a couple of kids healthy and we want to be peaking at the right time. I'll take it. We know we have our hands full with Saddle River - they're a great team - but we survived to advance and lived to play another game."
CLICK HERE FOR MORE PHOTOS FROM THIS GAME. TO BUY A COLLECTOR'S PRINT OF THIS STORY, PLEASE VISIT 4FeetGrafix.com.