Sunday, January 22, 2017
By Cory K. Doviak
NJS.com Editorial Director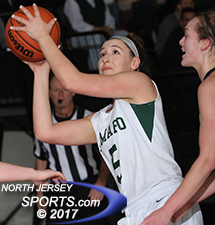 Emily Calabrese scored 10 of her 17 points in the fourth quarter as No. 11 Ramapo came from 10 points down to avoid the upset bid of No. 22 Ramsey,
37-29, in the opening round of the BCWCA Tournament on Saturday.
FRANKLIN LAKES – It was getting to the tipping point, the moment in a game where a team begins to realize that their undertaking just might not be successful. There was 1:17 left in the third quarter of Saturday afternoon's Bergen County Woman's Coaches Association Tournament opener and Ramsey's Cassie Phillips scored on the fastbreak off a lead pass by Victoria Clifton. That gave the upset-minded Rams a 10-point lead on the road at Ramapo and the home team was almost out of answers.
The Green Raiders, the No. 11 seed, could not get anything they threw at the basket to go in. Had they fallen any further behind and if their offensive woes continued any longer, it would have been hard to make the case that they would be able to mount any kind of meaningful comeback. Ramapo had yet to make a single second half field goal, they were a combined 4 of 10 from the free throw line to that point and Ramsey's senior 1,000-point scorer Hailey Reynolds had established herself as the best offensive player on the court.
Something had to change and Ramapo senior Olivia Kraebel knew it.
"We had to lift the energy in the gym," said Kraebel. "And we had to do it together. We needed our fans our bench, everyone. We needed to get some momentum going. Ramsey kind of took us out of our game in the first half and the end of the third quarter was crucial."
Kraebel started the comeback innocently enough by making one of two free throws, but it only grew from there and did so in a hurry. Kraebel scored six points in the final 1:10 of the third quarter and then opened the fourth with a 3-pointer for a personal 9-0 run that got the Raiders right back in it and the defense did the job from there.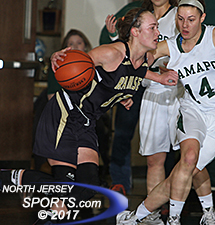 Senior Hailey Reynolds scored a team-high 17 points for Ramsey.
Ramapo held Ramsey to just two points over the final 9:37 of the game and, although it might not have been pretty, the Raiders escaped with a 37-29 victory that puts them in the Round of 16 next weekend against sixth-seeded Holy Angels.
"The last thing I put on the board and a big thing that we talked about was survive and advance. It is counties and it can be ugly, but as long as we are on the right side of it, we'll take it," said Ramapo head coach Sandy Gordon. "I also reminded them that a game is four quarters and we kept hanging around until we could make enough shots and enough free throws to get by. Credit to Ramsey. They made it tough on us."
Ramsey did make it tough and that the Rams were in a position to take a 10-point lead in the second half of a Bergen County Tournament game is testament to their perseverance. Ramsey started the season at 1-5 and was 2-6 after eight games before running off four straight wins to come into the tourney at an even .500. The Rams had momentum in terms of their season and in the game, which they opened by scoring the first seven points.
Ramapo recovered from the early blitz behind three straight buckets by Tori Muller and it trailed by only one point, 11-10, at the end of the first quarter. The second quarter ended in a 5-5 stalemate before Ramsey made another bid to pull away in the third. Victoria Clinton opened up the third quarter with a 3-pointer that kicked off an 11-2 run that put Ramapo in that tight spot, the 27-17 deficit with just 9:37 to play in a game in which the Raiders' shots were just not falling.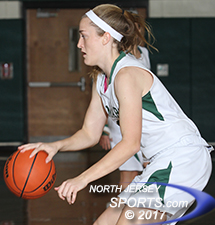 Tori Muller scored 8 points off the bench for Ramapo, which will play No. 6 Holy Angels in the Round of 16.
In stepped Kraebel, who hit that free throw that finally knocked the lid off the rim. Just six seconds later and after a Ramsey turnover, Kraebel hit a 3 from the wing that then made two more free throws to draw Ramapo to within 27-23 heading into the fourth quarter. Kraebel's third 3-pointer of the game, again from her favorite spot in the wing, got her team within one and the Raiders finally retook the lead when Emily Calabrese dribbled from the foul line to the block for a layup that made it 28-27.
"Shots weren't falling for me for a lot of the game and it was a little frustrating, but I focused on taking it out on the defensive end," said Calabrese. "Getting stops and rebounds are just as important as points and it was our defense that won this game for us."
Indeed it did as Ramapo created turnovers and extra possessions with its press and used its zone to try to contain Reynolds as best it could. Reynolds finished with a team-high 17 points, but 13 of them came in the first half and none in the fourth quarter. Clinton scored Ramsey's final points of the game, a runner with 5:01 left that gave the Rams the lead back briefly at 29-28, but Calabrese's drop-step layup with 3:51 to play gave Ramapo the lead back for good.
After making just 7 of 16 free throws through the first three-and-a-half quarters, Ramapo closed the game out by making 7 of 10 in the final 2:53. Calabrese, the senior who will play at St. Bonaventure next season, was at her offensive best down the stretch. She scored 10 of her team-high 17 points in the final six minutes, went 6 for 6 from the line in the last three minutes and wound up cancelling out Reynolds, who also finished 17 points.

The difference was the secondary scoring. Clinton made two 3-pointers and totaled 8 points for Ramsey, but the Rams made just two other field goals split between Madison Tradash and Phillips' third quarter layup.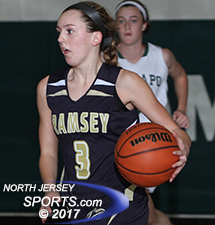 Victoria Clinton had 8 points for Ramsey, which had won four straight coming into Saturday's game.
"We got a little frazzled there at the end, but compared the scrimmage we played here in the preseason, compared to the way we were playing in our Christmas Tournament, the way we are playing now gives us a lot to be proud of. We are coming together as a team," said Ramsey head coach Brett Roscoe. "We had won four in a row coming in here, we gave ourselves a chance to win today and when we were 1-5 we weren't thinking that this could even be possible. The struggle we had early in the season has led to success and we are going to keep building."
Ramapo's scoring was spread between just three players as Kraebel backed up Calabrese with 12 points and Muller scored eight coming off the bench. Considering that eight points was the final margin of victory, Muller's was a vital contribution for the Raiders, who have been battling to find some consistency after starting the season at 4-0. They are 7-5 now and on a two-game winning streak after a solid win over Teaneck on Thursday.
"We have a tough week coming up before we even get to Holy Angels [in the Round of 16]. We have Paramus Catholic, which blew us out in the Christmas Tournament, and then we start Round 2 in our league against Ridgewood, which is not going to be easy," said Gordon. "Then we can worry about Holy Angels, a good team that has only one loss on the season. It's going to be a tough matchup and we are certainly going to have to play better than we did today if we want to have a chance to move on."
CLICK HERE FOR MORE PHOTOS FROM THIS GAME. TO BUY A COLLECTOR'S PRINT OF THIS STORY, PLEASE VISIT 4FeetGrafix.com.