Saturday, January 7, 2017
By JC Baumuller
Special to NJS.com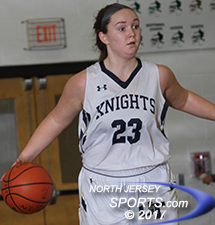 Junior Sophie Downey was one of three Old Tappan starters to finish in double figures as the Golden Knights downed rival Demarest, 45-34, on Friday night.
DEMAREST – Northern Valley/Old Tappan opened the second half with a 9-3 run to break open a close game and go on to defeat it district rival, Northern Valley/Demarest, 45-34, on Friday night in Demarest.
After Norsewoman senior Mackenzie Press canned a free throw 26 seconds into the third quarter, cutting the NV/OT lead to 20-19, junior Erin Harnisch hit a shot off a great pass from classmate Sophie Downey to boost the Knights' lead back to three. Demarest junior Hannah Schwartz countered with a basket but Downey drove and scored.
Downey is the lone holdover from the Golden Knights 2015-16 state championship team.
"At first it was hard with a whole new squad out there," said Downey. "But I played with these girls when I was a freshman. They all had gotten experience in practices last year. It was a little bit of a struggle at first, but after a few games we're starting to get back into it and we're playing well together."
Sophomore Jaclyn Kelly continued the onslaught by draining a 3-pointer to give Old Tappan a seven point lead, 28-21, and force the Norsewomen to call time out.The teams traded points for the rest of the quarter, as Old Tappan seemed to have an answer each time Demarest scored.
Press tallied on a reverse layup, but half-a-minute later Downey drove the lane and scored. Norsewomen junior Dina Gelsey stole the ball, dribbled coast-to-coast and scored, but Kelly took a pass from senior Skylar Regan for an easy basket. The Knights' ball movement skills were evident throughout the entire game.
"One of the disadvantages this year," said Downey, "is we don't have a lot of height. But we have a lot of speed. We have a lot of guards so we move the ball really fast."
"We've been doing a much better job of taking care of the ball as the year has progressed," said Old Tappan coach Brian Dunn. "We still get tied up too much when we get the ball inside, when we're doubled, but I thought our perimeter passing was getting better. We did a good job of handling the press in the second half so I think we made a lot of progress."
With less than a minute to go in the third quarter Demarest sophomore Meadow Garcia with a short jumper and Demarest trailed, 33-27 heading into final quarter. Old Tappan put the game out of reach with a 6-0 run to take a 12-point lead, 39-27, in the first two-and-a-half minutes of the fourth quarter.
Then the Golden Knights stepped up the defense to prevent the Norsewomen from making another run.
"We have to get better [on defense]," said Dunn. "Tonight was a good test for us – they had two really good offensive players and kids who knew how to get them the ball in the right spots. I thought Skylar [Regan] and Erin [Harnisch] did a great job on 22 [Press]. She can shoot from anywhere and will. [Sophomore] Noelle [Gonzalez] did a really good job on 24 [Garcia] without any help. She had to play her straight up. They all did a great job.
"We didn't rebound as well as I wanted in the first half but stepped it up in the second half."
The Golden Knights took an early lead in the first quarter thanks to some long-range shooting by Harnisch and Kelly, who accounted for nine of Old Tappan's first 11 points. Demarest's 6-0 run early in the second quarter, fueled with a trey by Schwartz and a put-back by Gelsey, gave the Norsewomen their only lead of the game, 12-11. Gonzalez began an 8-2 rally with a put-back to enable Old Tappan to take the lead for good, 13-12.
Downey, Gonzalez and Kelly each finished with 12 points for Old Tappan, while Garcia led the Norsewomen with 11. Press chipped in with 10.
"I thought we played very well tonight," said Dunn. "We played well defensively. Offensively we got good looks at the basket and hit shots at the right time. We had opportunistic shooting, not great shooting, but opportunistic. At the right time, when we needed them, we hit good shots."
TO BUY A COLLECTOR'S PRINT OF THIS STORY, PLEASE VISIT 4FeetGrafix.com.