Saturday, January 7, 2017
By Cory K. Doviak
NJS.com Editorial Director
Senior point guard Aileen Carey had 17 points for Indian Hills, which beat rival Ramapo for the first time in a long time, 47-40, on Friday night in Oakland.
OAKLAND – Without access to the results of every girls basketball played between district rivals Indian Hills and Ramapo over the last couple of decades, pinning down exactly how long a particular streak had been intact. What we do know is that Indian Hills had never beaten a Ramapo team coached by Sandy Gordon, who took over the program in 2007, and Indian Hills head coach Julie Haledjian estimated that it was probably much longer.
"I don't know for sure, but it could be 30 years," said Helejian. "It has been a long time, I do know that."
It looked like another case of giving it a good run, but ultimately coming up short for Indian Hills, the home team that led for most of the first half before giving ground. The Braves faced a three-point halftime deficit, trailed by as many as eight in the third quarter and by six early in the fourth.
But then three straight Ramapo possessions ended in turnovers and Indian Hills turned those three extra possessions into five points that were a part of an 11-0 fourth quarter run that the Braves used to change the course of history in the long-running rivalry. Indian Hills grabbed the lead back on Angela Saric's drop-step and layup with 5:21 to play in the game then made 7 of 9 free throws in the final 1:23 to make it stick in what may be a season-altering 47-40 win in Oakland on Friday night. Indian Hills has now won two straight games and, at 4-3, climbs above .500.
"It is crazy. This win turns our whole season in the right direction," said Indian Hills' senior point guard Aileen Carey. "We are one game over .500 now, this win gives us a lot of confidence and we are only heading up from here."
The focus of Indian Hills' defense all night, Ramapo senior Emily Calabrese still managed a double-double.
Indian Hills picked up some early confidence with a 9-2 run to start the game. Saric had five points in the first three minutes at the offensive end and, at the other end, the Braves were clearly focused on limiting the touches of Emily Calabrese, the Ramapo senior and St. Bonaventure commit. Senior Amy Weisse drew the assignment and, with help coming from quick double-teams, she did her job well. Calabrese scored Ramapo's first two points of the game, but that was her only basket of the first half.
"In practice we prepared a lot. I watch a lot of tape and I knew that [Calabrese] likes the spin move to the baseline and I had to be ready for that," said Weisse. "I tried to play her straight up without fouling, that was my plan and I ended up with four [personal fouls] anyway. She is a good player."
Using its other offensive assets, Ramapo did not let the Braves create too much separation. Jayne Moynihan scored on the baseline and Olivia Kraebel banked in a 3-pointer from the wing to get the Green Raiders even for the first time at 14 with 2:54 left in the first half. They took their first lead at 19-18 on another Kraebel 3 and Tori Muller's bucket off a feed from Kraebel gave the Raiders a 21-18 edge at the break.
Calabrese (12 points, 11 rebounds) eventually fought her way to a double-double and did it by becoming more aggressive. She grabbed a defensive rebound and went coast-to-coast for a layup that put Ramapo up 26-20 early in the third quarter and her jumper from the elbow with 1:59 left in the period gave the Raiders a 30-24 lead. Ramapo lead 30-26 after three quarters and bumped the advantage back up to six points one last time, 34-28, after Lauren Colyer made two free throws with 7:14 left in the game, but next came the three straight turnovers and titled the game in Indian Hills' favor for good.
Indian Hills junior Angela Saric scored 12 of her game-high 21 points in the fourth quarter.
Analee Boggio stole an inbounds pass and that turned into a Carey bucket in transition. Saric turned the next turnover into a free throw that made it a three-point game and then added a steal and a lay-up to get the Braves to within 34-33. The next time down the floor, Saric scored off a traditional offensive set and Carey got all the way to the basket on a drive. Saric, the junior forward who scored seven points in the 11-0 run, made a step jumper from the foul line to cap the spurt and give the Braves a 39-34 advantage with 3:21 to play and they made it stand up.
"I don't even have the words. I am just so proud of these girls and the way they played tonight. They put everything they had out on the floor and they believed that they could do it," said Haledjian, who is in her fourth season as Indian Hills' head coach. "Our biggest concern tonight was playing defense. We need to make sure that we are helping each other and tonight we scored off of our defense. We got steals that were key and we finished our layups. And we made a lot of shots at the foul line."
The foul line disparity was stark as Indian Hills as a team was 22 of 30 from the line while Ramapo was awarded just six free throws and made four. Turnovers were also a huge factor as an unofficial count had Ramapo committing 20 to just six for Indian Hills.
Carey (17 points) was 9 of 10 from the stripe, 4 of 4 in the fourth quarter and Saric (21 points) went to the line 12 times and made 9. Savannah Aboyoun had 4 points off the bench, Boggio finished with a made field goal and a free throw and Weisse, who did most of her damage on the defensive end, also made two free throws for the Braves.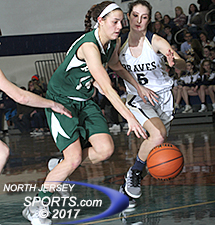 Olivia Kraebel made two 3-pointers for Ramapo, which fell to 4-3 om the season.
Calabrese's double-double led the Green Raiders, who got 8 points from Muller, the junior transfer from IHA, 7 points apiece from Kraebel and Lauren Liedel, 4 from Moynihan and the two free throws from Colyer.
Ramapo (4-3) has now lost three straight games after opening the season with a four-game winning streak. All three of the losses have come against quality competition (Paramus Catholic, High Point and now Indian Hills) and it just goes to show how competitive the girls basketball landscape in North Jersey is right now. There are a bunch of teams jockeying for position and, save for a handful at the top, the rest are capable of beating each other at home or on the road on any given night.
"We just made some poor decisions in the fourth quarter, a lot of unforced [turnovers]. They got to the foul line, made some foul shots and, down the stretch, we didn't. We had the lead, but the turnovers are what killed us," said Gordon. "We are 4-3. It is not where we want to be and it is not where we are used to being, but we still have a lot of basketball ahead of us. You have to give Indian Hills the credit tonight. It was emotional, it's a rivalry and they won it, but we will play them again and we know we have to get better."
CLICK HERE FOR MORE PHOTOS FROM THIS GAME. TO BUY A COLLECTOR'S PRINT OF THIS STORY, PLEASE VISIT 4FeetGrafix.com.