Thursday, January 5, 2017
By Cory K. Doviak
NJS.com Editorial Director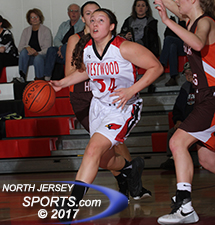 Senior Sam McClutchy, Westwood's all-time leading scorer, had 12 points in a 51-33 win over Pascack Hills that took two weeks to play. The Cardinals are now 7-0 on the season.
WESTWOOD – Back on December 20, Westwood led Pascack Hills by five points at halftime of a Big North Conference girls basketball game. When a referee took ill during halftime, both sides agreed that, rather than playing with one official for two quarters in a game that might have league title implications, it would be to better to abandon the game and pick it up at a later date.
That date arrived on Wednesday afternoon in a 4:15 p.m. start in a quiet gym and the circumstances were unique to say the least. While the two teams went through their pregame warmups, ran through introductions and stood to honor the national anthem, there was already numbers other than zero on the scoreboard and there was only 16 minutes of game time to play.
You name it and it was different. Both head coaches had 14 days to make halftime adjustments. Both teams played the night before and Pascack Hills had a roster issue that does not pop up every day. In the Cowgirls' win over Ridgefield Park on Tuesday night, it lost one of its key players, Stephanie Samani, to a concussion that might cost her the rest of the season. Because quarters played in the JV game two weeks ago counted against the continuation of this varsity game, head coach Scott Ernest was kind of hamstrung in potential personnel maneuvers.
The whole thing, in short, was a little weird.
"I felt like I was in a different world coming to play today. It was like I was going to practice and then another team showed up to play," said Westwood senior Sam McClutchy. "I was talking to a couple of the [Pascack] Hills girls and I asked them, 'Is this really awkward for you?' It was one of the most ridiculous things I have ever been a part of when it comes to basketball."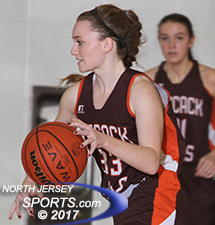 Allie Ernest scored a game-high 18 points, including 8 of the 10 that Pascack Hills scored on Wednesday afternoon.
Lost in the surreal nature of the moment was the fact that this was an important game for two teams that have been nothing short of impressive over the first three weeks of the season. Neither had yet lost a game, both had won their respective holiday tournament and both play in the same league, the same county and the same state section, so a positive result on Wednesday would have long-lasting benefit in terms of league title aspirations and tournament seedings.
"We tried to get the girls in the gym as early as we could today and kind of go through a little bit of practice to almost make it feel like that had played a quarter of basketball before we started this game back up today," said Westwood head coach Charlie Collis. "I am happy with the way my kids handled the situation and they have surprised me multiple times, all in good ways, already this season."
Westwood has gone from a team with the potential to be very good to one that is nipping at the heels of Bergen County elite. The Cardinals swept their holiday tournament which was packed with quality competition, they beat High Point, Paramus Catholic and Ramapo over the break, and broke open the resumption with Pascack Hills pretty quickly. It was 28-23 when the game was suspended and the Cardinals went on a 9-2 run right out of the gate on Wednesday.
Sophomore Rachel Bussanich scored inside on the Cardinals' first possession of the third quarter and Olivia Cassidy followed with a jumper from the foul line. After Allie Ernest completed a conventional 3-point play for Pascack Hills' first points of the afternoon, Shannon Monaghan scored inside off a pass from McClutchy and then McClutchy got her own two points from the foul line. In just under three minutes, Westwood got eight points from four different players with assists coming from three different sources.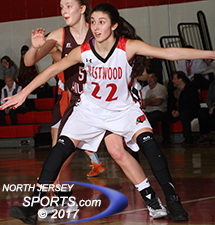 The emergence of sophomore Rachel Bussanich in the post has given Westwood offensive balance. She scored a team-high 13 points.
McClutchy, the program's all-time leading scorer who has committed to play at Domincan College next year, is the Cardinals' go-to player, but her game is one of unselfishness. She sets the tone, but Westwood shares the ball, gets it to the open shooter and does not care who gets the credit. That has been a key to its early season success.
"We work together a lot, high/lows and all of that stuff, but more than that [McClutchy] is a great teammate. We have great chemistry together because we play together so often," said Bussanich, a sophomore whose emergence in the paint has given the Cardinals the ability to play from inside out and vice-versa. "Going into this season I was not sure what was going to happen. I was the sixth man last year, but I was just a freshman. This year it is different because I am starting and we are 7-0. We just have to keep working hard and not settle. We want to keep striving for more."
Allie Ernest and her sister, Caitlin, the daughters of Pascack Hills head coach Scott Ernest, scored back to back baskets to get the Cowgirls back to within 36-30 with three minutes to play in the third quarter, but Westwood pulled away for good shortly thereafter. Monaghan made a steal and a layup, Bussanich hit a free throw and McClutchy made four in a row from the line to close out the quarter with the Cardinals in front 43-31.
Sophomore Hannah Jackson opened the fourth quarter with one of her two made 3-pointers in the quarter to all but put the game away. Defensively, Westwood held Pascack Hills to just 10 second half points, eight of them scored by Allie Ernest (18 points), to keep its undefeated streak to start the season intact.
Bussanich (13 points) and McClutchy (12 points) each finished in double figures as Westwood (7-0) spread the offense around. Jackson scored 6 of her 8 points in the fourth quarter, Monaghan added 7 and Carlye Danzinger and Olivia Cassidy scored 6 points each for a total of 12, with 11 of those coming in the first half two weeks ago.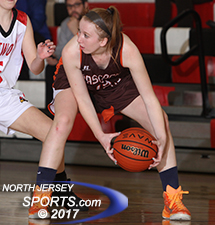 Caitlin Ernest scored 7 points for Pascack Hills, which is now 5-1 on the season.
Westwood, which went the Group 2 state final in Toms River two years ago, has rebuilt quickly even after the graduation of Jaide Hinds-Clarke, now making an impact as a freshman at the University of Richmond. McClutchy is the linchpin to that magical run in 2015 and is looking for a repeat performance in her last go-round. From experience, she knows it will not be easy.
"The goal is to get back down there [to Toms River]. That was a lot of fun for me and it would be exciting if we could get back there," said McClutchy. "But we have to take it a game at a time and not lose focus on the task at hand. If we focus on taking it game by game, we can celebrate a win for a minute and then get right back to work."
Pascack Hills not only walked out of the gym with its first loss of the season, but also with some work to do to try to overcome the potential season-ending injury to Samani. Scott Ernest was intent on getting to work on that in short order.
"Unfortunately you are not seeing all of us. We had [Samani] go down last night and we probably won't see her again. We will miss her. She is 5-9, runs like a deer and she was a big part of what we have been able to do so far. Normally we would have been out here trapping and pressing fullcourt, but we couldn't do it with no time to adjust to losing her," said Scott Ernest, whose team is now 5-1 on the season. "It was unfortunate timing and we have a lot of work to do going forward. We are going back now and we are not going home. We are going right to the gym to try to figure out who we are now. That is how big Steph was for us."
CLICK HERE FOR MORE PHOTOS FROM THIS GAME. TO BUY A COLLECTOR'S PRINT OF THIS STORY, PLEASE VISIT 4FeetGrafix.com.