Tuesday, December 27, 2011
By Cory K. Doviak
NJS.com Editorial Director
Stephanie Huang, Paramus' lone senior starter, scored a game-high 27 points as the Spartans scored a come-from-behind 54-49 overtime win over North Bergen in the opening round of the Holiday Hoop Jam.
ORADELL – As far as third quarters go, the one that the Paramus girls basketball team played on Monday at the River Dell Holiday Hoop Jam was a stinker. Brittany Stone, the Spartans' standout sophomore, was on the bench in foul trouble and in her absence Paramus scored exactly zero points in those eight minutes as it went from ahead by two when the period began to down nine by the time it was over.
"We played a sloppy game. Our first quarter was awful, our third quarter was even worse than that, but it was an opportunity for our girls to show some resiliency on a day where maybe we were weren't playing our best game," said Paramus head coach Scott Papetti. "Or at least that was really the only positive I could find at that point."
But then the fourth quarter rolled around, Stone returned to the court and she changed the game. Here step-back 3-pointer with a hand in her face ended Paramus' scoring drought which had lasted a total of 11:58. Stone steal and lay-up on North Bergen's next possession pulled her team closer and her pull-up 3-pointer with 28 seconds left in regulation forced overtime. With a fresh start, Paramus took the lead for good 2:17 into the extra session, made all six of its free throws in the final 26 seconds and pulled out an improbable 54-49 win.
Doris Ilic scored a team-high 16 points for North Bergen.
After all, not many teams go scoreless for nearly 12 minutes in a basketball game an live to tell about it.
"When I got back out there in the fourth quarter I was just hoping to play better than I did the rest of the game and at least give us a chance to win," said Stone, who nine of Paramus' 13 fourth quarter points. "I think the momentum kind of changed when I hit that 3. I like to shoot them, I don't often make them, but I was feeling it and that kind of got us going."
While the fourth quarter belonged to Stone, the overtime was all Stephanie Huang. Stone's two 3-pointers in the fourth quarter were the only two by either side in the game to that point and Huang hit the only other triple of the night and it gave her team the lead for good with 1:43 to play in overtime. Huang finished with a game-high 27 points, 17 of them in the fourth quarter and the overtime.
"I think we were just determined to win. We wanted to win the first game in this tournament and not let it slip away from us," said Huang, a senior and an outstanding all-around athlete who will play softball at Rutgers University next spring. "We had to settle down against their pressure and working through the adversity. We had foul trouble early, we had trouble making some easy baskets that we should have made and it took us a while to put it all together."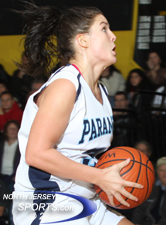 Sophomore Stone scored 9 of her 18 points during Paramus' fourth quarter comeback.
In regulation, Paramus played well in the even quarters while North Bergen won the odd. The Bruins led 13-8 after the first quarter in which it seemed to have established the pace of play in its favor. With their trap, North Bergen was forcing turnovers at a rapid clip and with its size advantage it was winning the battle of the boards and putting Paramus in serious foul trouble.
Stone picked up her second foul just 3:23 into the game, freshman Ashley Dunn picked up her second 1:02 later and then her third with 1:09 left in the first. Norther Bergen shot its first one-and-one 6:51 into the game and was in the double bonus early in the second when Icies Hammer, the Bruins 6-foot-2 freshman center, made two free throws 11 seconds into the second quarter to put North Bergen up 15-8.
But instead of getting hammered from the free throw line for the rest of the first half, Paramus stopped reaching, started boxing out and started to take advantage of some of the open spaces created when North Bergen's pressure was broken. An 8-2 run capped by Stone's drive to the basket with 5:41 to play in the first half got the Spartans even at 19 and a 6-0 run highlighted by a Huang steal and layup and her pull up jumper put the Spartans up 27-21 before North Bergen edged to within 27-23 at the break and then held Paramus scoreless in the third quarter that ended with the Bruins ahead 37-26.
North Bergen freshman Icies Hammer scored 7 of her 13 points in overtime.
"We were sitting out there with a sophomore (Stone), two freshman (Ashley Dunn and Dara Devaney), a junior (Megan Ghigliotty) with little varsity experience and one great senior athlete (Huang)," said Papetti. " The way they handled themselves after that third quarter really says a lot about them and it gets you excited for the rest of the season. They could have folded, but they did a great job and hung in there."
It was the 8-0 run that started with Stone's step-back 3 that got Paramus going, but after coming all the way back to grab the grab the lead at 37-36 when Dunn grabbed a rebound and sent in Huang for an uncontested layup with 2:48 left, the Spartans quickly found themselves trailing again. With 1:27 left, Doris Ilic scored inside to put North Bergen back in front and Ilic then made both ends of a one-and-one to make it 40-37 North Bergen with 35 seconds to go before Stone retied the game with her pull-up 3-pointer with 28 seconds left. Two North Bergen turnovers in the final 20 seconds went unpunished before Paramus finally took the lead for good on Huang's 3-pointer with 1:43 to go in the overtime and held on for its third win in its first four games this season while North Bergen (3-1) suffered its first loss of the season.
North Bergen put three players in double digits with Ilic's 16 points leading the way. Hammer scored 7 of her 13 points in overtime and Tiana Nassrallan finished with 10, including a 4-for-4 showing at the free throw line for the Bruins, who were 13 of 19 at the line as a team. Huang's 27 points led all scorers and she combined with Stone (18 points) to score 45 of Paramus' 54 points. Devaney scored all 5 of her points in the first half, Ghigliotty made a second quarter field goal and Dunn scored both of her points from the free throw line for Paramus, which made 11 of its 16 free throw attempts.
With just two established varsity players in the rotation, Papetti, in his first year as Paramus' head coach, was not exactly sure what to expect this season. He is starting to get the answers he was looking for.
"This is a huge win and a win we had to have. North Bergen is a Hudson County team and I knew they were going to be tough. I know they lost a lot to graduation, but they have a 6-foot-2 freshman center and they were a real test for us," said Papetti. "We have a chance to make a little noise in this tournament and I said in the beginning that I wanted to have at least, worst case scenario, three wins by New Year's Eve. We have that already and now we have a chance to get to four or five."
FOR MORE PHOTOS OF THIS EVENT OR TO BUY A COLLECTOR'S PRINT OF THIS GAME STORY, PLEASE VISIT 4FeetGrafix.com.