Sunday, February 26, 2012
By Cory K. Doviak
NJS.com Editorial Director
Jakelle King-Gilchrist scored 11 points in the first 2:01 of the game to set Teaneck up for a 72-49 win over Northern Highlands in the Bergen County Tournament final.
MAHWAH – Call it a 'County Tournament Curse', a string of bad bounces or just plain bad luck, but there was some greater force working against the Teaneck girls basketball team in Shenee Clarke's first four years as head coach. There was the upset loss to Pascack Hills in the quarterfinals in 2008, 'The Shot Heard Round East Rutherford' against Pascack Valley in the 2009 quarterfinals and then back-to back loses to Holy Angels in the semifinals, last year's, agonizingly, in overtime. Every year it seemed, Teaneck entered the tournament as a favorite and exited with a better-luck-next-year pat on the back.
"Even when I was a player in Ridgefield Park we got to the final, we got to the semifinals and we just never one a championship. And when I became the head coach at Teaneck High School it was the same thing, another four years of getting close but something always happened and we couldn't win a championship," said Clarke. "At one point I definitely believe in a County Curse."
All of that can now be put to bed and the sheets were turned down in the first 92 seconds of Sunday's Bergen County Tournament final played at Ramapo College. Jakelle King-Gilchrist scored off the opening tip to give her team the lead for good just five seconds into the game and she went on to score nine points in the first 1:32, 11 in the first 2:01 and top-seeded Teaneck was well on its way to a 72-49 win over No. 2 Northern Highlands and its first Bergen County title since 1988.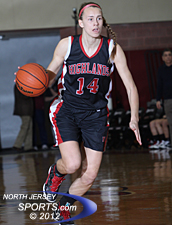 Jackie Reyneke finished with a double-double (16 points, 13 rebounds) for No. Highlands, which was playing in its first ever county final.
King-Gilchrist, who will play at Florida State University next season and had known nothing but heartbreak in her previous two county tournaments, left an indelible mark on this one as she scored 13 first quarter points. Her steal and layup with 3:50 to play in the first period gave her team a 19-5 lead and the Highwaywomen never looked back.
"This is an amazing feeling. We played together, we played as a family, we played with heart and I can't really express it any better and I am just glad that we got to win a county championship together," said King-Gilchrist. "I just wanted to walk in the door here today and come out gunning. I had to get my team on board, set the tempo and let Northern Highlands know that we were here to win. We were taking the title this year and we had to let them know that early."
Monique Cheeck, another of Teaneck's four senior starters, scored on a baseline drive to close the first quarter scoring and put the Highwaywomen up 24-9 and they were up by 17 when King-Gilchrist hit a jumper from the wing with a foot one the three-point line to open the second quarter. It was a nightmare start for Northern Highlands, which turned the ball over on four of its first five possessions in the game against Teaneck's vaunted defensive pressure.
But the Highlanders put together their best stretch of the game early in the second quarter and nearly climbed back into the game. Tori Balzano hit a three-pointer to kick off a 9-2 run that had Highlands back to within 28-20 when Jackie Reyneke followed up a missed shot with 3:24 to go in the half. But it was like running on a treadmill for Highlands, which had trouble maintaining the ground it worked so hard to make up and it was trailing 38-26 at the break.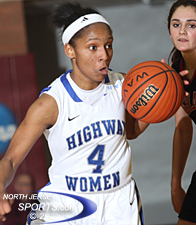 Teaneck senior Monique Cheeck finished with 12 points and 7 assists.
"We told them in the locker room that we had to try to limit their runs, but they came right out of the gate with a 9-1 run. That was not the start we were hoping for," said Northern Highlands head coach Al Albanese. "We tried to claw back and we did claw back, we got it down to 8 [points], but it was not like we were playing a pushover team. We were up against the best team in the county."
And Teaneck showed it in the second half. It pushed its lead to as many as 16 in the third quarter when Cheeck broke down the defense before dropping a pass to Melissa Papillon, who made it 47-31 before the Highwaywomen settled for a 14-point advantage, 51-37, heading into the fourth quarter.
"We have four senior starters that started this season on the same page and have carried that all the way through. We want to work hard, keep our intensity for a whole game and blow teams out," said Cheeck. "We were on an adrenalin rush when we got off to the good start. We were making steals, turning them into baskets and playing as fast as we could. That fueled us, we were pumped from the beginning and there was no looking back."
With a 7-0 run that consisted of a three-point play by Arista Meneve and back-to-back buckets by Reyneke and Balzano, Northern Highlands got as close as 57-45 with 3:04 to play in the game, but there was too much ground to cover and Teaneck made it a double as the girls basketball team matched the championship trophy with the one the boys team won in the Jambo final on Thursday night leaving no doubt where the best basketball in Bergen County is being played these days.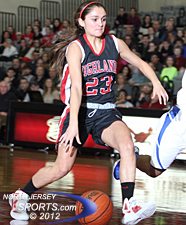 Madison Dunbar finished with 6 points for No. Highlands.
King-Gilchrist lead all scorers with 28 points and added 10 rebounds to finish with a double double. Sophomore center Kayla Gibbs also hit double digits in two categories with 13 points and 11 rebounds. Cheeck had 7 assists to go with her 12 points and Deja Gabbidon (11 points) made it four double-digit scorers for Teaneck, Papillon chipped in with 6 points off the bench and Rebecca Sparks' first quarter field goal accounted for the rest of Teaneck's scoring. Highlands was led by Reyneke, who finished with 16 points and 13 boards, but no other Highlander reached double figures. Balzano finished with 9 points and Madison Dunbar, Meneve and Melissa Heath all finished with 6 points. Heath, a freshman, also added eight rebounds, while Sonya West and Casey Dunbar split Highlands other 6 points.
With the long-sought county title now in their back pockets, the Highwaywomen have to refocus their energy on the North 1, Group 3 state sectional tournament where they are the defending champion and the No. 2 seed. Teaneck (25-2) will open the state tournament at home on Monday against 15th-seeded Morris Hills.
"No rest, we are still going and we can't take any team for granted. We've had a long season and we want to keep it going," said Clarke, whose team reached the Group 3 state final last season. "We got a taste of it last year, we got to Poland Spring [Arena in Toms River] and we are hungry to get back down there again."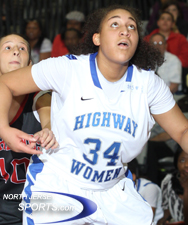 Teaneck sophomore Kayla Gibbs had 13 points and 11 rebounds.
Highlands (23-4), which upset defending champion IHA last week to make the county final for the first time in the program's history, will have little time to lament its loss as it also opens the North 1, Group 3 state sectional playoffs at home on Monday. The Highlanders are the No. 3 seed and will host No. 14 Tenafly in the opening round. Two state tournament wins by each would put Highlands and Teaneck across from each other again in the section semifinals.
"In the beginning of the season it was one of our goals was to get here. We won our league outright and we got to the county final and when you get to the county final some crazy things could happen, but we were up against a real good team today," said Albanese. "The two best teams were here today. I don't think it was a fluke that we got here, we deserved to be here and all the credit goes to our girls. We may see Teaneck again in the states and if we do we will give it our best shot again and see what happens."
FOR MORE PHOTOS OF THIS EVENT OR TO BUY A COLLECTOR'S PRINT OF THIS GAME STORY, PLEASE VISIT 4FeetGrafix.com.