Sunday, January 29, 2012
By Cory K. Doviak
NJS.com Editorial Director
Melissa Errico killed it from the high post for Old Tappan, which knocked off Mahwah, 53-34, in the opening round of the Bergen County Tournament on Saturday.
OLD TAPPAN – It lost its most recognizable player to a transfer after last season, it had injuries and inexperience at the beginning of this one and was faced with a schedule that could have made the Northern Valley/Old Tappan girls basketball raise the white flag while bumping along near the .500 mark and looking ahead toward next season.
Instead, slowly but surely, the Golden Knights have gained ground. When their health improved so did their results and in the last week, they beat Ridgewood and gave highly-regarded Northern Highlands and Ramapo all they could handle before losing in close games. And having done just enough to get a first round home game in the Bergen County Tournament, Old Tappan got itself into the Round of 16 with a wire to wire, 53-34 rout of Mahwah on Saturday in the opening round.
"We have been playing very well in the last couple of games. We almost knocked off Highlands, we did a good number on Ridgewood the other day and followed those up with this game. We are playing a lot better now, and I mean a lot better than we were at the beginning of the season," said Old Tappan head coach Brian Dunn. "We are starting to turn things around and it showed today."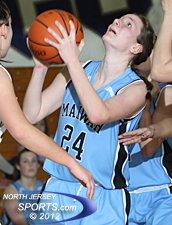 Cara Batelli scored a team-high 12 points for Mahwah.
Old Tappan scored the first seven points of the game and forced Mahwah to play from behind right from the get-go. That is not easy to do against a Golden Knights team that prides itself on its defense and had its offense working, especially in the post where that tandem of Melissa Errico and Allison Brown were dominant. Brown scored the first bucket of the game off the offensive glass to give her team the lead for good on her way to a game-high 25 points to go along with 8 rebounds.
"Our team has been working really hard in practice. Everyday for two-and-a-half hours we have been working on the things we need to do to get better and the hard work is starting to pay off," said Brown, one of the two seniors in the Knights' starting lineup. "We are starting to hit our stride and it has been fun. We can feel it coming together and that is a good feeling when you start to click as a team."
While Brown does her damage from the low post, Errico showed off her varied offensive skills from the foul line from where where can drive either way, step in for short jumpers or make passes to cutters running off her anchored position or down to Brown, who was able to finish against single coverage. And when Errico made a steal on one end and beat everyone to the other for a coast-to-coast layup, it was clear that the game was clearly in Old Tappan's favor as it took a 13-4 lead after the first quarter.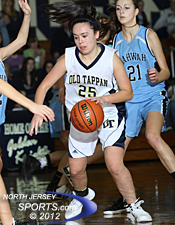 Ryann Burke and Old Tappan will play No. Highlands in next weekend's Round of 16.
"Obviously we needed to pick up our game. It is the county tournament now and it is a step up in pressure from league games," said Errico, a junior who had five assists to go along with her 17 points. "I knew if I could get the ball to Ally down low that she would make baskets and she did. I think, overall, the whole team played great offense."
The defense wasn't bad either as the Knights held Mahwah to just one first quarter field goal. The Thunderbirds had their best sustained run to start the second quarter when Kristyn Tremblay and Cara Batelli hit back-to-back field goals and Christina Costantino made two free throws for a quick 6-0 spurt that pulled Mahwah to within 13-10 with 6:31 to go in the first half.
But Old Tappan answered that run with a 9-0 run of its own. Brown scored five points in the spurt, Errico had four and it put the Knights in front by double digits for the first time before they settled for a 25-18 halftime lead.
"Those girls are tough down low. It is tough to move them when they get positioning down there and we struggled with moving them out. It didn't help that we cam out and shot the ball 1 for 12 in the first quarter," said Mahwah head coach Mike Branagh. "I don't think we played our best game, but hats off to Old Tappan. That is a good basketball team, those girls are going to get their points in the paint and there was really nothing we could do about it."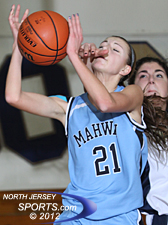 Chistina Costantino had 7 points for Mahwah, which fell to 8-8 on the season.
Errico scored off a 12-foot bank shot from straight on to start the second half and Brown followed with six straight points, including two baskets off assists from Katie Gattoni and the other off a feed from the wing by Alyssa D'Ercole as Old Tappan, the No. 14 seed, broke the game open, up 33-18 just 2:28 into the third quarter.
While Brown and Errico (17 points) combined to score 42 of Old Tappan's 53 points, the rest of the Knights chipped in in a variety of ways. Gattoni, who battled foul trouble most of the way, made a pair of fourth quarter field goals, point guard Ryann Burke (4 points) did a good job of getting her team into its offensive sets and had four steals with her on the ball pressure and D'Ercole made Old Tappan's lone three-pointer. It all added up to a a quality win, an 8-7 record on the season and a rematch with Northern Highlands in next weekend's Round of 16. After being blown out by the Highlanders early in the season, the five-point loss earlier this week shows by how much the Knights have closed the gap and they are looking forward to a third crack at the No. 3 seed.
"I have never been more excited for a game in my entire life. I am so excited for the Northern Highlands game," said Brown. "We played them close last time and we feel like we could have won that game. That gave us some confidence and we are looking forward to the next one."
Cara Batelli led Mahwah 12 points, Lindsay Mohre added 8 and Tremblay and Costantino each finished with 7 for the Thunderbirds, who fell to 8-8 on the season.
"We are still alive in the league, but we are really playing now for the state tournament. This is a tough loss because we fully anticipated coming in here and winning the game," said Branagh. "Our girls wanted this one, I thought we were prepared, but we didn't get it and now we will move and prepare for the states."
FOR MORE PHOTOS OF THIS EVENT OR TO BUY A COLLECTOR'S PRINT OF THIS GAME STORY, PLEASE VISIT 4FeetGrafix.com.