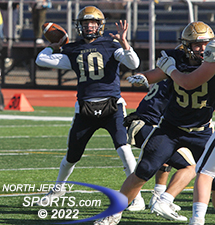 Tommy Caracciolo scored Old Tappan's first TD and threw the ball well enough in adverse conditions to keep his offense moving ina 21-6 win over West Morris in the Group 3 semifinals at Franklin High School.
SOMERSET – With 1:27 left to play in the Group 3 semifinals on Sunday, Northern Valley/Old Tappan was on edge. In a one-score game, West Morris, winner of 17 straight games over the past two seasons, was inside the NVOT 20, 17 yards to be exact, from a potential game-tying score. Two clutch plays and 14 seconds later, it was a completely different story.
The celebration had begun.
Senior Jack Diggins knifed through a couple of blockers to take down West Morris' bulldozer of a running back, Stefano Montella, to stop him short of a first down on fourth-and-2 to force a turnover on downs. On the next play from scrimmage Aidan Heaney took a handoff, kept the ball covered and his feet moving as the West Morris defense tried to pry the ball loose. He held on and then broke free for an 86-yard scoring jaunt that put the finishing touches on a 21-6 victory at Franklin High School in Somerset.
That sends the Golden Knights into the first-ever true Group 3 state championship game where they will play South Jersey champion Delsea at Rutgers University.
"It was fourth and short, they have that big running back Stefano [Montella] and in that situation we kind of knew he was going to get the ball," said Diggins, speaking of the fourth down stop that iced the game on a day where I would have been easy to make. "I saw him get it and I got through and made the play."

That set up Heaney, who only needed to hold on to the ball and go to the ground as the defense converged on him at the line of scrimmage.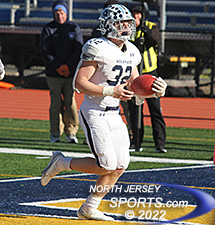 Stefano Montella scoring the final TD of an 11-1 season for West Morris.
"I saw Stefano filling the hole. He is a big kid, but I rolled my shoulder pads, I kept moving my feet and rolled right off his tackle," said Heaney, whose final carry was his 19th of the game and gave him an even 200 yards on the ground. "When I got through I knew I had speed and that no one was going to catch me. I just took off."
While those last two plays sealed NVOT's win, the stage was set way earlier, like in the first three possessions of the game played in harsh conditions. The temperature was hovering near freezing and the steady wind made it even colder and harder to throw a football with any kind of accuracy.
West Morris is not the kind of team that wants to throw it even in hospitable conditions and the Wolfpack does not like to kick it, either. That led to an early momentum changed when, on its first drive of the game and still on its own side of the 50, West Morris went for it on fourth-and-4, was stopped and then fell behind for good with Old Tappan cashed in the opportunity. Quarterback Tommy Caracciolo carried the ball the last 8 yards into the endzone, Nico Ottomanelli added the extra point and the Knights were ahead for good, 7-0, with 5:18 left in the first quarter.
West Morris (11-1) was poised to try another fourth down conversion on its second drive only to be forced into a punt by an offsides penalty. The result was the same, however, as Old Tappan marched 73 yards with Heaney going in from 6 yards out to make it 14-0 with 9:50 left in the first half and that lead lasted all the way into the final minute of the third quarter.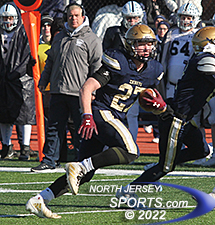 Jack Diggins made the final stop on fourth down, got a punt to drop inside the 10 and had two receptions in a do-it-all performance for Old Tappan, which will Delsea in the first-ever Group 3 final.
West Morris' three first half possessions ended in two turnover on downs and a punt and it tried to kick start its offensive with a surprise onside kick to start the second half, but Old Tappan recovered. The Wolfpack did not get their hands on the ball until getting a fourth down stop and taking over at their own 33 with 7:10 left in the third quarter. Their lone scoring drive ensued with Montella scoring from two yards out. West Morris went for two, twice actually after the first try was wiped out by a penalty, but came up empty and trailed 14-6.
Diggins then ended Old Tappan's next possession with a punt that sputtered out of bounds at the West Morris 9. Even though there was still 9:12 left in the game, West Morris' methodical approach meant that that drive was probably going to be its last shot and it got as far as the OT 17, before Diggins snuffed out the final fourth quarter conversion attempt.
Caracciolo managed to complete 7 of his 10 passes for 55 yards, modest numbers until the conditions are taken into account. He did not throw an interception and was effective enough to keep the West Morris defense honest. Evan Brooks caught three passes, included a 29 yarder up the right side that Caracciolo dropped right over the head of a defender. Tim Clune and Diggins had two receptions apiece.
Montella finished with 184 carries and one score on 39 carries, while John Rolli was 4-for-8 passing for 49 yards. West Morris' brilliant two season run of 17 straight wins came to an end, but not before the Wolfpack won a second straight state sectional championship.
The win pushes Old Tappan's record to 11-1 on the season and 4-0 in the playoff as it heads into the state final at a Big Ten venue.
It also means it is time for a little Christmas music in the locker room.
"The only thing that is important to our kids is that they do not want their season to end. They like being around each other. They are a great group to coach, as much fun as I have ever had coaching," said Old Tappan head coach Brian Dunn. "We always say we want to hear Christmas music at the end of the season. That means we made it past Thanksgiving."
There will be football practice on Friday, so what is the first song in the holiday mix?
"That is their choice," said Dunn. "As long as it is not Mariah Carey, I am good."
FOR MORE PHOTOS FROM THIS EVENT PLEASE CLICK HERE. TO BUY A COLLECTOR'S PRINT OF THIS STORY PLEASE VISIT 4-FeetGrafix.com.