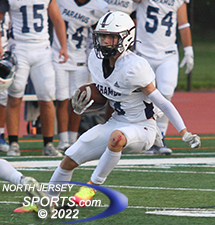 Sophomore Mason Merkle had two 50+-yard runs, one of them a 54-yard score for Paramus in a 36-34 nail-biter on the road in Demarest.
DEMAREST — If the 2022 season continues like this Paramus head coach Joe Sabella is going to have to make sure all of his essentials are in order.
"I just asked my athletic director if there is a life insurance policy for football coaches," said Sabella, whose heart rate was just returning to normal as he walked toward bus through the back gate on the campus of Northern Valley/Demarest High School. "I don't know how many more like [games] like this I can take."
Sabella's Spartans, with a slim roster and a few injuries already, pulled out a wild victory for the second straight week. After beating Pascack Valley in overtime a week ago, Paramus gave itself a two game win streak with a similarly thrilling win over Demarest that also went right down to the wire.
It was not until the Spartans broke up a two-point conversion attempt with 1:42 left in the fourth quarter and then fell on the subsequent onside kick that Paramus was able to put the finishing touches on the 36-34 victory that also puts to bed some bad juju from a year ago.
In the 2021 season opener, Paramus fell in overtime to Demarest in what was the first defeat in a disappointing and uncharacteristic 2-7 season.
"We had a bad taste in our mouths from last year and we watched that game again last night just to bring back those bad memories and use them for motivation," said Sabella. "It was weird that we played them away last year and away again this year, but we were really looking forward to coming back here. We felt like we had some unfinished business on this field."
The two games were remarkably similar as they were dominated by the offenses, which meant that Paramus' senior quarterback Cory Petruzella was at it again. Listed at 6-foot-1, 165-pounds and wearing pretty much the standard issue in terms of padding, the smooth lefty signal caller does not shy away from contact. He will stand in the pocket until the window closes and initiates as much as he absorbs contact on impromptu scrambles and called runs.
Demarest QB Dan Argenziano rolling in for the scored that got the Norsemen to within two points with 1:42 left in the game.
To say Petruzella is as important to that Spartans' offense as the football itself. On Friday night he ran for three scores, threw for another and also hit Liam Jones and Firaol Tulu on successful two-point conversion passes that had an obvious impact on the outcome and also the late-game strategy. Marco Giacchi also nailed two extra points, the difference in the final score, as the fill-in kicker.
"I love this. I loved playing in this game and I love playing on this team," said Petruzella. "These guys work hard, they come to practice and we are all trying to get better every game. Last year was a little bit different and this year we are hoping to make it back to the playoffs and wins like this one and last week have given us some confidence."
The game was back-and-forth and the fireworks started early as Petruzella led the Spartans' on a 69-yard scoring drive on the first possession. The Spartans had two key third down conversions on the drive and Petruzella finished it off with a 12-yard run to make it 6-0.
Stymied on its first possession, Demarest took its lone lead of the game on its second when senior Christopher Short broke a tackle at the line of scrimmage and dove for the goal line for a 3-yard scored that put the Norsemen up 7-6 after Elan Kipnis' extra point.
Petruzella answered by squirting through a hole in the middle for a score on a third-and-goal from the 9, and by hitting Tulu for a 6-yard score. That drive was kick-started by sophomore Mason Merkle, who scooted around the right side for a 60-yard gain to flip field position. Giacchi's extra point gave Paramus a 21-7 lead.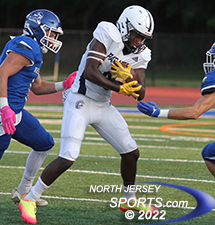 Firaol Tulu caught TD pass and a two-point conversion for Paramus, which improved to 2-1 on the season.
Short (23 carries, 138 yards, 4 TDs) scored on a 14-yard dash around the left end to draw Demarest to within 21-13 at halftime and he also got in top cap the first drive of the second half as the Norsemen closed to within 21-20. That score held up for not even one minute as Merkle swept the right side and got home from 54 yards out. Petruzella hit Tulu for the two-pointer that made it 29-20.
"I got the ball, I saw a hole open up and I just tried to hit it at full speed. I wanted to get down the sideline as fast as I could and into the end zone," said Merkle, a sophomore listed at 5-foot-8, 145 pounds. "It's my first year on varsity and I want to contribute. I just look for holes and run, try to use my speed."
Dan Argenziano (12-18, 134 yard passing, 13 carries, 68 yards), who plays both ways as Demarest's starting quarterback and safety, scored on an 8-yard run and also took the two-point conversion in after fielding the snap as the holder on the extra point, made it a 29-28 game with 8:04 to play.
Petruzella responded with a 21-yard TD run of his own with 5:00 to play with Giacchi's extra point again crucial in making it a 36-34 contest. Agenziano then march the Norsemen right back down the field and scored around the left end from 12 yards out with 1:42 left in the game. He sprinted right on the two-point try, but was hit before he could get any real zip on a pass thrown in Short's direction as Paramus held on for the win and a 2-1 start to the season.
"If you look at our sideline, and we are dressing our freshmen, there are 37 [players] dressed, but these are the 37 that work hard in August, that show up every day," said Sabella. "Unfortunately they have to play scout, they have to be on special teams, they have to play in all three phases of the game, but they are the ones that want to be here and they are the ones that we go to battle with week in and week out."
FOR MORE PHOTOS FROM THIS EVENT PLEASE CLICK HERE. TO BUY A COLLECTOR'S PRINT OF THIS STORY PLEASE VISIT 4-FeetGrafix.com.