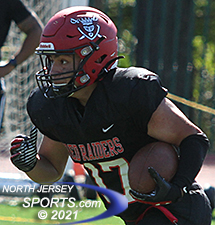 Edgardo Aguilar and the rest of Cliffside Park's backfield contingent controlled to clock and the action in a 14-0 win over Tenafly on Saturday afternoon.
CLIFFSIDE PARK – At one point in Saturday's home game against defending Ivy Division champion Tenafly on Saturday, Cliffside Park was assessed a five-yard penalty having "too many men in the backfield." Things like that happen when a team has so many men in the backfield.
"We have three or four different kids that we line up behind center," said Cliffside Park head coach Tom Mandile. "In years past we have had a couple of game breakers, kids that could break off a 70 or 80-yard run. This year we had to change our philosophy, play a little more smash-mouth, run the clock and control the ball and we use a few different guys to do that. These young men have bought in and it is through their hard work that we have been able to have some success so far this year."
The latest success was a dominating 14-0 victory over Tenafly that moves the Red Raiders to 2-1 on the season. That is the beauty of the Ivy Division as a program like Cliffside Park, instead of being on the verge of extinction, is now thriving even though it is not teeming with an abundance of available bodies. With Ridgefield High School contributing 17 or so players through all four grades, Cliffside has enough to make a run just like Tenafly did last season when it had a thick group of seniors leading the way.
For a kid like Edgardo Aguilar, one of Ridgefield contingent, the opportunity is priceless.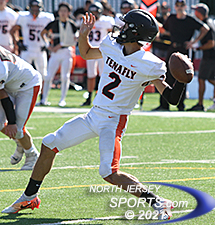 Junior QB Emmet Goldberg and Tenafly will try to regroup next week against Memorial.
"We are like a family even if we are from three different towns, Fairview, Ridgefield and Cliffside. We are one team, one family and that is what we have been preaching from Day 1," said Aguilar, a senior who is one of those that takes snaps from the Wildcat formation. "I couldn't ask for a better team and I love the atmosphere here."

The atmosphere, pristine sunshine and temperatures in the 70s, was just about perfect for a high school football game and so was Cliffside's execution, especially on the defensive side of the ball. The Raiders forced Tenafly (1-2) into a turnover on downs on its first possession and used their first offensive possession to eat up just about the rest of the first quarter clock and take the lead for good.
The march had more than a few pivotal moments. Aguilar provided a key conversion with a 5-yard burst on a fourth-and-2 from the Cliffside 43, Drake Lewis hit Kevin Berberian for a 15-yard pickup in the not-oft-used passing game, Jeremiah Turner turned a 4th-and-5 into a first down with a 6-yard scamper around the left end and Lewis plunged home from less than one yard out again on fourth down for the game's first score. The Raiders tacked on a two-point conversion and when all tallied, Cliffside went 65 yards, at up 9:13 of game and then Jabes Aldaz corralled the ensuing pooch kick to put Tenafly's weary defense right back on the field.
"We like to give them a lot of different looks and we did that with three different quarterbacks today and we just kept grinding," said Berberian, another of the eight seniors on the Cliffside roster. "[Winning league title] is always in the back of our minds, but we never want to think too far ahead. We go week by week. We put a lot of preparation into this game, we won and now we have to do the same for the next one."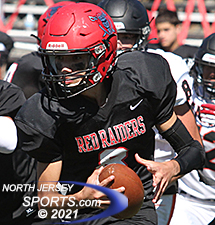 Drake Lewis scored the second TD for Cliffside, which is now 2-1 on the season.
Cliffside turned Aldaz's heads up special teams play into the only other touchdown of the game, a one-yard plunge by Lewis with 8:24 left in the first half. Tenafly was forced to punt on its next possession, one of only two it got in the first half, as Cliffside saw out the rest of the first half with possession and took its 14-0 lead into the locker room.
It was similar in the second half as, although Cliffside did not add to its lead, it again gave Tenafly limited opportunities to claw its way back. The Tigers got only two second half possessions, the first a three-and-out and on the second they picked up a first down on their first play and then went three plays and punt.
"Honestly we just came out and played physically today. That's really all there is to say," said Turner, a junior and Cliffside's home run threat. "The thing is, I think we could have played better. We had chances to put up more points, but we came out with the 'W' and that is all that matters."   
While there are no excuses in Tenafly's tough start, there are plausible explanations. While the Tigers remained mostly healthy through last year's league title run, that has not been the case so far this year and the injury list got a lot more congested yesterday.
Already without senior lineman Evan Armas, Tenafly lost its standout running back Kenny Uchida to an injury early in the first quarter against. Uchida might be the fastest player in the Ivy and his loss put a lot more pressure, literally and figuratively, on junior quarterback Emmet Goldberg.
Tenafly also lost senior tight end/linebacker Ian Kim to an undisclosed issue in the first half and then, in a scary moment, saw junior lineman Adam Fredman immobilized and stretchered off with an apparent neck injury, although it was later revealed to be just a cautionary measure. A bright spot for the Tigers was the play of sophomore Tiko Chintedza, listed as a linebacker but more the size of a cornerback. Chintedza finished with seven tackles, just about all of them by flying up and taking on ball carriers on the edges,
Tenafly will try to regroup on the road in West New York against Memorial, Cliffside will look to get to 3-1 next week when it hosts Ferris.
FOR MORE PHOTOS FROM THIS EVENT PLEASE CLICK HERE. TO BUY A COLLECTOR'S PRINT OF THIS STORY PLEASE VISIT 4-FeetGrafix.com.