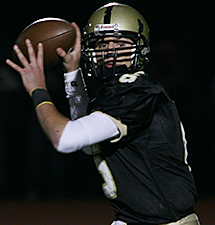 River Dell's Garrett Avitabile
NORTH JERSEY – We just debuted our brand new podcast 'Where Are They Now' with River Dell's Garrett Avitabile on Thursday. The show features athletes, coaches, administrators and anyone else from throughout our coverage area who made an impact on high school sports in North Jersey and has gone on to new and exciting things. If you haven't heard it yet you can listen to it here.
But in our excitement to get back to work and see what Garrett has been up to we kind of forgot to get to a few things. So we called him back to ask him 5 more questions...
1) You were one of the best running QBs in New Jersey, what were some of your statistics?
Senior year rushed 1,707 yards rushing on 170 carries and 23 TDs. Also threw 12 TDs on 61-97 passing for 1,050 yards. 20-3 record in two years as starting quarterback.
2) Did you have any pregame rituals?
I would watch Reggie Bush and Chad Ocho Cinco's highlights before every game. Loved their confidence/swag.
3) What other schools recruited you besides Townson?
Wofford, Georgia Tech, Army, Navy, Air Force, Springfield, New Haven and TCNJ.
4) What is your greatest accomplishment as a high school football player?
Embracing the leadership role and having a positive impact on my teammates.
5) What do you miss most about playing football?
The amount of time spent with my friends. The laughs, the adversity and the success.
If you have a suggestion for a guest on 'Where Are They Now?' please feel free to send us an email with the person's name and contact infomation and we'll take it from there!
TO VIEW MORE PHOTOS FROM THIS EVENT PLEASE CLICK HERE. TO BUY A COLLECTOR'S PRINT OF THIS STORY PLEASE VISIT 4-FeetGrafix.com.