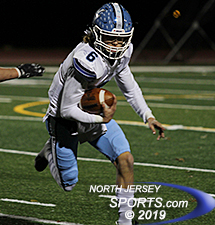 Tommie Moran threw a TD pass with just under one minute to play to give Wayne Valley the winning points in a 21-17 victory over Old Tappan that gave the Indians their first state sectional title since 1991.
OLD TAPPAN -- Senior quarterback Tommy Moran tossed an 8-yard TD pass to senior fullback Jake DeLuccia with 54 seconds to go in the game to propel Wayne Valley to a 21-17 victory over the Golden Knights Friday night in the North 2, Group 4 final.
"We actually put it in this week - it's a new scheme," Moran said of the play. "Coach knew it was going to come in a big moment and it did. We executed it very well and he (DeLuccia) ran through some kids, ran around some kids and made a huge play for us."
"What an amazing finish," added Wayne Valley coach Roger Kotlarz. "We talk so much about keeping our poise, keep believing and keep fighting one play at a time. And that right there is what is all about."
Kotlarz was concerned about the time left in the game as he called the winning play.
"We talked during the timeout and I got into the clock," he said. "I said, 'this is it, this is the game. It's now or never.' We had a special two-point play ready and we decided to run it here. They (Old Tappan) actually played it pretty well. DeLuccia was the first option and we knew they would be in man [defense]. So we gave them a little traffic to try to sneak Jake out. He was open just enough and Tommy threw a great ball. Jake did the rest, plowing in. I told Tommy if we don't get it here we're going to kick a field goal. Either we're going to win the game or we're going to go kick a field goal. I love the fact that one of our captains, Jake DeLuccia, had the game-winning catch."
Old Tappan got the ball back at its own 30-yard line, but on first down Indians senior defensive back Mo Gega intercepted a pass and Wayne Valley ran out the clock.
The two defenses ruled the game early on. With just over two minutes to go in the first half the offenses finally got going. Wayne Valley struck first when Moran hooked up with tight end Anthony DePalma for a 20 yard TD pass. Gega added the extra point and Valley led, 7-0.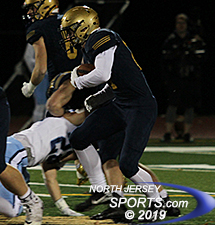 Will Andresen spear-headed the Old Tappan running game, which was the best option on a wind blown night.
Old Tappan got the ball at its own 35-yard line with 2:07 to go. Senior quarterback Nick Orecchio connected on consecutive plays with senior wide receiver John Caraciolo for 11 and then 34 yards to get to the Valley 25. Orecchio ran three times to earn a first down at the 15. After a pass interference call against the Indians gave the Knights a 1st-and-goal at the 7-yard line, Orecchio flipped a pass toward senior wide receiver Jake Piccinich at the 5-yard line. Piccinich grabbed the ball with one hand, pulled it in and tumbled into the end zone. Junior Daniel Hwang booted the extra point and the teams retreated to the halftime locker room tied, 7-7.
The Old Tappan defense forced the Valley offense into a 3-and-out on the opening possession of the second half and on their first offensive play of the half senior running back William Andresen took a handoff, turned the corner and bolted down the right sideline, stepping around and over defenders en route to a 29-yard gain. A few plays later, on 4th-and-inches he burst up the middle for 14 more yards.
The scoring drive stalled inside the 10-yard line so Hwang kicked a 25-yard field goal to give Old Tappan its first lead of the game, 10-7.
It was a lead they would hold for exactly 20 seconds.
On the ensuing possession Indians junior John Testa ripped through the line, cut left and outran the Old Tappan defense for a 70-yard touchdown. In so doing, he went over 1,000 yards rushing for the season and gave Valley a 14-10 lead.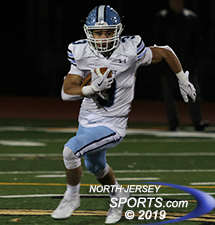 Elijah Lugo's catch set up the game-winning score for Wayne Valley, which will face Northern Highlands in the North Group 4 Bowl Game.
"He's just a bulldog," said Kotlarz. "He's so important for us. There is no secret there. Everybody who plays us know he's a primary guy to defend, and not only on offense, but on defense [as a linebacker]. He's such a terror on defense.
"He plays so hard, a great old-school high school football player. He's so tough, he's so durable and relentless. I can't say enough about him. I'm glad we have him back for another year."
But Old Tappan came right back, going on an 8-play, 65-yard scoring drive. Andresen was at the center again, beginning the drive with a 15-yard run and later gaining another 19 yards to give the Knights a first down at the Valley 20-yard line. Orecchio ended the drive with a 2-yard run and Old Tappan took back the lead, 17-14.
The teams traded punts and the Indians got the ball back at their 22-yard line with 5:23 to go. Moran gained nine yards on a quarterback keeper and after he hooked up with senior running back Elijah Lugo for 11 yards, he ran for eight more yards to earn a first down at midfield.
"[In a] two-minute, game-winning drive, the first couple of plays are so critical to gaining momentum," Kotlarz said. "It was a great call. We went with Moran on a run and he got us moving a little bit. I said to my offensive coordinator, coach [Chris] Helm we have to throw it - we can't use too much clock. And he stuck to being patient and he mixed in a run, which I think actually caught them a little off guard and that kind of got the drive going."
A pass interference call against Old Tappan gave Wayne Valley a first down at the Knights 40-yard line. On second down Moran lofted a perfect pass deep over the middle where Lugo made a sliding catch inside the 10-yard line.
"The catch by Lugo is a state championship catch," said Lotlarz. "In order to win a ring or a championship that's the kind of plays you have to make. What a great catch."
The Old Tappan defense stuffed two Testa runs to set up a 3rd-and-8, which turned out to be the game-winning Moran to DeLuccia pass play.
"We knew we couldn't panic like against [Northern] Highlands when we went down," Moran added. "We were all calm in the huddle, cool, collected, one play at a time. We knew we had to score on that drive and we did. We never, ever give up."
The win earns the Indians a berth in the North Group 4 title game, their first opportunity for a championship since 2016. The Indians last won a state sectional title in 1991.
"We've been close," said Kotlarz. "We've been successful and we've fought. We've had some setbacks. Our mantra at the beginning of the season was 'rise as one.' We defined that as staying as a team, growing as a team, but the biggest thing was we were going to rise. We were going to go further than we've done before. We were going to take more steps.
"We've been to the semis three times in the last four years. We lost in overtime four years ago and five of six of these kids were on the field that night with us at MetLife Stadium. At camp we talked about rising as one, that we were going to take the next step. And I'm really proud these guys got it done."
The Indians will face Northern Highlands, 37-7 winners over Woodbridge, next weekend. The Highlanders beat the Indians, 17-13, October 25.
"We've come so far with this group," said Kotlarz. "I can't be more proud of these guys through the ups and downs, the setbacks, the mistakes we've made and the shortcomings. This group has listened and learned more than any group I've coached."
"I just can't talk about my team enough," said DeLuccia. "It's such a team effort all year. We give it our all every single day in practice, every hour we're working our tails off. To have it finally pay off is in front of the people we love is an unreal moment. It was unfinished business since 2016. We're not the most athletic group of kids but we are toughest team in the state. We are the toughest kids. We will not fold. We might not be the biggest or the strongest but we are tough and that's what wins games."
FOR MORE PHOTOS FROM THIS EVENT PLEASE CLICK HERE. TO BUY A COLLECTOR'S PRINT OF THIS STORY PLEASE VISIT 4-FeetGrafix.com.