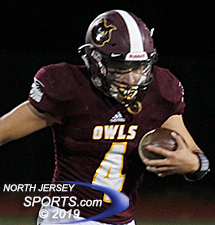 Vincent Pinto led a Park Ridge comeback that resulted in a 29-28 victory over Cresskill in the NJIC Tournament semifinals.
PARK RIDGE -- In a wild finish Friday night, Park Ridge scored 16 points in less than five minutes late in the fourth quarter to come from behind to hand Cresskill its first loss of the season, 29-28, in the NJIC Tournament semifinals.
Cresskill had just taken a 28-13 lead on a 1-yard run by senior running back Tim Coffey with 6:53 to go in the game. The lead seemed insurmountable.
"Our guys are resilient," said Park Ridge head coach Tom Curry IV. "We've been down two touchdowns. We were down two touchdowns to them (Cresskill) last year in the state playoffs. So we've been there before. We have good players and some guys that are gamers who want to make plays when the ball is in their hands."
At first, it appeared that the Owls might not be able to come back to win. Senior quarterback Vince Pinto gained five yards on a running play but an incomplete pass made it 3rd-and-5 at the Owls 39.
Pinto took off on the third down play, running around, avoiding tacklers and keeping his feet for a couple of yards. But a personal foul penalty against Cresskill gave the Owls a first down at the Cresskill 43-yard line.
Then Park Ridge faced a 3rd-and-5 at the 38 when Pinto hooked up with junior wide receiver Brendan Hughes for 20 yards inside the Cougars 20-yard line.
Two incomplete passes later senior running back Justin Wagner raced around right end for an 18-yard touchdown.
"Everything starts with Vince," said Wagner. "I can't get the ball unless he hands the ball off. He's one of the biggest leaders on the team. I follow him. It's a team sport. Everything we do is a team effort. It was a team win."
A missed extra point on the Owls second touchdown earlier in the game forced them to go for two points. Thanks to another personal foul penalty called on a Cougars player during Wagner's TD run, the Owls moved closer to the end zone for the two-point conversion and Pinto ran it in to close the scoring gap to 28-21.
On the ensuing possession Cresskill could not get anything going offensively mainly due to the absence of senior quarterback Aiden Feulner, who was knocked out of the game early in the Cougars' scoring drive where they took the 21-13 lead. Feulner had thrown a pair of touchdown passes and scored on a 1-yard run prior to his injury.
"Unfortunately you don't want to see anybody get hurt, but when their quarterback went out it was a game-changer," said Curry. "It changed the dynamic of their team. It was unfortunate because you always want to play against the best guys and he's one of the best players in our league, if not the county. That changed the game."
Junior Kyle Henderson did the best he could to take over for Feulner but the Cougars were unable to move the ball and punted the ball back to Park Ridge at their 30-yard line. Pinto was on the sideline watching the defense shut down the Cougars and preparing to get back to running the offense.
"I was on the sideline and I just kept breathing," said Pinto. "I told myself, 'this is it. This is what we're built for.' This is where you separate the good teams from the great teams and I know we're a great team. It showed tonight."
Wagner picked up three yards on the ground and Pinto connected with Hughes for 13 yards. On 1st-and-10 from the 44-yard line Pinto floated a pass to Wagner in the right flat. Wagner caught the ball, sprinted around the end and bolted 56 yards for a touchdown to cut the lead to 28-27.
"For a period of time my eyes closed," said Wagner, who scored all four of the Owls' touchdowns. "On that last touchdown my eyes completely closed. All of a sudden I saw it and I just kept going. It's electric. It's hard to describe. You feel everyone is watching but you're doing it for your team. It's a team thing. You're so happy to bring your team to the end zone."
"It's crazy watching him," Pinto said. "We started from sophomore year until now and it's crazy how he's progressed over the years. He's gotten so much better. In sophomore year he was a great player and he's gotten that much better. He's electrifying every time he gets his hands on the ball. When I give him the ball I feel safe. I know he's going to do something with it."
Park Ridge called timeout to talk about going for another two-point conversion to put them ahead instead of attempting to boot an extra point to tie the game.
"With the extra point getting blocked earlier," said Curry, "we said we might have to go for two because we were down one of our offensive linemen. We didn't want to have it blocked again. At the end of the day we put the ball in the best hands with Pinto and Wagner and Hughes. And they did great things with it. If I'm going to go down I'm going down fighting with the best."
Pinto took the ball and ran to the right. He cut back and made it into the end zone to put the Owls ahead.
Cresskill got the ball back with 1:51 to go. Henderson found junior tight end Kiel McGee for 14 yards and a first down. A few plays later McGee made a great catch near the sideline for a first down at the Owls 35-yard line.
But Park Ridge junior Daniel Gutin sacked Henderson for a 6-yard loss and on the next play Hughes intercepted a pass and the Owls were able to run out the clock for the victory.
"There are a lot of leaders on this team and it's a team effort," said Wagner. "It's not just me. The line and everyone played together. It's a team sport and it was a team win. We've faced adversity and all we try to do is persevere. That's something the coaches teach us and it's something we try to follow through on."

"In pregame," added Pinto, "I said, 'It's all about how we're going to react to adversity.' Some stuff is not going to go our way. They're a big, physical team and they've been a powerhouse this year, 6-0, just like us. No matter what you just have to keep pounding, keep going. And that's exactly what we did."

Cresskill opened the scoring with a seven-play, 70-yard scoring drive the first time they got the ball. Feulner rolled to the left and zipped a pass to junior wide receiver Jon DiTore, who scampered 48 yards for a touchdown.
Park Ridge tied the game 7-7 when Pinto hit Wagner with a seam pass and Wagner took it 45 yards for the touchdown.
Cresskill took back the lead, 14-7, about a minute and a half later when Feulner and senior wide receiver Mark McDermott hooked up twice - once for 11 yards and then for a 44-yard touchdown strike.
On the second play of the second half Wagner scored again on a 64-yard touchdown run when he bolted through a gaping hole. A blocked extra point kept the Owls behind, 14-13, but it was an outstanding play that should have tied the game.
"He was tremendous," Curry said of Wagner. "He does a great job with the ball in his hands and he's a true complement to Pinto. A lot of teams want to take Vince away but you can't because Justin is that good."
"When I got back to the sideline," said Pinto, "I said, 'did you guys see that hole?' It was insane. I had the best view anyone could possibly see and I can't thank these guys (linemen) enough. They're complete work horses. If you see them play they're not even close to being the tallest or biggest linemen in this area. They just work hard every single day. They're always hungry. I love them so much ever since sophomore year."
With the win the Owls improve to 7-0 and move on to the NJIC championship game against Lyndhurst, 33-7 winners over Waldwick/Midland Park.
"It's special," said Curry. "What the NJIC did with this whole thing is unbelievable. It's one of the only ones in the state that actually plays for a true conference championship. It's great to see. We're excited to be a part of it. We just missed it last year but we thought we had a real good shot to get there and compete hard for it."
"It's the best thing ever," said Pinto. "I started playing in fourth grade and that's how I've bonded with all my best friends now. It's through football. We do everything together from June to November. I just love it."
TO BUY A COLLECTOR'S PRINT OF THIS STORY PLEASE VISIT 4-FeetGrafix.com.