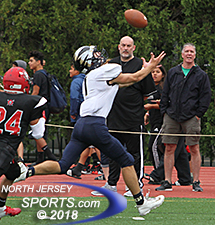 Henry Poliandro did just about everything for Indian Hills in a 35-0 win over Cliffside Park, including this over-the-shoulder, fingetip catch in the third quarter.
CLIFFSIDE PARK – Henry Poliandro is a transfer, one of those kids who started his high school year in one place and moved to another for athletic advantage, but Poliandro is not one of THOSE transfers. Poliandro did not bypass his hometown school in favor of a more high-profile Non-Public football program that plays a national schedule. In fact, Poliandro, a Wyckoff resident, spent his first two high school years at Eastern Christian, a small parochial school of about 250 students across all grades levels that does not even sponsor a football team.
Last year Poliandro, now senior, made the move to Indian Hills High School and has not only earned a spot on the roster, he is now an irreplaceable piece.
"He lines up at quarterback, he lines up at receiver, he lines up at wingback, he lines up at fullback," said Indian Hills head coach David Schuman. "We move him around and that is part of what we do offensively."
There was not much that Poliandro, playing in just his second ever high school football game, didn't do offensively for Indian Hills on Saturday. He ran for a 41-yard touchdown to open the scoring, returned a punt 83 yards for the Braves' second score, scored on a QB sneak for touchdown No. 3, made an over-the-shoulder, fingertip catch to set up his team's fourth touchdown and scored that one himself, too, when he swept around the left end on fourth down with just six seconds left in the first half.
Poliandro broke out in a big way with his four score performance in a win that was a long time coming for Indian Hills. The Braves brought a six-game losing streak into this season and were shutout in their season opener last week before putting all of that behind them in a 35-0 victory on the road in Cliffside Park.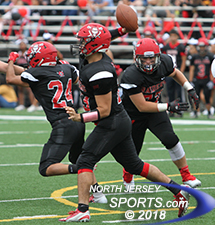 Antonio Diperi and Cliffside Park will try to get back on the winning track next week against Dwight Morrow.
"This was my second varsity football game and I enjoy the sport. I have a lot of fun. I played up until eighth grade and a couple of players told Coach [Schuman] that I might be a good fit, so I tried it out," said Poliandro. "I ended up joining the team and I am happy I did."
This was a bellwether game for both teams. Cliffside, a program that went a combined 4-54 from 2011 to 2016 before Tom Mandile took over and went 3-6 last year, opened this season with a victory on the road at Ferris and is clearly heading in the right direction. Indian Hills went 1-9 last year, the first under head coach David Schuman, and had lost seven straight games coming into Saturday including last weekend's season opener against West Milford.
Both teams were looking for that shot of adrenaline that could propel their respective programs forward, but what the outcome of this contest would became clearly visible after each team had the ball one time. Cliffside Park went three-and-out on its first possession of the game and punted. Indian Hills faced a third-and-3 the first time it had the ball before Poliandro, lined up at quarterback, kept the ball, ran around the left end and scored a 41-yard touchdown. Tyler Alvarez added the first of his five extra points to put Indian Hills in front for good, 7-0, just 1:15 into the game.
Poliandro's second score came on an 83-yard punt return late in the first quarter and he added a 2-yard TD run with 2:41 left in the first half to make it 21-0. The Braves added another score before the break as Will Runge's interception set them up at the Cliffside 45. On the final possession of the first half, Poliandro lined up as a wide receiver to the left and then made the brilliant catch of a pass lofted up by Carson Alnor. Poliandro then finished off his dominant first half with a 5-yard score on fourth-and-1 with :06 to go as Indian Hills went into the locker room with a 28-0 lead.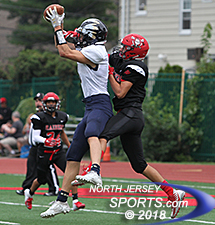 Kenny Fazio made this catch to help set up his own touchdown run for Indian Hills, which will host Dumont on Friday night.
Kenny Fazio scored the lone touchdown of the second half on an 8-yard sweep around the right side with 6:23 to go in the third quarter to put Indian Hills up 35-0 and put the clock into running mode for the rest of the afternoon.
"We were able to block up front and that opened up so many things, especially for [Poliandro]. We made some mistakes, but not as many as we made last week. We could see the progress and that feels good for sure," said Indian Hills senior Kevin Heins, a two-way lineman. "This is just the beginning. We worked so hard this summer and we want so much more than this. We want to make the playoffs; that is the goal for the season, but right now we know that it is all about our next game and that is Dumont. We have to get to work preparing for them."
Even with the opening week loss, Indian Hills could feel the momentum starting to build and Schuman was happy to see his team's effort payoff in a victory.
"This is a good day. The kids work hard, they were coming in a 6:30 in the morning all summer long, their effort has been great and we have had a lot of great practices. This was a big step for them," said Schuman, who has rebuilt dormant programs before with no other evidence needed beside his trip to MetLife Stadium as Palisades Park/Leonia's head coach in 2012. "Last year we struggled, but now they are starting to understand things. Our first game was tough, but we played real hard and there were a lot of positives, we just turned the ball over five times. Today we got the turnovers and it made all the difference."
Indian Hills will look to climb over the .500 mark when it hosts Dumont on Friday night while will Cliffside fell to 1-1 with the loss and will pay a visit to Dwight Morrow next week.
FOR MORE PHOTOS FROM THIS EVENT PLEASE CLICK HERE. TO BUY A COLLECTOR'S PRINT OF THIS STORY PLEASE VISIT 4-FeetGrafix.com.