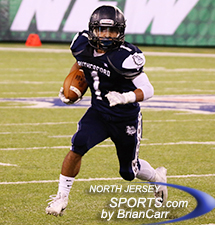 Abellany Mendez's 70-yard TD run got Rutherford on the scoreboard first and the Bulldogs never trailed on the way to a 21-13 win over Hackettstown in the North 2, Group 2 final at MetLife Stadium.
EAST RUTHERFORD – It had been 51 years since Rutherford last hoisted a playoff trophy, so it has been an especially sweet last month of the season for the Bulldogs' football program. Already the NJIC tournament champion, Rutherford capped an undefeated run through its schedule with a hard-fought 21-13 win over Hackettstown to win the North 2, Group 2 state sectional title on Thursday night at MetLife Stadium.
"It feels like a dream winning this game," said Rutherford head coach Andy Howell, "These kids deserve it, they are gamers, they come out every Friday night, they work their tails off, they love football, they are tough kids. "I have to give credit to my coaches. Our assistant coaches are awesome, the amount of hours they put in are astronomical."
"The best feeling in my life, winning a state championship," said senior captain Billy Finn
The game was not played at Tryon Field, but it was still basically a home game for Rutherford as it took the short ride over to MetLife Stadium, but it was Hackettstown that looked at home early as it moved the ball up and down the field. It was two turnovers that kept the Tigers from taking the lead and an electrifying 20-yard touchdown run by junior Abellany Mendez that turned the momentum in Rutherford's favor.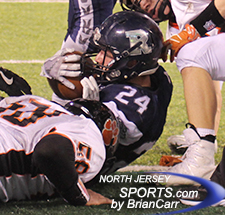 Billy Finn scoring the one-yard touchdown in the second quarter that put Rutherford ahead for good.
Hackettstown got even on an 11-yard touchdown run by TJ Sciaretta with 20 seconds left in the first quarter, before Billy Finn capped off a 74-yard drive with a 1-yard score with 4:51 left in the first half put the Bulldogs up 14-7. The key play on that drive was made by senior Joe Ivanovic, whose diving catch was good for 30 yards and converted a third-and-12.
Hackettstown got a quick score, quarterback Christian Maciak's 3-yard keeper for a score at the end of a 65-yard drive with 1:27 left in half, but the Tigers missed extra point and went into the locker room trailing 14-13 at the half.
The first drive of the second half was key to Rutherford's win in the NJIC championship game when it scored to tie Hasbrouck Heights before eventually winning in overtime. This time the Bulldogs took the second half kickoff and extended its lead. Quarterback Kyle Russell found Mendez for a 23-yard pass and run that stretched the Bulldogs advantage to 21-13.
"We made some half time adjustments and we stressed that we were up by one, no pressure. We put together a real nice drive and that was huge. That was critical," said Howell. "We made the adjustments on defense, we stepped it up in the second half and got it done."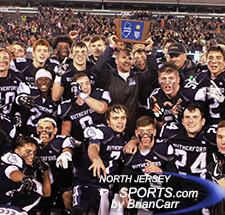 Rutherford celebrated a state championship for the first time in 51 years.
In the fourth quarter the Bulldogs defense stepped up big. Sophomore defensive lineman Sebastian Gaeta stuffed Hackettstown on a fourth-and-2 on their own 45 with seven minutes left and Lawson Fischer got a tackle-for-loss with 1:52 left in the game and with Hackettstown on the Bulldogs' 24 yard line.
"Coach said, "Go in the middle.' They gave me some free rein and I do what I do", said Fischer.
"[Fischer] is a play maker. He is a first team All-County kid. We told him you have got to play like a fist team All-County player and he certainly did that today," said Howell.

Defensive back Rich Marques also defended a pass to the end zone on a third down play with 1:09 left, and then, on fourth down, the Bulldogs sealed it with a final defensive stop with solid pressure on the quarterback. Rutherford's defense pitched a shutout in the second half to earn the Bulldogs their first state championship in 51 years.
TO BUY A COLLECTOR'S PRINT OF THIS STORY PLEASE VISIT 4-FeetGrafix.com. FOR MORE PHOTOS FROM THIS GAME CLICK HERE!