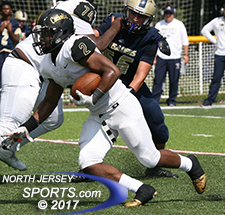 Aziz Wilson carried the ball only six times, but he scored TDs on half of them for Hudson Catholic, which improved to 2-0 with a 45-7 win at Morris Catholic.
DENVILLE – Last year, Hudson Catholic turned some heads by having a strong season and earning the top seed for the Non-Public Group 2 state playoffs. That euphoric feeling did not last long, however, as the Hawks suffered a heartbreaking 21-18 loss to Immaculata in the first round of the state tournament. It is an experience that Hudson Catholic junior tailback Aziz Wilson reflects back on and has used to motivate himself along with his teammates each and every day in practice. So with momentum already building this season and two big games coming up over the next two weeks Wilson and Co. refused to let a potential trap opponent, Morris Catholic, slow them down.
Wilson only carried the ball six times but he made those touches count. He found the end zone on three straight drives spanning the first and second quarters as Hudson Catholic jumped out to a big lead and never looked back in a 45-7 thumping of Morris Catholic on Saturday afternoon in Denville.
The final score was a wide margin but things did not start off in ideal fashion for the Hawks. Consecutive false start penalties to start the game followed by two more penalties on the drive stalled it out and forced the Hawks to punt.
After getting the cobwebs out, Yasin Peppers jumped a crossing route for an interception that gave the Hawks great field position. On the very next play, Peppers broke a tackle in the hole and went 21 yards to the end zone for a 6-0 lead.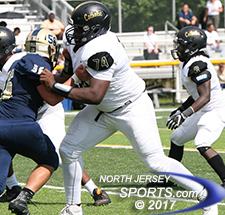 Jaden Rollings and the Hudscon Catholic front dominated the line of scrimmage.
"You can't take a long bus ride and come out flat. You've got to come off the bus ready to play," said Hudson Catholic head coach Lou Zampella. "We're a team that has potential and we're still working on getting better but we've got to clean up the penalties. If you're going to win and play into December, you're big kids up front have to play well. Today they did a good job on both sides of the ball."
The offensive line was dominant all game and gave the Hawks' bevy of skill position players plenty of room to run. Wilson was the main beneficiary. On their next drive, the Hawks took over at midfield and needed just two plays to find paydirt. Quarterback Johnathan Banks hooked up with Jy'ell Higgins for a 32-yard completion and Wilson followed up with a scintillating 18-yard TD run. Then, with just seconds remaining in the opening stanza, Wilson stiff-armed a defender and cruised into the end zone from 14 yards out to give HC a commanding 20-0 lead.
Wilson added a third TD in the span of 6:40 with offensive linemen Jaden Rollings and Khalif Hurt opening up a huge hole and Wilson running through it for a 25-yard TD run.
"Our O-line made it all happen and I know my big boys up front will open up that hole and let me get to the second level," said Wilson. "We're a well-conditioned team and we're priding ourselves on that this year. The difference is not just running because coach makes us do it, we're doing it because we want to do it. That gives us confidence that we can both start strong and finish strong."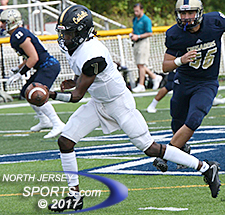 QB Jonathan Bates has helped lead Hudson Catholic to a 2-0 start heading into a tough two-week stretch of its schedule.
Morris Catholic (0-3) got on the scoreboard late in the first half on a QB sneak by Darrell Sellers. With time winding down, the Hawks answered back with a quick strike. On the first play of the drive, Bates dropped in a deep ball that Jahier White hauled in for a 45-yard gain down to the Crusaders' 22. Three plays later, Peppers went off tackle for a 16-yard TD that essentially put the game on ice by halftime, 32-7.
Isaiah Decias and Elijah Hampton tacked on second-half TD's for Hudson Catholic (2-0). Wilson found the end zone three times for the second straight week.
The Hawks will two tough opponents over the next two weeks that will likely determine just how far this team is capable of going in the state playoffs. They will take on undefeated Boston College High (MA) this coming Saturday at Caven Point before taking on a talented DePaul side the following week. With a chance to earn valuable power points, the Hawks will put this win behind them and turn their focus toward earning respect among the powers of North Jersey.
"The loss to Immaculata was real tough because we lost it in the last 10 seconds of the game, we're determined to not let that happen in big games this year." added Wilson. "We've got two huge games coming up and we know we can't get off to a bad start. We have to set the tone right from the jump and show everyone what Hudson Catholic football is all about."
TO BUY A COLLECTOR'S PRINT OF THIS STORY PLEASE VISIT 4-FeetGrafix.com. FOR MORE PHOTOS FROM THIS GAME CLICK HERE!