Carly Marie Yanotta's goal off a penalty stroke put the finishing touches on Whippany Park's 2-0 win at Pompton Lakes in the opening round of the North 1, Group 1 state sectional tournament.
POMPTON LAKES -- Field hockey is not a high-scoring game on its best day, so when two youthful teams meet up in the state tournament, especially in the 8/9 game where the matchup is supposed to be relatively even based on the seeds, it is likely going to be a low-scoring slugfest won by the team that creates more scoring opportunities. Sooner or later, a goal is going to come through the quantity of chances.
After a dominant first half Whippany Park finally broke through in the second half. Kaitlin Bouye opened the scoring and Carly Marie Yanotta scored on a penalty stroke as ninth-seeded Whippany Park put an end to Pompton Lakes' season by virtue of a 2-0 win in the first round of the North 1, Group 1 state sectional tournament on Wednesday at Hershfield Park in Pompton Lakes.
As with most games between the eight and nine seeds the talent level was similar. What separated the teams throughout the first half was hustle as Whippany Park was first to virtually every loose ball. Although most of the first half was spent in the Cardinals' end of the field the game remained scoreless at halftime thanks to a strong defensive effort from Pompton Lakes' back Dez Cosgrove.
"We were playing well and we got a lot of corners, but we just settled for getting corners," said Whippany Park head coach Nicole Allocco. "They only had two corners in the first half but they had better scoring chances then we did on our 10 corners. I just told them to do what we've been doing but we had to be more aggressive in the circle than we were in the first half."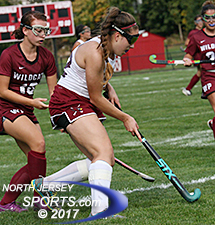 Des Cosgrove played well on the defensive end for Pompton Lakes.
The Wildcats kept up the pressure in the second half before finally cashing in just over 10 minutes into the half on their 13th corner of the game. Julia Levis sent in a long shot that was saved by Pompton Lakes goalie Madisyn DeFrancesco, but Buoye was there to pounce on the rebound and make it 1-0.
Andrea and Nicole Molinaire each were a big part in keeping the Wildcats on the offensive before forcing DeFrancesco to dive on a ball in front to save what would likely have been a goal. That save was only a temporary reprieve, however, as Yanotta, a senior captain, stepped up to take the stroke. She flicked one into the lower left-hand corner with 12 minutes remaining to put the Wildcats in front 2-0.
"In my mind I just had the spot that I was going for," said Yanotta. "I try to read the goalie too but if she isn't leaning one way or the other I just stick with the spot I have in mind. I knew we would come out ready to work even harder in the second half and we knew we had to score first."
Late in the game the Cardinals finally made a push forward. They had nine corners over the final 11 minutes but were only able to get off two shots as Whippany Park advanced and the Cardinals saw their season come to a close.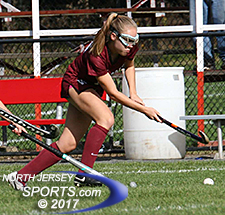 Kaitlin Bouye opened the scoring for Whippany Park, which improved to 9-7 on the season.
Hannah Klein needed to make just four saves to earn the shutout for Whippany Park (9-7). Buoye's goal was her team-leading 18th of the season. The Wildcats move on to face top-seeded Ramsey in the North 1, Group 1 quarterfinals.
"We have nothing to lose against Ramsey and we feel like we can pull it off," added Yanotta. "We just have to be there ready to play for all ready for 60 minutes. I think we know what's at stake and winning that game would be the highlight of our season."
DeFrancesco made 13 saves for Pompton Lakes, which finished the season at 4-11-3. Though the final record is a disappointing one for longtime head coach Eileen Allan she feels that with eight starters returning if they hard work and dedicate themselves in the off-season that next year could be a resurgence for the Cardinal field hockey program.
"My speech after the game was about the kind of extra work we need to do in the off-season," said Allan. "We have to look at how we have improved from game to game. We lose three seniors but we return a lot of players. You can't hang up your sticks and come down to practice in August just expecting to be better. I think a lot of them want to do the extra work to make themselves better and that says a lot about the character of this team."
TO BUY A COLLECTOR'S PRINT OF THIS STORY PLEASE VISIT 4-FeetGrafix.com. FOR MORE PHOTOS FROM THIS GAME CLICK HERE!