Tom Quinn is in his 29th year as a geometry and calculus teacher at Northern Valley/Old Tappan High School. He was the Golden Knights' girls soccer coach for 23 years, has been the boys golf coach for 10 seasons and is now back on the sidelines as the JV girls soccer coach. He took his first steps on the Appalachian Trail on January 1, 2019.
Quinn has logged a lot of miles since. He has walked the entire New Jersey and New York sections of the AT and has just about finished off Connecticut, too. He shares some of his experiences, tips and tricks in our semi-regular Down The Trail feature.
---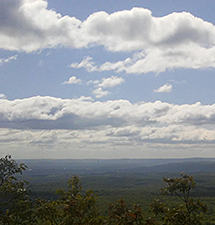 There have been plenty of views like this one along Tom Quinn's 200-plus miles covered on the Appalachian Trail.
I continued my AT hike thru Connecticut in the late July heat and my brother, Rob, joined me once again.  We started in Falls Village and hoped to make it to the Massachusetts border about 15 miles away. 
Falls Village has become my favorite part of CT.  I ended my previous hike here, and started again with a gentle hike along the Housatonic River and Great Falls.  It's a great part of the trail with a lot of history; one may wonder how much work was done around the Great Falls 100-150 years ago.  This is a highlight of the CT portion of the AT.
The hike continued north up several hundred feet of elevation through woods with a gentle climb up to Prospect Mountain.  There was a decent view here and a comfortable spot to take a short rest.  The descent had two parts.  As I said before, if you are hiking north on the AT through Connecticut, it is the descents that seem to be a little tougher and better (not on the knees!).
Rand's View was the first main attraction on this descent.  I have heard of Rand's View from other hikers and read about it in other blogs and books about the AT.  The claim was that it is one of the best views on the entire trail.  The walk leads to an open meadow with views to the north of the Berkshire mountains and a clear sightline of where you will go over the next 25 miles or so.  While the view was outstanding, I cannot buy that it is one of the best views on the AT; I imagine better views in New Hampshire, Maine, North Carolina or Tennessee. 
I would rival the view at New Jersey's own High Point monument here.  What it a nice view and rewarding?  Yes.  For me, the Great Falls was better.
The hike continued "S-ing" through the woods.  It certainly wasn't a straight hike.  It was a casual, easy stroll through different types of woods.  Eventually, there was yet another cool descent into the town of Salisbury.  The descent included a neat walk along a cliff, a road walk and a walk through a meadow.  This was a neat change of pace to an already cool hike.  Salisbury was the last main town in Connecticut; a quintessential New England village.
Leaving Salisbury proved to be a challenge as the hike climbed for several miles.  We were already running low on energy as we made it to the first peak, Lion's Head (1734 feet).  These are elevations that I have not seen since High Point, NJ.  The hike continued on a gradual incline with the goal of getting to Bear Mountain (2316 feet). 
Very close to the end of Connecticut; however, I made a rookie mistake and "cramped up" due to lack of fluids.  The major problem was that I was miles from my car.  NEVER get caught in this situation!! 
We did the smart thing and took a side trail down the mountain and I limped to our car.  I will get to Bear Mountain next time and certainly be more prepared.  Unlike other parts of the AT I have done, this part of CT put you 2-3 miles from the nearest road.
My next hike will be to use a side trail to get to the AT and hike the next "three peaks".  Bear Mountain (CT), then the first two peaks in Massachusetts (Mt. Race and Mt. Everett) which are of higher elevation than Bear Mt.
I am looking forward to doing this, and continuing to add on the miles.  This was a very rewarding hike with a lot of variety, especially in the beginning.
TO BUY A COLLECTOR'S PRINT OF THIS STORY PLEASE VISIT 4-FeetGrafix.com.