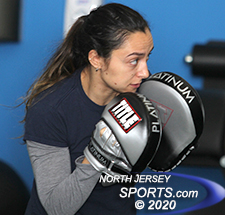 Colette Zarour, a Parmus High School and Montclair State University alum, is a Diamond Gloves champion now teaching boxing at The Anvil in Fair Lawn.
FAIR LAWN – Amid what passes now for a busy night in the COVID world, the sound emanating from the back corner of the bustling building still stood out. The unmistakable thwack of leather slamming into leather was the work of Colette Zarour, who has taken up residency in the state of the art facility that is The Anvil in Fair Lawn.
The 2014 graduate of Paramus High School and 2018 alum of Montclair State University and a bona fide badass as a 2018 Diamond Gloves champion, Zarour has taken to teaching the sport she loves to anyone daring enough to put on the gloves in the back corner of The Anvil.
"Boxing has been a part of my life for the last eight years. I have been fighting on and off during that time and I only have a few amount of fights because of injuries and it is very hard to find female opponents, but it has been such a big part of my identity since I started," said Zarour. "I love learning it so much and perfecting the craft and I like to see other people improve."
Zarour, who was introduced to the sport by her uncle and trained under Mark DeGiovanni, a former New Jersey Amateur Boxing Federation champion, has found a new home at The Anvil. While boxing has its roots in sweat-stained gyms in industrial areas, Zarour is happy to bring the sport into the light of day, or at least out into the light provided by The Anvil's floor to ceiling windows.
"My uncle [Bert Turelli] trained at the same gym as Mark [DeGiovanni], Bufano's in Jersey City. It's closed now, but it was an old school gym in a basement that smelled like dirty socks. That was the place to start," said Zarour. "The old school gyms are awesome, I am not going to disparage them in any way, but it is nice to be training in an elite facility like this place. You might not smell like dirty gym socks when you walk out of here, but you still get the same outcome."
Zarour joins Rati Gabidauri, a decorated boxer in his native Republic of Georgia, as the lead boxing instructors at The Anvil. Gabidauri sums up the overall approach of the boxing program.
"We talk to our clients about their goals. If they really want to learn how to fight, we do that or we teach cardio boxing to those looking to lose weight or burn some calories," Gabidauri. "We focus on balance, coordination of your upper body, how to throw a punch and how to control your speed and strength. We hit the heavy bag, the water bag, the speed bag and we tailor everything to give our clients a real workout and the basis for self-defense."
The boss agrees.
"We wanted to make it a program where you just wouldn't be throwing punches to get cardio, we want our clients to actually learn the skills of boxing," said Lauren Kinnally, The Anvil's Director of Operations. "We want a client to learn how to maneuver yourself with the kind of agility to really get that sense of confidence and empowerment that comes from knowing how to handle yourself in what could be a tense situation. At the same time, you are doing it in a space that's bright and clean and you can feel comfortable getting your workout in."

Zarour and Gabidauri work closely with an ample roster of fitness professionals in a host of disciplines.  On any given night in the refurbished lumber plant on Morlot Avenue you might see fencers fencing, hockey players getting their work in on the Glice, a state of the art synthetic ice surface, lacrosse players being put through their paces or personal training clients banging the weights.
There is a smoothie bar, turfed running track for sprints and simulated high-altitude training at the Exercise With Oxygen Therapy (EWOT) system. Everything is in place to take anyone's fitness to the next level and, in the age of COVID, it is being done with the utmost of care and well within the mandated governmental guidelines.
"We have been primarily focused on keeping every product that we offer separate from each other so that way there is a lot room between people doing different activities," said Kinnally. "We have been keeping the capacity of this building way lower than what we are allowed. Technically we could have 125 people in this building, but I don't think we have gone over 30 at one time. The health and safety of our clients is the most important mission. As a fitness facility, that is the business that we are in."
For more information on the boxing program or any other program offered by The Anvil, an official sponsor of NorthJerseySports.com, check out www.anvilperformance.com.
TO BUY A COLLECTOR'S PRINT OF THIS STORY PLEASE VISIT 4-FeetGrafix.com.