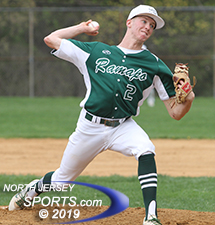 RAMAPO'S KC HUNT
Male Athlete of the Year:
K.C. Hunt, Ramapo
Hunt, a 6-foot-3 senior, was a two-sport star for the Green Raiders. Before heading off to Mississippi State University to play baseball, Hunt showed he was equally as dangerous on the hardwood in leading Ramapo to its best season in the history of its boys basketball program..
The Green Raiders leaned on Hunt all season and he delivered with some spectacular performances, sometimes even in losing efforts. In a 65-61 regular-season loss to eventual Bergen County Jamboree champ and Tournament of Champions finalist Bergen Catholic, Hunt led all scorers with 26 points and nearly led the Green Raiders all the way back from a large fourth-quarter deficit.
He followed that up with two big games in the Jambo, including a career-high 32 points in a quarterfinal win over Saddle River Day. Despite various defenses designed to slow him down Hunt, who scored the 1,000th point of his career in December, was a consistent force throughout the state tournament. He scored in double-figures in all six of the Green Raiders' state tournament games in leading them to a section title, a berth in the Group 3 state final and a 26-4 record.
On the diamond, Hunt possessed one of the state's top pitching arms as he picked up four wins and struck out 50 in just 30 innings, but he was equally as lethal with a bat in his hands. Hunt led or shared team-high honors in nearly every major category. Hunt finished the season with a .594 on-base percentage and a .468 batting average. He had five homers, 13 doubles, 35 runs scored, 27 RBIs, and 13 stolen bases on his way to being named first-team all-state.
Hunt closed out an impressive career at Ramapo by being named first-team all-county and first team all-Group 3 in both basketball and baseball.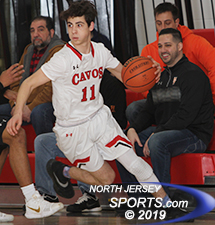 EMERSON'S PETE DUROCHER
Runner-Up:
Peter Durocher, Emerson
Durocher is the type of player that every coach wants to have on their team. He is a fearless leader who does whatever he can to make an impact in every game of every sport he plays. Although the days of the three-sport athlete have waned in recent years Durocher showed that one can still play three sports and thrive in all of them.
He took over at quarterback for Emerson in his senior season and led the Cavos back to the state tournament. He finished with 16 passing touchdowns and added seven rushing TDs to lead his team to a 6-3 record.
Durocher provided stability on the basketball court. On any given night he could have been playing any one of the five positions on the floor. He averaged over 10 points per game as the Group 1 Cavos qualified for the Bergen County Jamboree and finished with a 17-10 record.
However, it was on the baseball field where Durocher saw the most success both individually and as part of a championship team. The first-team all-NJIC Patriot Division shortstop was red-hot at the plate throughout the state tournament. After a going 4-for-4 in a section final win over Kinnelon Durocher collected three more hits and three RBIs in a Group 1 semifinal win over New Providence. In his final high school at-bat, Durocher's RBI single in the top of the seventh knocked out Glassboro's starting pitcher and set the wheels in motion for Emerson's epic comeback win to capture the Group 1 state title.
Honorable Mention:
Kyle Teel, Mahwah
T.J. Palmer, Hawthorne
Abellany Mendez, Rutherford
Steven Riedel, Westwood
Armani Brinson, Clifton
Dave Kruis, Midland Park
John Whooley, Ramapo
Frank Negrini, Pompton Lakes
Matt Weisbrot, Midland Park
Benny Dahdah, Westwood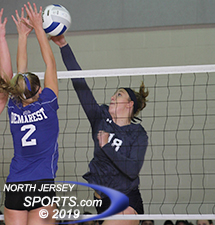 IHA ANNA MORRIS
Female Athlete of the Year:
Anna Morris, IHA
Morris proved to be not only the top athlete in North Jersey, but also arguably the best in the state, kicked off by a monster season on the volleyball court.
The 6-foot-3 junior absolutely wrecked the game plans of IHA's opponents as an unstoppable force at the net. She finished with 381 kills and 110 blocks, both team-highs and among the best in the state in both categories. That was just scratching the surface as Morris showed off a more well-rounded game and an innate ability to come up big when the pressure was on.
She came up with 14 kills, seven digs and five blocks in a hard-fought Bergen County semifinal win over Dwight-Englewood, then turned around with 15 kills and seven digs in the Bergen County final against Northern Valley/Old Tappan to help capture the title.
It was more of the same in the state tournament where Morris was just as effective in the back row as she was at the net. She posted 13 digs in a Tournament of Champions semifinal win over Northern Valley/Demarest and closed out the Blue Eagles' championship season with 11 digs in the final. Morris was named the Gatorade Player of the Year for New Jersey.
Her consistent solid play continued on the hardwood during basketball season. She was also a force in the paint all season long, scoring in double-figures 25 times. In the Bergen County quarterfinals, Morris had 20 points and 11 rebounds in a win over eventual section champ Pascack Valley. She added 18 points and 10 boards over Northern Valley/Old Tappan to bring the Blue Eagles back to a county final.
Facing constant double-teams, Morris dished out a career-high five assists to go with 12 points and seven rebounds as IHA won its eighth straight Non-Public A North section title with a win over Pope John. Morris finished with an average of 15.1 points per game on the season and was named third-team all-state. She is committed to play Division 1 basketball at Northwestern University.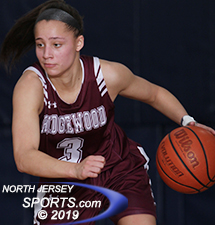 RIDGEWOOD'S JACKIE WOLAK
Runner-Up:
Jackie Wolak, Ridgewood
Wolak is more known for her exploits on the lacrosse field but also showed her leadership as a point guard on Ridgewood's basketball team. As the team's floor general her athleticism was on display night in/night out.
In the Round of 16 in the Bergen County Tournament Wolak led the Maroons to their biggest win of the season, an upset over sixth-seeded Northern Valley/Demarest. She did a little bit of everything in that game with 12 points, five rebounds, four steals and three assists. Behind Wolak, a second-team all-county selection, the Maroons made it to the quarterfinals of both the Bergen County Tournament and the North 1, Group 4 state tournament.
During the spring season there was no better player on a lacrosse field in New Jersey than Wolak. Her natural instincts and elite quickness made her a player other teams could not keep under wraps. She finished with team-highs of 79 goals, 121 points, 135 faceoffs won, and 106 ground balls to be named New Jersey Player of the Year and lead Ridgewood to a Group 4 state title.
Honorable Mention:
Meghan Riedel, Westwood
Ashley Georgevich, Saddle Brook
Deanna Ciliento, Mahwah
Keira Marks, Lakeland
Heather Bertollo, Hawthorne
Damaris Rodriguez, Secaucus
Meg Sears, Indian Hills
Jane Pless, Ramsey
Jesse Semeniak, Bayonne
Katie Murray, Northern Highlands
Emma Lein, Midland Park
Annie McCarthy, Ridgewood
Angela Downey, Lyndhurst
Devyn Tanajewski, Lakeland
TO BUY A COLLECTOR'S PRINT OF THIS STORY PLEASE VISIT 4-FeetGrafix.com.