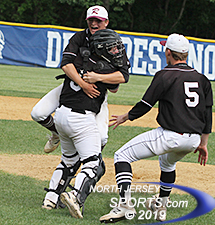 RIDGEWOOD: County, Section & Group 4 State Champion
Boys' Team of the Year:
Ridgewood Baseball
Playing together with the same guys you grew up with as teammates in rec leagues makes a run to a county or a state title all that much sweeter. That is what a hard-working class of Ridgewood baseball players dreamed of going into their senior seasons, but near the midway point of the 2019 campaign the Maroons were still trying to find a rhythm. Once they found it they got hot at the right time and never looked back.
After needing a run in the bottom of the seventh to escape a tight battle with Glen Rock in the first round of the Bergen County Tournament the Maroons showed their versatility by winning games in every way imaginable.
They slugged to their way to a 7-3 win over top-seeded Don Bosco in the quarterfinals before Kevin Seitter fired a one-hitter with his defense playing error-free behind him in a 3-0 semifinal win over St. Mary, the eventual Non-Public B State champion. Then, against perennial power St. Joe's (Mont.) in the Bergen County final, Ridgewood displayed the heart of a champion by getting up off the deck twice to pull out the win. Brian Skettini's three-homer in the third inning erased a four-run deficit and the Maroons scored four runs in the bottom of the sixth with Alex Facini's double bringing home the tying and go-ahead runs to secure the first county title in school history with a 10-7 triumph.
Once the Maroons got that championship taste they wanted more and got it thanks to a dominant state tournament. They outscored their first five state tournament opponents by a staggering 50-4 margin before running into a red-hot Eastern team in the Group 4 state final. UConn-bound righty Sam Favieri slammed the door with a 1-2-3 seventh inning as Ridgewood closed out the triple crown of county, section, and state titles. The championships were the first won by a Ridgewood baseball team since winning a section title in 1970.
GLEN ROCK: Bergen County & State Sectional Champion
Runner-Up:
Glen Rock Soccer
Glen Rock came into the season with something to prove and played like a team that was both hungry and desperate the entire season. After shaking off the rust in a season-opening win over Parsippany it was all system go for the Panthers. They did not trail in any of their next nine games, winning each of them by at least two goals. Heading into a showdown with an extremely talented Don Bosco Prep side, the Panthers showed their mental toughness.
Goalie Noah Beverin (14 saves) kept his team afloat with an outstanding performance before Ben Zakowski scored off of a cross from Mark Buckel in the first overtime to secure a 2-1 win. They followed that up with a dominant win over top-seeded Northern Valley/Old Tappan, a 1-0 win over Paramus, and another shutout to beat Ramsey, 3-0, to notch the program's first-ever Bergen County title.
While Zakowski and Nick Rogers provided a power 1-2 scoring punch, the Panthers' defense was the backbone of their success. Josh Kim, Owen Corry, Koki Otsu, and Buckel were a formidable group in front of Beverin that heated up heading into the state tournament. They followed up the BCT title by allowing just one goal over their next seven games.
Glen Rock cruised all the way to the North 1, Group 2 section title and an appearance in the Group 2 state championship match before falling to Holmdel, the state's No. 1 team. The Panthers finished with the best record in school history at 23-1-1.
Honorable Mention:
Hasbrouck Heights Football
Bergen Catholic Basketball
Ramapo Football
Don Bosco Prep Hockey
Rutherford Football
Union City Basketball
Pascack Hills Baseball
Wayne Hills Football
Emerson Baseball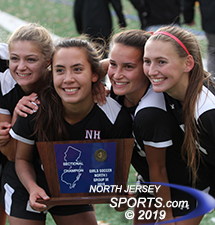 NO. HIGHLANDS: Bergen County, Section & Group 3 State Champion
Girls' Team of the Year:
Northern Highlands Soccer
Facing a schedule that was among the state's toughest that included some out-of-state powers, the Highlanders rose to the challenge and absolutely smothered the opposition.
After an overtime loss to archrival Ramapo knocked the Highlanders from a No. 1 ranking both statewide and nationally, the rest of their showed any doubters that the loss was more of an aberration than the norm.
They did not lose again and allowed just five goals over their final 14 games. The Highlanders brought home a fourth straight Bergen County title with a 2-1 win over eventual Group 2 finalist Ramsey, then set their sights on a rematch with Ramapo. They got just that in the North 1 Group 3 section final and made the most of a second chance.
Claudia Dipasupil set up a pair of first-half goals then scored one in the second half to close out a dominant 3-0 triumph. It was just a taste of things to come as sophomore Reagan Klarmann scored the lone goal in 1-0 wins in both the Group 3 semifinals and finals as Northern Highlands finished the season as the No. 1 team in New Jersey for the first time since 2015.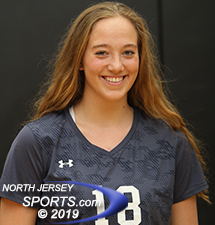 GATORADE PLAYER OF THE YEAR ANNA MORRIS
Runner-Up:
IHA Volleyball
Led by New Jersey's Gatorade Player of the Year Anna Morris, the Blue Eagles dissected their opponents all season long in every aspect of the game.Even the loss of six seniors from the 2017 team could not slow down IHA. Players moved into new roles seamlessly with Maeve Duffin and Olivia Coughlin giving the Blue Eagles a two-setter attack that unmatched in New Jersey. An impressive performance at the Jersey Classic early in the season served noticed that IHA was still the team to beat both in Bergen County and throughout the state.
Sydney Taylor, Elizabeth Patterson, and Alyssa Lowther gave the Blue Eagles plenty of hitting options at the net. Those three along with Morris showed that they were not one-dimensional players. All of them played the back row with with Morris, Taylor, and Patterson being 1-2-3 on the team in digs for the season.
The Blue Eagles did face adversity several times during the season, including three-set classics with Northern Valley/Demarest and Dwight-Englewood. Whenever their backs were against the wall that is when IHA was at its best. Fortunately for the Blue Eagles that feeling was not one they felt often. They dropped just two games over their final 15 matches en route to a 39-1 record and a second straight Tournament of Champions title.
Honorable Mention:
Saddle River Day Basketball
Holy Angels Tennis
Ramsey Softball
Lincoln Basketball
Immaculate Conception Softball
Ramsey Soccer
Northern Highlands Tennis
IHA Basketball
Ridgewood Lacrosse
Midland Park Soccer
TO BUY A COLLECTOR'S PRINT OF THIS STORY PLEASE VISIT 4-FeetGrafix.com.