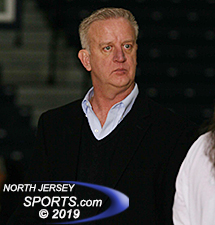 SADDLE RIVER DAY'S DANNY BROWN
Girls' Sports Coach of the Year:
Danny Brown, Saddle River Day Basketball
Having four players that will play at the Division 1 level is a luxury that few, if any, coaches in New Jersey have had. Facing a rugged schedule that featured regular matchups against the state's elite, the trick is getting all of those talented players on the same page and playing together as one unit. It is a job that Brown has handled masterfully throughout his tenure first at Cresskill and now at Saddle River Day.
With senior Division 1 signees Michelle Sidor (Michigan), Jaida Patrick (Duke), Jenna Jordan (LIU-Brooklyn), along with Jaayden Lafontant (Concordia) and Division 1 recruit Jordan Janowski already returning, the difficulty was how to mix in sisters Sydnei (Arizona State) and Saniah (freshman point guard) into the rotation. Brown fit everyone into his system and the result was one of the best seasons ever by a Bergen County girls' basketball team.
With Sydnei Caldwell and Patrick out for the early portion of the season Brown had to go deeper into his bench. Utilizing role players like Bella Garabo, Cierra Pearson, Ella Adamek, and Elle Tharby, the Rebels did not miss a beat by reeling off nine straight wins to start the season. Once the two star players returned the chemistry slowly formed and, as usual, Brown's teams peaked at tournament time.
After a loss to St. John Vianney the Rebels ripped off 12 straight wins, hoisting a trophy after three of them. They held off a late charge to close out IHA, 55-49, to become just the second program to win four straight Bergen County Tournament titles. Then in the state tournament it was more of the same with the Rebels overcoming some tough starts to pull away in the second half from the opposition. They bested Morris Catholic for a section title then took care of Trenton Catholic to win their third Non-Public B state title in the past four years.
In the Tournament of Champions, they led wire-to-wire in a win over Manchester Township. Although the Rebels fell just one win short of their ultimate goal, the team's legacy is secure. Even with heavy graduation losses, Brown is determined to keep the program among the state's elite for years to come.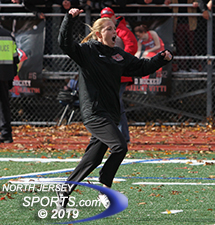 NO. HIGHLANDS' TARA MADIGAN
Runner-Up:
Tara Madigan, Northern Highlands Soccer
With talented teams like Ramapo and Ramsey nipping at the Highlanders' heels within the county borders and several other teams challenging them for championships statewide there was plenty of pressure on both Madigan and her players to perform at a high level each and every game. Throughout her playing and coaching career Madigan gladly accepted those challenges and her team was a reflection of her gritty, hard-nosed style that defined this time; which proved to be one the best in school history.
The Highlanders were in high-pressure situations right from the beginning of the season, winning four straight 1-0 games. The second of those four wins came against the No. 1 ranked team in the country at the time, Houston High School (TN), on its home field.
Allowing just one goal over its first nine games Northern Highlands ascended to No. 1 in both New Jersey and in the U.S. However, a controversial overtime loss to Ramapo knocked them from the perch in both. It could have been a moment where the wheels came off but Madigan refused to make excuses and got her team right back to work with championship goals in mind.
The Highlanders faced a one-goal deficit in the Bergen County final against eventual Group 2 finalist Ramsey but never panicked. University of Tennessee-bound striker Claudia Dipasupil scored to tie the game then assisted on Katie Murray's game-winner to lift Northern Highlands to its fourth straight Bergen County title.
Even though the team was playing at a high level all season that was kicked up a notch in the state tournament the Highlanders' traditionally strong defense absolutely smothering their opponents. They did not allow a single goal in six state tournament games to secure a Group 3 state title in what turned out to be Madigan's final season as head coach.
Honorable Mention:
Tommy Best, Lincoln Basketball
Chris Caserta, Ramsey
Beth Powell, Northern Valley/Demarest Volleyball
Kevin Sabella, Ramsey Soccer
Jeff Jasper, Pascack Valley Basketball
Maria Nolan, IHA Volleyball
Rich Smith, Northern Highlands Field Hockey
Jessica Leto, Holy Angels Tennis
Steve Silver, IHA Basketball
Kathy Sinram, Wayne Valley Soccer
Chris Broking, Northern Highlands Tennis
Boys' Sports Coach of the Year:
Drew Morano, Union City Basketball
The Morano legacy has been a strong one in Union City for quite some time. Drew's father, Hank, was a legendary coach at Emerson before Drew took over the position in 2000. When the two high schools (Emerson and Union Hill) combined in 2008, Morano was named the head coach and his goal was to bring the Soaring Eagles to a championship level. While they have been a contender ever since the merger they have been unable to get over the hump until a breakout year this past winter.
Although the squad was senior-dominated Morano had to do some tinkering before finally finding the right style and the right rotation that gave his team the best chance to succeed. Sitting with an 8-5 record near the midway point Morano's squad banded together and developed their identity by winning close games down the stretch.
Led by All-Hudson selection Gabe Johnson, wins over Clifton, St. Peter's Prep, and Snyder in an eight-day span gave the Soaring Eagles the confidence they needed to form into a champion.
A fourth-quarter comeback stunned the top seed and seven-time defending Hudson County champ Hudson Catholic in the semifinals before a 22-point performance from Johnson led the Soaring Eagles past Marist, 64-55, and to the first Hudson County Tournament title in school history. It was the first HCT crown for a school from Union City since Morano led Emerson to a title in 2004.
There were no shortage of drama in the state tournament where Union City needed overtime just to escape a first-round game against rival Memorial of West New York. The Soaring Eagles showed their late-game poise when it counted as they came back from a fourth-quarter deficit to win one on the road against Fair Lawn in the North 1, Group 4 semifinals. Then, in the section final, they staged the comeback of all comebacks. Rallying from 18 down to pull out a 58-54 win over Hackensack to become the first Hudson County public school in over three decades to win county and section titles in the same season.
Runner-Up:
Casey Schick, Glen Rock
Even though he had plenty of experienced and talented players returning for the 2018 season, Schick had the unenviable task of reminding his players about a disappointing ending to the prior year as well as getting them to forge a new path. Schick delivered the message and his team followed suit as they grinded their way to the best season in school history.
The Panthers clicked in every phase of the game from day one of practice right through to the Group 2 state final. After coming into the Bergen County Tournament without a loss, Glen Rock was still saddled with a play-in game because it was not among the top eight seeds. That was merely a bump in the road as the Panthers outscored their five BCT opponents by a combined 16-2, including shutouts over Paramus in the semifinals and Ramsey in the final to win the program's first-ever Bergen County title.
That dominance continued in the state tournament where the Panthers outscored the opposition by a whopping margin of 24-2 to win the North 1, Group 2 state title. They finished with a 23-1-1 record with the only loss coming in the Group 2 state final, 3-1, to the No. 1 ranked team in New Jersey, Holmdel.
Honorable Mention:
Kurt Hommen, Ridgewood Baseball
Nick Delcalzo, Hasbrouck Heights Football
Todd Schroeder, Wayne Valley Wrestling
Anthony Zorovich, Tenafly Tennis
Kevin Kirkby, Pascack Hills Baseball
Greg Toskos, Don Bosco Prep Hockey
Drew Gibbs, Ramapo Football
Billy Armstrong, Bergen Catholic Basketball
Andy Howell, Rutherford Football
Chris Sommerhalter, Emerson Baseball
Dick Bennett, Midland Park Golf
Dave Johnson, Northern Valley/Demarest Tennis
Miscellaneous Awards:

Best Play of the Year (Male):
Jim Brazofsky, Park Ridge Baseball
After hitting the first homer by any player over the elevated fence in right field at Sulak Lane Field to get a monster comeback in motion, Brazofsky followed that by doing it again with a three-run walk-off homer in the 11th inning to give Park Ridge a wild 8-5 victory over Wood-Ridge in the first round of the North 1, Group 1 state tournament.
Best Play of the Year (Female):
(Tie) Noelle Gonzalez, Northern Valley/Old Tappan Basketball
Emma Cunningham, Ramsey Softball
With her team trailing by one with just 6.5 seconds left to upstart Cresskill in the Bergen County Tournament's Round of 16, Gonzalez came to the rescue. She went coast-to-coast for a buzzer-beating layup to give OT a 35-34 win.
Locked in a scoreless duel with Lenape Valley in the third inning of the North 1 Group 2 section final, Ramsey was facing a bases-loaded situation with two outs with a sinking line-drive was hit along the right field line. Cunningham got a quick jump and laid out to make the catch and save at least two runs. Ramsey went on to win that game and two more to become Group 2 state champs.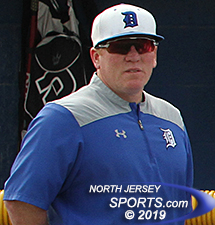 NV/DEMAREST'S MARC HOUSER
Coach Who Makes the Best High School Mixtapes:
Marc Houser, Northern Valley/Demarest Baseball
This is actually true. They were by far the best, hip-hop for days circa 1992-93. Then again I'm pretty sure it was his brother Carl who made them so I take this award back.
Keeping with the Houser-centric theme...
Fan of the Year:
Carl Houser Sr.
I've been fortunate to know Mr. Houser for 40 years and remarkably my ears haven't bled yet from hearing him talk about high school sports, or the Met League, or anything. He is truly a great guy and a true high school sports junkie. I seem to run into him at the most random of games. I know he's there because I can hear him in the stands from the dugout talking to every single other person that's there. You're the best Mr. Houser! I hope this award gets me a free lunch at Ray's.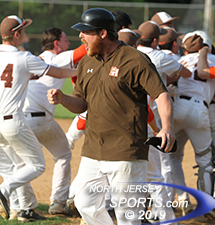 PASCACK HILLS' MATT MARINI
Best Assistant Coach:
Matt Marini, Pascack Hills
Hilarious, great beard, floppy hair as a high school basketball player, zero filter…everything you'd want in an assistant coach. Throw in his penchant for throwing BP and his solid B+ grade fungo skills and you have a guy who is unmatched in North Jersey for his contributions to the program. Kirkby and Gambs would have been lost without him: those guys are clueless.
Best Official/Umpire:
Brian Cameron
Emphatic, confident, consistent, correct calls in big games, Brian has got them all down pat. Not only been a great umpire for many years but he also finds me to be awesome and funny. Which for those of you reading is the best way to get your name on here next year.
Best NorthJerseySports.com Personality:
Richie Sports
What can I say? I've got a hammerlock on this award. Spelling and grammatical errors? Sometimes. Boring stories? Occasionally. But when there's a big game, you need a laugh and your team wants a good luck charm, you call on Richie Sports. Once you see me gimping my way up to the field you know you're in for a fun time at the very least.   
TO BUY A COLLECTOR'S PRINT OF THIS STORY PLEASE VISIT 4-FeetGrafix.com.