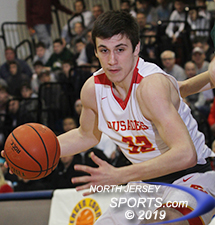 BC'S ZACH FREEMANTLE
Male Athlete of the Season:
Zach Freemantle, Bergen Catholic Basketball
Freemantle entered the season already having a Division 1 scholarship to Xavier University in hand and a budding reputation as a tough, hard-nosed player. The only question about him was whether he could lead his team to greater heights than have ever experienced before. That answer proved to be a resounding yes as the 6-foot-9 forward showed off his diverse game and got stronger as the season went on.
With an emerging mid-range game that was unmatched in North Jersey, the senior was a model of consistency. He scored at least 10 points in 29 of 31 games this season.
The best game of Freemantle's career came in the Tournament of Champions semifinals when the Crusaders needed him most. Trailing Newark East Side by seven points with eight minutes to play, Freemantle went off. He scored 18 of his career-high 36 points in the fourth quarter to go with a game-high 14 rebounds to lift Bergen Catholic to its first-ever Tournament of Champions finals appearance.
Runner-Up:
Chris Foca, Bergen Catholic Wrestling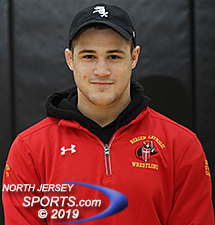 BC'S CHRIS FOCA
Ever since he won the prestigious Beast of the East title as a freshman eyes were locked on Foca as a star in the making. While he proved to be one of the top wrestlers in the state over his first three high school seasons there was one glaring hole in his resume: An individual state championship. With one last chance to make good, the Cornell-bound senior was locked in from day one on reaching that goal.
Just one win away he faced off against a tough wrestler in his own right, Colonia's John Poznanski. Foca and Poznanski had a classic showdown in the Beast of the East earlier in the season and the state final matchup did not disappoint either. Foca scored two takedowns in the second period then held off a late charge to win 7-4 for his first state title. He finished 43-1 on the season.
Honorable Mention:
Tyler Sedlak, Don Bosco Prep Hockey
Sammy Alvarez, St. Joe's (Mont.) Wrestling
Sean Hansen, Ramsey Basketball
Will Baginski, Ridgewood Track
Jacob Cardenas, Bergen Catholic Wrestling
TJ Schwieghardt, Don Bosco Prep Hockey
Liam Landau, Pascack Hills Track
Doug Edert, Bergen Catholic Basketball
Robert Howard, Bergen Catholic Wrestling
Victor Konopka, Don Bosco Prep Basketball
Luke Mazzeo, Emerson/Park Ridge Wrestling
Josiah Basket, West Milford Basketball
KC Hunt, Ramapo Basketball
Nick Babin, Emerson/Park Ridge Wrestling
Eric McKenna, North Arlington Bowling
Gabe Johnson, Union City Basketball
Donte Darby, Lincoln Basketball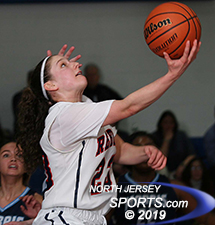 SRD'S MICHELLE SIDOR
Female Athlete of the Season:
Michelle Sidor, Saddle River Day Basketball
In a county that is rich in basketball tradition, no player has ever done it better in terms of scoring than Sidor did throughout her stellar four-year career in a Rebel uniform. She was an unstoppable force throughout her first three years of high school and that continued into her senior year with numerous records falling by the wayside.
The University of Michigan-bound guard lit up nearly every opponent she faced, scoring at least 20 points in 27 of her team's 31 games and going off for 30-plus in 11 of those.
The Bergen County Tournament has been Sidor's showcase over her four years. This year was more of the same as she averaged nearly 25 points per game, including her late 3 and free-throws that iced the Rebels' fourth straight county title.
She led Saddle River Day all the way to the T of C final and netted 27 points in her final game. Sidor ended her career as the leading scorer in the history of Bergen County and the No.2 all-time leading scorer in New Jersey with 3,268 points.
Runner-up:
Jaida Patrick, Saddle River Day Basketball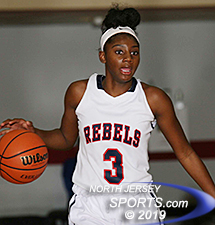 SRD'S JAIDA PATRICK
Along with the Sidor, the 6-foot-1 swing gave the Rebels the best 1-2 punch in New Jersey. Patrick could do it all and impacted each game in a variety of ways.
Patrick came up big in the Bergen County final with a tone-setting start on her way to 16 points, 10 rebounds, and four steals in a 55-49 win over IHA. There was more of the same in the Tournament of Champions semifinals against a very tough Manchester Township team. She knocked in her only two three-pointers of the season in that game on her way to game-highs of 24 points and 11 rebounds to secure the Rebels' first trip to a T of C final.
Patrick will play for Duke University next winter and finished her well-rounded season averaging 15.3 points, 11.7 rebounds, 5.8 steals, 3.5 assists, and 2.7 blocks per game.
Honorable Mention:
Colleen McQuillen, Cresskill Basketball
Anna Morris, IHA Basketball
Grace O'Shea, Ramapo Track
Daniya Darby, Lincoln Basketball
Brianna Smith, Pascack Valley Basketball
Amanda Ulrich, Secaucus Basketball
Jackie Kelly, Northern Valley/Old Tappan Basketball
Sydnei Caldwell, Saddle River Day Basketball
Eniya Scott, Bayonne Basketball
Damaris Rodriguez, Secaucus Basketball
Keira Marks, Lakeland Basketball
Noelle Gonzalez, Northern Valley/Old Tappan Basketball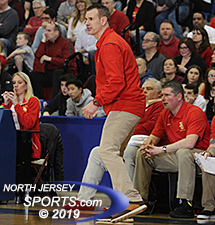 BC'S BILLY ARMSTRONG
Boys' Team of the Season:
Bergen Catholic Basketball
After three straight mid-season losses the Crusaders were at a crossroads. They wondered internally just how far this team was realistically capable of going. That was quickly a non-issue as the senior-laden team started steamrolling opponents right through the Bergen County and state tournaments.
Six-foot-11 forward Matt Zona, Doug Edert, and the aforementioned Freemantle made up one of the state's most lethal triumvirates. Add in the maturation of freshman Will Richardson and the steady play of guards Raejon Figures and Jayson Earle and the Crusaders morphed into a complete team that was nearly unstoppable in the final month of the season.
After avenging one of their losses over archrival Don Bosco Prep to win the Bergen County Jamboree, the torrid play continued in the state tournament. In total, the Crusaders went a whopping 16 games without ever trailing, which included a run to the program's first Non-Public A state title since 2002.
Freemantle and Edert combined for 30 fourth quarter points in a comeback win over Newark East Side to earn a Tournament of Champions finals berth. Although they lost a heartbreaker to nationally-ranked Ranney Prep in the final, 67-63, Bergen Catholic advanced further than any team in school history and finished with a 28-3 record
Runner-Up:
Don Bosco Prep Hockey
DON BOSCO HOCKEY
After consecutive losses to Delbarton in the Non-Public state final and having graduated the most ballyhooed senior class in the program's history, the Ironmen could have easily taken a step back towards the pack. But with nothing to lose and something to prove, the 2018-2019 squad not only exceeded expectations but left absolutely no doubt the best team in New Jersey was this season.
Led by senior captains Tyler Sedlak, TJ Schwieghardt, and Liam McLinskey, the Ironmen opened their campaign with a 3-1 win over Delbarton to set the tone for the remainder of the season. It was the first of four wins over their rival. That included wins in the Gordon Cup final and another, 3-1, in the Non-Public state final as the Ironmen won their first state title in 54 years and finished the season with a 27-1 record.
Honorable Mention:
Union City Basketball
Bergen Catholic Wrestling
Wayne Valley Wrestling
Ramapo Basketball
Ramsey Basketball
Northern Highlands Hockey
DePaul Wrestling
St. Joe's (Mont.) Wrestling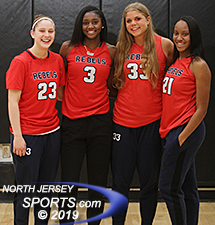 SRD'S DIVISION 1 SENIORS
Girls' Team of the Season:
Saddle River Day Basketball
With four Division 1 signees all in their senior years, the Rebels came into the season with high expectations. Alongside Sidor and Patrick, Arizona State-bound guard Sydnei Caldwell and LIU commit Jenna Jordan along with Saniah Caldwell, Jaayden Lafontant, and Jordan Janowski gave Saddle River Day as much talent on the court as any team in New Jersey.
Head coach Danny Brown packed his schedule with as many tough games as he could find. Even without Patrick and Sydnei Caldwell in the early portion of the season, role players like Bella Garabo and Cierra Pearson stepped up as the Rebels did not miss a beat in ripping off nine straight wins to start the year.
The Rebels defended their Bergen County crown successfully by cruising all the way to the final before facing an IHA team looking to pull the upset. The experienced squad stayed calm in the face of danger and held on for a fourth straight title. That carried over into the state tournament where the opposing teams could simply not keep up with the Rebels' pace.
They notched five straight victories over quality opponents, winning each of those games by double-digits. Although their quest for Bergen County's first T of C title fell a few points short against undefeated Franklin, this Rebel team will go down as one of Bergen County's all-time best.
IHA'S EMMA MATESIC
Runner-Up:
IHA Basketball
A win in the highly-competitive Joe Poli Tournament, including a championship game win over eventual section finalist Secaucus, served notice to the rest of North Jersey that IHA was capable of big things.
Led by Anna Morris and Emma Matesic in the paint and guards Eliya Herriott and Brittany Graff running the point, the Blue Eagles methodically dispatched of opponents with a patient offense and a fundamentally-sound defensive unit.
The junior-dominated squad cruised past Pope John to secure the school's 8th straight Non-Public A North section title. Although the Blue Eagles fell just short in the Bergen County final against Saddle River Day and in the Non-Public A state final against St. Rose (both of whom finished in the top 5 in New Jersey), the Blue Eagles finished with a record of 26-3, with their three losses coming by a combined 10 points.
Honorable Mention:
Lincoln Basketball
Secaucus Basketball
IHA Swimming
Pascack Valley Basketball
TO BUY A COLLECTOR'S PRINT OF THIS STORY PLEASE VISIT 4-FeetGrafix.com.