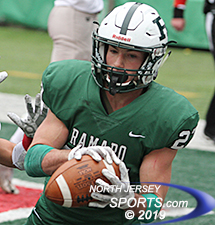 RAMAPO'S MAX BAKER
Male Athlete of the Season:
Max Baker, Ramapo Football
One look at Max Baker in a football uniform and he might not be the most intimidating player on the field, but he has the attitude of a kid who just loves playing the game. Then the game starts and it quickly becomes apparent that Baker is the definition of a difference-maker. With dynamic quarterback AJ Wingfield throwing him the ball, the duo combined to be the most lethal combination in New Jersey this season.
Baker finished with career-highs of 73 catches, 1,143 receiving yards and 13 receiving touchdowns to go with three rushing touchdowns. He saved his best for last with seven catches for 85 yards and three touchdowns along with two interceptions on defense in a win over Summit in the North Group 3 bowl game at MetLife Stadium to cap the Green Raiders' perfect 13-0 season. Baker was named first team all-state for his spectacular season.
Runner-Up:
Ben Zakowski, Glen Rock Soccer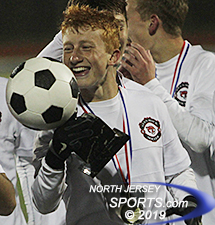 GLEN ROCK'S BEN ZAKOWSKI
Zakowski played in a similar manner to Baker only on the pitch. Seemingly undersized the electrifying senior used his lightning-quick speed on and off the ball to constant mismatches for the opposition.
When the lights were the brightest was when Zakowski shined the most. During the Bergen County Tournament, the 5-foot-7 dynamo started things off with a hat trick against Lyndhurst and followed with a golden goal in overtime to knock off Don Bosco Prep. He brought the Panthers all the way to their first-ever Bergen County title with two first-half goals of the championship match (his 8th and 9th of the tournament) in a 3-0 win over Ramsey.
There was more to come from the Monmouth University-bound striker in state tournament play. He notched hat trick in a semifinal romp over Lakeland and another one in the North 1 Group 2 final win over Ramsey. The last goals of his high school career came when he scored a pair against Hackettstown in the Group 2 semifinal win. Zakowski finished with 27 goals and eight assists and was a second-team all-state selection.
Honorable Mention:
AJ Wingfield, Ramapo Football
Ryan Silva, Kearny Soccer
Jasiah Purdie, Hasbrouck Heights Football
Abellany Mendez, Rutherford Football
Erick Chicas, Union City Soccer
Luke Wypler, St. Joe's (Mont.) Football
Omar Sowe, Harrison Soccer
Jeremiah Grant, Bergen Catholic Football
Lawson Fisher, Rutherford Football
Nick Rogers, Glen Rock Soccer
Johnnie Morant, Bergen Catholic Football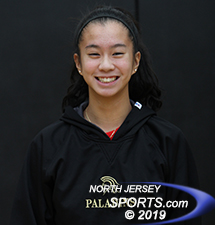 PC'S ANDREA CERDAN
Female Athlete(s) of the Season:
(Tie) Andrea Cerdan, Paramus Catholic Tennis
Anna Morris, IHA Volleyball
After winning a state title as a sophomore, Cerdan chose to skip her junior year of high school tennis to focus on her academics and acquiring a scholarship to a top-notch Division 1 program. After being offered and accepting a scholarship to play for the University of Michigan, she was ready to return for a senior season to remember.
Cerdan blitzed through the competition all season long with a more refined game both from the baseline and at the net. Her only true competition came from Holy Angels' Ashley Hess. The 5-foot-2 senior had to dig deep, but came up big in the third set to become just the fifth player in New Jersey history to win a state title twice. Cerdan finished the season with an unblemished 23-0 record.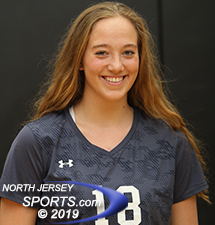 IHA'S ANNA MORRIS
Morris did a little bit of everything to lead her team to the coveted Tournament of Champions crown in volleyball. The 6-foot-3 junior was a consistent threat in the front row, notching team-highs of 381 kills and 110 blocks, both of which led all Bergen County players.
It was in the back row and behind the service line where Morris showed off the emerging depth of her all-around game. She finished second on the team with 58 aces and third on the team in both digs (230) and service points (192) to lead IHA to a 39-1 record and the T of C title.
Honorable Mention:
Alexa Correa, Ramsey Soccer
Ashley Hess, Holy Angels Tennis
Audrey Leak, Dwight-Englewood Volleyball
Rachel Scrivanich, Northern Highlands Field Hockey
Jenna Rogers, Rutherford Volleyball
Olivia Homan, Northern Highlands Soccer
Sydney Taylor, IHA Volleyball
Kelly Chen, Northern Valley/Old Tappan Volleyball
Claudia DiPasupil, Northern Highlands Soccer
Nicole Chico, Ramapo Soccer
Keira Marks, Lakeland Field Hockey
Jasmine Rogers, Ridgewood Volleyball
Alicia Iafrate, Northern Valley/Demarest Volleyball
Emerson Elgin, Ramapo Soccer
Erin Hedrick, Pascack Hills Volleyball
GLEN ROCK SOCCER
Boys' Team of the Season:
Glen Rock Soccer
After suffering heartbreaking losses to end their runs in both the Bergen County Tournament and the North 1 Group 2 state tournament in 2017, the Panthers used those losses as motivation for a special season. After winning their first nine games they figured to get one of the top seeds in the Bergen County Tournament. But when they were not given one of those seeds and were forced into a play-in game just to enter the main draw the Panthers took it as a slight and rightfully so. It ended up being the best thing for them as they played with a chip on their collective shoulders carried them well into November.
Led by the 1-2 punch of Zakowski and midfielder Nick Rogers, the Panthers were relentless in their attack and forced teams to match their pace. Along with playmaker Connor Daly, back John Corry and underrated goaltender Noah Beverin the Panthers were clicking on all cylinders from start to finish en route to a Bergen County title, a North 1 Group 2 crown, an appearance in the Group 2 final for the first time in school history, and a 23-1-1 record.
HAS. HEIGHTS FOOTBALL
Runner-Up:
Hasbrouck Heights Football
The Aviators have been a consistent force in Group 1 for quite some time. That was taken to a new level in 2018 when they dominated every aspect against virtually every opponent they played. So much so that they trailed just once the entire season. The mixture of sheer athleticism in Jasiah Purdie and steady QB Spencer Lee was matched by the toughness displayed up front by their dominant offensive and defensive lines.
Hasbrouck Heights ripped through the competition before finally getting challenged in the state tournament by Shabazz. Lee hit Purdie with a 16-yard scoring strike with 2:33 left to put the Aviators ahead and Zai'heer Jenkins' interception sealed a third straight section title.
Then in the first-ever North 1 Bowl Game, the Aviators got a rematch with Butler, the only team who have held a lead against them this season. This time it was no contest as Purdie had four touchdown runs and Chris Thibault recorded a career-high four sacks as Hasbrouck Heights finished off a 13-0 season with a 41-7 thrashing of Butler.
Honorable Mention:
Ramapo Football
Wayne Hills Football
Rutherford Football
Paramus Soccer
St. Joe's (Mont.) Football
Waldwick Soccer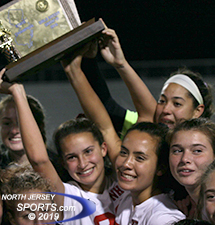 NO. HIGHLANDS SOCCER
Girls' Team of the Season:
Northern Highlands Soccer
With tons of experienced players on the pitch for the Highlanders and the always lofty expectations, they went above and beyond looking to test themselves against not just New Jersey's best but the best in the country as well. They did just that in a trip to Tennessee where Katie Murray's 4th minute goal stood up thanks to the play of senior goaltender Sara Ghorashi as the Highlanders took down the No. 1 ranked team in the country, Houston High School (TN), and ascended to that top spot themselves.
They remained there until an controversial overtime loss at the hands of a talented Ramapo side, 3-2. It was a loss that could have broken the team mentally and emotionally. Instead, it galvanized them towards making sure they never had that feeling again.
After falling behind to Ramsey in the Bergen County final, they answered back with goals from Claudia DiPasupil and Murray to capture the Highlanders' fourth straight Bergen County title. However, it was in the state tournament where they showed the backbone of their success.
Led by Ghorashi and standout defender Olivia Homan, the Highlanders did not allow a single goal in their six state tournament wins. Reagan Klarmann scored the only goals in 1-0 victories over Middletown North in the Group 3 semis and Moorestown in the Group 3 final to give Northern Highlands its first outright state title since 2014.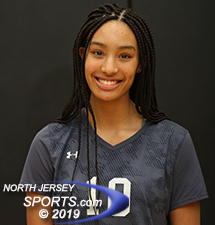 IHA'S SYDNEY TAYLOR
Runner-Up:
IHA Volleyball
Led by the aforementioned Morris and Sydney Taylor the Blue Eagles continued their long streak of dominating their opponents at the net. This was far from a two-player team though with IHA developing a well-rounded squad that ripped through both in and out-of-state opponents.
The dual-setter combination of Olivia Coughlin and Maeve Duffin proved to be effective in spreading the ball around and running the offense smoothly. Four different players had at least 100 kills on the season and seven different players notched at least 100 service points.
In the 33 matches played against in-state opponents, the Blue Eagles dropped just five games. But this season was not without some drama. In the Bergen County semifinals against Dwight-Englewood, the deciding third set was tied on nine different occasions before the Blue Eagles hold off the upset bid with a 27-25 win on their way to a Bergen County title. That continued in the Tournament of Champions where Northern Valley/Demarest forced them to a third set. Once again, IHA finished the job with a three-set win before capping a 39-1 season with a sweep over North Hunterdon to capture the program's 7th Tournament of Champions crown in the past 10 years.
Honorable Mention:
Ramsey Soccer
Holy Angels Tennis
Northern Valley/Demarest Volleyball
Northern Highlands Tennis
Bogota Volleyball
Midland Park Soccer
Northern Valley/Old Tappan Volleyball
Northern Highlands Field Hockey
Ramapo Soccer

TO BUY A COLLECTOR'S PRINT OF THIS STORY PLEASE VISIT 4-FeetGrafix.com.