NJS.com WORLD HEADQUARTERS -- The 2017-18 high school sports year is in the books, so it is time to take a look back and hand out some awards. The week-long extravaganza that is the Barton's Best Awards concludes today as we recognize our Players of the Year.
DAVID ESTEVEZ
Male Athlete of the Year:
Dave Estevez, River Dell
Heading into his senior year David Estevez was already a budding legend in Bergen County. His big game exploits on the football field were well documented. Dominant performances, pulling out games late, off the charts in terms of leadership qualities, Estevez was everything a coach could ask for in a starting quarterback. By the end of his senior, he had only burnished his legacy as one of Bergen County's best-ever clutch performers.
It started in the football season opener as Estevez accounted for all of the Hawks' points in a 22-21 nail-biting win against Pascack Valley. That continued two weeks later with another brilliant performance against Westwood in a 23-20 win, but the ultimate highlight came in the state tournament when Estevez's football career was on the brink of extinction in the North 1, Group 3 state sectional semifinals.
Trailing Northern Valley/Demarest by three points with a minute to play, the Hawks faced a fourth-and-21 with their season on the line. Estevez calmly scrambled out of trouble and hit Jack Racine for a 25-yard completion before hitting him two plays later for a 10-yard scoring strike that gave the Hawks a thrilling 38-34 win. Estevez accounted for all five River Dell touchdowns, throwing for three and running for two.
The only thing left was to win a state title. To do that Estevez and the Hawks would have to avenge their only loss of the season when they faced Ramapo at MetLife Stadium. Estevez only attempted seven passes but completed six of them, one going for a key fourth quarter touchdown. He also rushed for three scores and made all the big defensive plays. Estevez intercepted two passes and forced a fumble as River Dell beat Ramapo, 28-7, to repeat as section champs. He was named second-team all-state.
His leadership continued on the hardwood where he led River Dell to a second straight berth in the Bergen County Jamboree. In a first-round win over Bogota, he clicked on 8 of 9 shots in the first half including three baskets in a 13-0 run to close the half and break the game open in a 51-38 win.
Down by eight early in the third quarter against Pascack Valley in the North 1, Group 3 state sectional tournament Estevez rose to the occasion once again. He scored 16 of his 18 points in the second half, including a three-pointer that put River Dell ahead to stay in a 60-50 win.
Estevez then turned his attention to the baseball diamond. As a fourth-year starting shortstop, Estevez led the Hawks in batting and helped lead them to a section finals appearance against eventual Group 2 state champ Pascack Hills. He was a third-team all-county selection.
Runner-Up:
Jonas Espinal, Ridgefield Park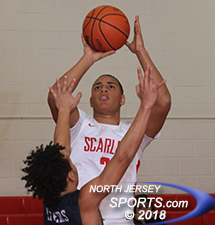 JONAS ESPINAL
Espinal is another rare three-sport athlete who made a serious imprint on his school in all three sports. Although the Scarlets finished under .500 during the football season, Espinal showed he was one of Bergen County's most versatile players.
Offensively, the hard-running senior finished with 980 yards rushing and 16 TDs. He was also a threat to catch the ball out of the backfield with over 300 receiving yards along with a pair of kickoff returns for scores and a punt return for a total of 19 touchdowns. He also led the Scarlets with 85 tackles.
Espinal did it all on the basketball court during a six-game winning streak to lead the overachieving Scarlets into the Bergen County Jamboree. Then in a first-round matchup with Tenafly, Espinal scored 16 points, had 11 rebounds, and hit a big three-pointer with two minutes to play as Ridgefield Park eventually went on to win, 56-55. He was a first-team selection for the Big North-American Division for the second consecutive year.
In baseball, Espinal raked at the plate all season for the Scarlets and became one of Bergen County's most dangerous hitters. He finished with an impressive .575 batting average along with team-highs in runs scored and RBIs with 21 each and also stolen bases (18). He accepted a scholarship to play football at Division 2 American International College.
Honorable Mention:
Carlos Pepin, Lodi
Frankie Negrini, Pompton Lakes
Josh McKenzie, Bergen Catholic
Jason Modak, Wayne Hills
Marcellus Earlington, Don Bosco Prep
Jasiah Purdie, Hasbrouck Heights
Matt McElroy, New Milford
KC Hunt, Ramapo
Breylyn Jones, Rutherford
Dave Kruis, Midland Park
Michael Algieri, Clifton
Austin Albericci, Demarest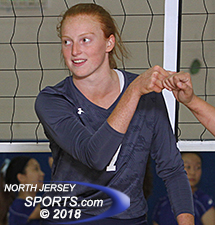 CATHERINE FAZIO
Female Athlete of the Year:
Catherine Fazio, IHA
Fazio was an elite two-sport athlete who had both individual success and was a huge part of her respective teams becoming state champions.
The senior outside hitter was the most versatile player on a stacked IHA volleyball team. Her consistent play both at the net and in the back row helped the Blue Eagles have arguably the most dominant season ever in history of high school volleyball in New Jersey.
Fazio was at her best in the biggest matches of the season. In the Bergen County final against Northern Valley/Demarest, she had a double-double of 10 kills and 10 digs to lead the Blue Eagles to their first Bergen County title since 2014.
Her steady play continued throughout the state tournament, culminating with a stat-stuffing performance in the Tournament of Champions final against River Dell. She had nine digs, eight kills, eight service points, two aces, and a block as IHA swept all 34 of its in-state opponents en route to a Tournament of Champions title and a final record of 40-1. Fazio closed her career with 255 kills, 222 digs, 199 service points, 28 aces, and 24 blocks on her way to a first-team all-state nod.
Fazio then jumped right into a heavy swimming schedule for the state's No. 2 ranked team. The ability to plug her in anywhere in IHA's vaunted relay teams made her one of the most valuable swimmers in New Jersey. She helped the Blue Eagles win a pair of relay races that were pivotal as they downed Bishop Eustace, 100-70, to win the program's 11th straight Non-Public A state title.
Then in the Meet of Champions, Fazio was a part of the 200-meter freestyle relay team that broke the meet record and took second. She followed that up with a blistering 50-yard backstroke time as IHA took the lead and never looked back to win the 200-meter medley in a time of 1:45.82. She was named first-team all-state for the second straight season and will continue swimming in college at UConn.
Runner-Up:
Carlye Danziger, Westwood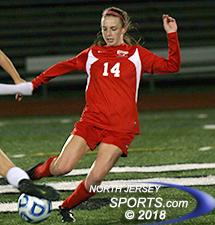 CARLYE DANZIGER
There were plenty of athletes in North Jersey who had more impressive statistics than Danziger, but in terms of leadership and playing well in big games in multiple sports the senior was right up there with the best of them.
As a holding midfielder for the girls' soccer team, Danziger showed that she could mark opposing midfielders and also be dangerous on the attack when needed. She scored late second-half goals in a season-opening win over Mahwah and to earn a tie against eventual Bergen County finalist Ramsey. That got the ball rolling for the best season in the history of the Westwood girls' soccer program.
In the North 1, Group 2 semifinals, Danziger fed teammate Meghan Riedel midway through the second for the only goal in a 1-0 upset. Westwood would go onto win its first section title in school history and finish with a record of 18-2-3.
On the basketball court, Danziger was a reliable player who could play tough defense and knock down open shots from the outside. Her gritty play permeated the entire Cardinal team and led them to an overachieving season.
She netted a career-high 20 points in a win over Mahwah and had a solid overall performance in the opening round of the North 1, Group 2 state tournament. Danziger had 10 points, three rebounds, three assists, two steals, and two blocks in a win over Kittatinny as she helped lead Westwood to the North 1, Group 2 title game for the second straight season.
Danziger patrolled centerfield on the softball diamond, using her instincts and solid glove to become one of the best outfielders in North Jersey. Her play fueled the Cardinals to a first-round upset of Bergen Tech in the first round of the Bergen County Tournament. Then in the first round of the North 1, Group 2 state sectional tournament she came up with a big hit and scored twice in a 4-2 upset over Pequannock. Danziger was a third-team All-Bergen selection in soccer and a second-team selection in softball.
Honorable Mention:
Ariana Pena, Dumont
Sarah Deighan, Lakeland
Jenna Rogers, Rutherford
Angela Saric, Indian Hills
Anna Morris, IHA
Ellen Hamlin, Demarest
Ashley Georgevich, Saddle Brook
Gena Kaminski, Hackensack
Amanda Ulrich, Secaucus
Nicolette MacDonald, Pompton Lakes
Brenna Forgette, Mahwah
Jackie Lara, Ridgefield
Keira Marks, Lakeland
Carolyn Carrera, Saddle River Day
Kassie Ketcho, Hasbrouck Heights
Nikki Butler, Ramapo
Michaela McMahon, Saddle River Day
Jackie Wolak, Ridgewood
Jenna Cooper, Emerson
TO BUY A COLLECTOR'S PRINT OF THIS STORY PLEASE VISIT 4-FeetGrafix.com.