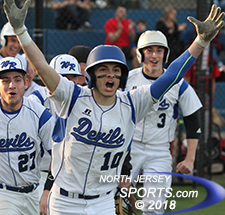 Jack Barteck is graduating from Wood-Ridge High School today. There is plenty that he will miss about wearing the blue and white.
(Editor's note: Jack Barteck, the author, is graduating from Wood-Ridge High School today. The two-sport athlete will study communications at Montclair State University.)
WOOD-RIDGE -- A wise man once said, "Not every story has a happy ending, but that doesn't mean it's not worth telling." Well, looking back on my high school athletic career, I can tell you this is 100-percent true.
Coming into high school, I thought that my four years would be defined by my wins and losses and whether or not I ever won the state championship I had dreamt about since I was a kid. However, as I look back, I realize that the impact of high school sports goes much deeper than that. Like I mentioned, I had some pretty high hopes coming in, most importantly winning a state sectional championship ring.
Unfortunately, I fell short of a lot of those goals, coming up short in two sectional championship games (bench guy or not everyone gets the same ring!), and only getting a share of a league title once in baseball. Speaking about it this way, you would think I had a miserable four years. However, that resume cannot possibly do it justice.
If you asked me to pick one defining moment over my career, it wouldn't be a crazy win or a big performance. It would be just this year, after a tough first round loss against a really good Bogota team. We got a tough draw and the loss knocked us out in the first round, ending my high school basketball career. I truly believe I have never exerted more effort in my life, and after my last 32 minutes giving my all, it hit me that my career was over. I tried my best to hold back my emotions, but when I got to the end of the handshake line, Bogota coach Jay Mahoney pulled me in and paid me one of the nicest compliments I have ever received.
When that happened, I couldn't hold it back anymore and I broke down. That part that makes it memorable, however, was when I turned around and saw all of my teammates and coaches waiting to embrace me. Every single one made sure to give me a hug before going to the locker room. When I look back, I'd like see these as the moments that define my stay as an athlete here at Wood-Ridge High.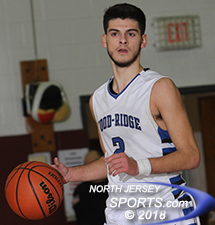 Barteck, a two-sport athlete, will study communications at Montclair State University.
Over the years, I have made countless memories and friendships, and learned so many lessons that will last with me a lifetime. Four years ago I came into this building as a boy, and now I leave for the real world as a man. I owe a lot of my growth to my sports experience. For that, I have so many people to thank.
First off (you better leave this part in!!!), I have to give a huge thanks to the editor in chief, Cory Doviak. Although you always say there is no thanks necessary, you have given me an opportunity over the last year that I could have never imagined having. Between publishing my articles, getting me on the Talkin' Baseball podcast, or pulling me into postgame interviews, you have provided me with such invaluable experiences, and I could never thank you enough for that.
Next, I'd like to thank the whole town of Wood-Ridge. Over the last four years there have been a lot of ups and downs, but no matter what, the support was always there. I think that living is such a small town is awesome, as it creates such a tight knit community. No matter what the situation, this town gets behind you. When I was looking at high schools four years ago, the one thing I remember saying is that I wanted to represent my town. Well, looking back on it, I can say that I wouldn't change a thing. There is no better feeling than walking out onto the court or diamond with "WOOD-RIDGE" on your chest, looking out into the crowd seeing your friends, classmates, teachers, family, etc.
One of the biggest thanks has to go out to each and every one of my coaches. A lot of the work you guys do for us goes unnoticed by most people, but I appreciated each and every second that you put in. You all held me to a high standard and challenged me to be better every day. Just as much as you helped me grow as an athlete, you helped me grow as a man, teaching me lessons I will never forget. I gave you everything I had, and the only regret I have from my time here is that I couldn't give more.
Finally, and most importantly, I have to thank my family. I have been absolutely blessed with the best support system a kid could ask for, and I would never be the athlete or person I am today without them. Whether it be coming to pretty much every game, filming the games for me, getting me to and from games and practices, or just your constant love and support. Whatever it was, they were always there. I wouldn't trade them for the world, and could never thank them enough for making the last four years possible.
As things start to come to an end, we often find ourselves reflecting back on them. Well, as I reflect, I can't be anything but grateful. One thing some people don't know about me is that when I was younger I had a life threatening kidney problem, and was in and out of the hospital for about the first 4 or 5 years of my life. My parents didn't know if I would survive, let alone ever be able to play sports. Looking back and talking to my parents about those times really helps put things into perspective. As much as I might not have reached some goals that I would have liked to, every day I am able to get up and play a sport is an absolute blessing.
When people tell you that time flies, it is hard to believe when you're just a young freshman. However, when your four years is up, you'll realize just how fast it goes. It feels like just yesterday I was lacing up my sneakers for my first ever high school basketball practice, and if I had the chance, I would do it all over again. Although I will spend my next four years at Montclair State University as a Redhawk, I will always be a Blue Devil at heart.
TO BUY A COLLECTOR'S PRINT OF THIS STORY PLEASE VISIT 4-FeetGrafix.com.