Tuesday, April 21, 2015
By Rich Barton
NJS.com Staff Writer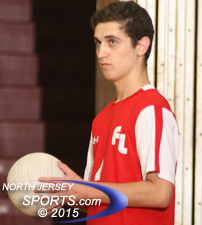 Setter Daniel Sela moved the ball around to his multiple offensive options for Fair Lawn, which improved to 14-0 with a sweep at Clifton.
CLIFTON – When a volleyball team is in the midst of a highly successful season and is as talented as Fair Lawn is, conventional wisdom says to not rock the. However, after a weekend tournament in Pennsylvania, head coach Peter Zisa knew it was time to tinker with the lineup a bit. Even though the Cutters have balance offensively and are undefeated on the season, Zisa knows if this team wants to be a championship side that it will have to improve defensively.
It was a risky move to make some adjustments on the road against a surging, experienced Clifton squad. But in the end, the Cutters adapted quickly and proved they are still the team to beat in North Jersey.
The Cutters' ball control offense worked to near perfection in the first game. Setter Daniel Sela spread the ball around to his bevy of hitters as Fair Lawn took advantage of numerous errors and were never threatened in a 25-14, 25-18 triumph over Clifton on Monday at Clifton High School.
"We have a variety of lineups we've been playing with to create the best passing lineup we can have," said Zisa. "The jump serving we saw out in Pennsylvania was tremendous and we know we'll see that type of serving throughout. It forced my hand a bit and we knew we needed to strengthen our right side and give us the best opportunity to get into a ball control offense."
Fair Lawn got off to a quick start with three kills from Dennis Abramov in a 6-2 spurt to open the match. The Mustangs struggled to receive serve throughout the first game and it was their undoing. They had four bad passes in a row during a 7-1 run that gave the Cutters a double-digit lead on their way to taking a one-game lead.
"Against a team as disciplined as Fair Lawn is if you give away points you give yourself much of a chance to win," said Clifton head coach Nick Romanak. "We didn't serve nor receive serve well at all. I think this is a teachable moment. When you make errors against one of the better teams in the state, this is going to be the result. For us, we have to concern ourselves with getting back down to basics. We came out more ready for the second game than we did the first, but they got a couple of good runs on us and we didn't bounce back."
Fair Lawn controlled the tempo throughout the first game. Clifton matched the Cutters' energy early in the second game and took a 4-2 lead on a monster kill from senior outside hitter Kamil Garbowski. The Cutters stayed the course and quickly hit their stride backed by the pinpoint sets of Sela.
Clifton was still within striking distance, down 17-13. Over the next three points, however, Sela delivered three sets right on the money to stretch the game back out. Abramov converted a cross-court kill and Max Kostin followed with consecutive kills off quick sets up the middle to make it 20-13 en route to the Cutters' 12th two-game sweep in 14 matches.
"Our biggest strength as a team is our versatility," said Sela, a senior. "We don't really look for one person to get us going. I try to move the ball around and keep the other team off-balance. We came out with a lot of energy and we really pride ourselves on that. Our team feeds off of each other with the energy we play with. When we don't play with energy, we tend to lose our momentum. So it's really important to have that energy not just in matches, but working hard every day at practice."
Sela finished with 25 assists for Fair Lawn (14-0). Libero Michael Erushalimski also had a match-high with 12 digs. Four different players notched at least five kills, led by Abramov's seven.
Garbowski led all players with nine kills for Clifton (7-3). Andrew Pica added 12 assists and four digs.
This season has not been that much different than previous seasons for the Cutters. Fair Lawn has cemented itself as the premier boys' volleyball team in North Jersey for the past decade. With that comes the pressure of getting every opposing team's best shot, but that is exactly how Zisa wants it.
"Clifton is an excellent team and we knew the energy we had to come out with in order to play well," added Zisa. "There are some things we did very well today and some little things that we still need to work on. We're not as tall as some other teams at the net, so those little things become even more important. There are a variety of different combinations that we're looking at. Each one has their own strength and we're trying to see which one is best moving forward."
CLICK HERE FOR MORE PHOTOS FROM THIS GAME. TO BUY A COLLECTOR'S PRINT OF THIS STORY, PLEASE VISIT 4FeetGrafix.com.