Thursday, April 9, 2015
By Rich Barton
NJS.com Staff Writer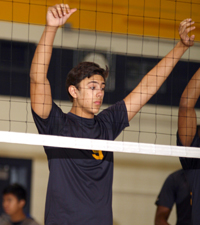 Hackensack's Jason van der Wilt's back-to-back kills late in the second game helped secure the Comets 25-21, 25-22 sweep over rival Teaneck on Wednesday morning.
HACKENSACK – Although the season was just five matches old going into Wednesday, Hackensack's boys volleyball team had already been on quite the roller coaster ride.
After a season-opening loss to Bergen Catholic, the Comets ripped off three straight wins, including an upset over perennial volleyball power, Ridge. That streak came to an end on Monday at the hands of Don Bosco Prep.
Looking to get back on track, Hackensack faced a fiesty Teaneck squad which, despite being winless on the year with losses to Fair Lawn and Don Bosco, proved to be a tougher than its record indicated.
Up 1-0 and facing the prospect of a deciding third game after a Teaneck rally, the Comets hung tough when it counted most. Jason ven der Wilt put down consecutive kills late in the second game and Hackensack got back to its winning ways with a hard-fought 25-21, 25-22 triumph Wednesday morning at Hackensack High School.
"After losing to Bosco it was really important for our confidence to come out and gain some momentum early in the first game," said Hackensack's Delvin Diaz, who had a game-high four blocks to go with four kills. "We're still trying to work on playing confident, playing together and really trusting each other out there. We have a lot of talent but we have to become a more consistent team and play with a lot of energy for the entire match."
Hackensack got off to quick start behind the serving of van der Wilt. The 6'3" sophomore served five straight points to start the match capped by an ace. Another sophomore, 6'5" Edward Emedoh, put down three straight kills to open up a 9-2 lead.
Teaneck's Kofi Owusu-Abboah recording a block.
Teaneck trailed by as many as eight before embarking on a late run to close to within two, 23-21, on a kill by Nana Owusu-Prempeh off of a nice set by do-everything senior Brian Sanchez. Hackensack's Diaz quelled the comeback bid with back-to-back kills to close out the first game.
The Highwaymen took their first and only lead of the match, 4-3, on a cut shot for a kill by Elliot Jenner. But they made numerous unforced errors during the 9-2 Comets' run that followed. That run included three attack errors, two service errors, and two net violations which allowed Hackensack to regain control of the game with a 12-6 lead.
"We have the skill sets to play well but we had stretches today where we played with a lot of self-doubt," said Teaneck head coach Jason McDonald. "The effort is there and, at times, the execution is there. But our volleyball IQ is still a work in progress and we're trying to learn how to beat the top teams on our schedule. We made some mistakes at crucial times today and it got us in some trouble."
Teaneck closed to within two before van der Wilt went cross-court for back-to-back kills and a 23-19 lead. The Highwaymen continued to fight back with three straight kills, one from Jenner and two more from athletic outside hitter Corey Young, to trim the lead to 23-22. But Teaneck was unable to get over the hump, as a service error and an attack error on the final two points of the match allowed Hackensack to escape with a two-game sweep.
"We were concerned because we had a lead and we were letting it slip away," said van der Wilt. "Whenever we get a lead, it feels like we get too comfortable and we can't be like that. As the game got much closer, we had to step it up and bring our energy back to where it was earlier in the game."
Setter Mac DiTomasso led all players with 16 assists to pace the offense for Hackensack (4-2). Emedoh had nine kills and libero Nick Esposito had nine digs with van der Wilt adding ten service points, six kills (all in the second game) and two aces.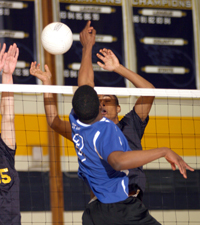 Teaneck's Corey Young led all players with 11 kills.
Sanchez was the best player on the floor and had a solid all-around performance for Teaneck (0-3). He finished with 14 assists, 11 digs, three kills and two blocks. Young notched a game-high 11 kills and Jenner added six assists, six digs and three kills.
Hackensack head coach Bob Bollerman has seen flashes that this team is capable of competing for county and section titles, however, heading into the Bloomfield Tournament this weekend, he's more concerned about his team gaining some consistency against a loaded field.
"Our communication and energy have to improve if we want to get to where we want to be," Bollerman said. "The little things you need to do to be successful have to happen for an entire match, not a few points here and there.
"It's frustrating because we know what we have here but we're not jelling the way we should be six matches into the season. Our season has been pretty up-and-down so far. We have some big matches coming up so we'll have to work even harder to get to the next level."
CLICK HERE FOR MORE PHOTOS FROM THIS GAME. TO BUY A COLLECTOR'S PRINT OF THIS STORY, PLEASE VISIT 4FeetGrafix.com.