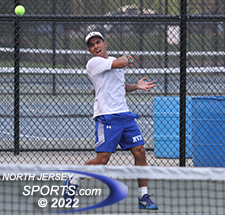 Aaron Khubani won at second singles, the first point in NV/Demarest's 3-2 win over Pascack Hills that gave the Norsemen their 5th straight state sectional title.
DEMAREST – It can get pretty hectic out front of Northern Valley/Demarest High School in the hour or so after school lets out. The buses, the parents picking up and dropping off, the traffic built up at the Durie Avenue stoplight, the full practice fields, and the assertive crossing guard. It's semi-controlled chaos so it is easy to miss what is happening behind the high fences on the opposite side of Knickerbocker Road.
Those fences house the tennis courts and those tennis courts have seen the building of a high school tennis powerhouse which only strengthened itself with Tuesday's results. Senior David Berenfeld rallied from one set down at third singles to win in three and secure NV/Demarest's fifth straight state sectional title with a 3-2 win over rival Pascack Hills.
AdDemarestd the three straight section titles that the girls program has won and is on an unprecedented eight season run all under the orchestration of head coach Dave Johnson.
"We have five seniors and this is their last match here at NVD. They have stayed together the whole time, they went through the COVID year and this is a special group," said Johnson. "It was definitely special for Berenfeld being the clinching point, especially because he was wasn't able to play last year because of injury. It is great to see this group go out as winners in their senior year."
These two top tier programs met in the first match of the season and it was won by Demarest by the same 3-2 score with Pascack Hills winning at first doubles and first singles and the Norsemen sweeping the other three flights.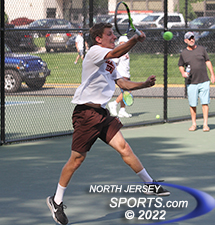 After dropping the first set, Pascack Hills' Luke Patelsky rallied for a 1-6, 4-6, 4-6 victory at first singles.
The same pattern was starting to form again as Aaron Khubani was first off the court after his straight sets (6-1, 6-3) win at seconds singles and Jaden Lazarus and Roan Ricci followed that up with a 6-3, 6-4 victory at second doubles to put Demarest up 2-0.
"In the second set [Pascack Hills' Ricky Kanai Edward Shanoyan] really came out hot. They battled and we kind of head to weather a storm in that second set. We did not want to go to a third because you know anything can happen," said Lazarus, a senior who, along with now first singles player and fellow senior Aaron Zelman, has been a varsity contributor since his freshman year. "As they started coming back in the second set I never got down on my partner [Ricci] and he never got down on me and that is so important. We had a big lead, but the second set only ended up being 6-4, but it could have been 6-2. We had to battle some adversity there."
Pascack Hills got its first point from the first doubles tandem of Aidan Berson and Gavin Ross, who were pushed to three sets by Zelman and Spencer Kent before winning 6-2, 2-6, 6-3, which left nothing resolved. At first singles, Demarest senior Russell played a nearly flawless first set as he took a lead on Pascack Hills' Luke Patelsky, who battled back deliberately from the baseline take the second set 6-2. Meanwhile, Berenfeld dropped the first set to Connor Wong before winning the second.
With both matches tied at one, the trophy was still up for grabs. If Pascack Hills could sweep both third sets than it would have put an end to Demarest's string of championships. Berenfeld pushed the pressure aside as he took a 5-0 lead in the third set, but it slowly started to creep back in the frame as Wong held serve and then broke to get back to within 5-2.
Berenfeld, who missed all of his junior year with a shoulder injury, hit a service winner with his first attempt in the eight game to regain the momentum and his 3-6, 6-2, 6-2 victory clinched the championship for the Norsemen, who are the defending overall Group 2 state champions.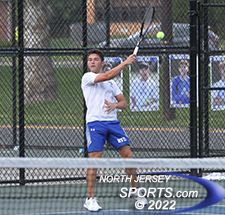 Jordan Lazarus, one of five senior starters, helped Demarest pick up a win at second doubles..
"I broke to go up 2-1 in the second set and that was big, but I think what really separated it was at 3-2. I told myself I had to win two straight games and I did, I broke again to go up 5-2 and that was really the turning point," said Berenfeld, who is entertaining the possibility of walking on to the tennis team at Emory University. "I haven't played since freshman year. I missed sophomore season [because of COVID] and then last year I tore my shoulder and had to sit out and watch the whole season. It was a year of hard work to get back to the court and it is a great feeling to kind of be the deciding point in the state sectional all these years later."
Turns out that Demarest really did need Berenfeld's point as Patelsky completed his comeback at first singles to grab a 1-6, 4-6, 4-6 victory for Pascack Hills, which finished its season with a 19-5 record.
Demarest improved to 19-0 on the year heading into the Group 2 state semifinals where it will play Robbinsville on Thursday at 9:00 a.m. at Mercer County Park.
FOR MORE PHOTOS FROM THIS EVENT PLEASE CLICK HERE. TO BUY A COLLECTOR'S PRINT OF THIS STORY PLEASE VISIT 4-FeetGrafix.com.