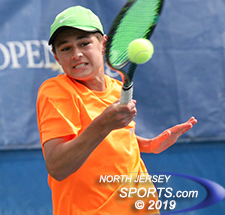 Jon Tsipunyuk win at third singles got Tenafly rolling in its 4-1 victory of West Windsor-Plainsboro North in the Group 3 state final on Wednesday.
WEST WINDSOR – Entering the season with a slew of talented freshmen cracking the starting lineup, Tenafly was expected to be competitive but maybe a year or two away from being a champion. Somebody forgot to tell the Tigers, who have grown up in a matter of weeks.
After winning the Bergen County championship this past weekend they refocused and set their sights on a bigger crown. With a clutch performance the Tigers have not only exceeded expectations but have made their case as one of the best Bergen County teams ever.
Facing a very tough West Winsdor-Plainsboro North squad in the Group 3 state final, three of the five matches went to a deciding third set. Both of the Tigers' doubles teams rallied from a deficit in that third set to win as Tenafly won all three of the three-setters to win its first state title since 2007 with a 4-1 victory on Wednesday at Mercer County Park in West Windsor.
"We had high expectations for ourselves and it feels good to meet them," said Tenafly second doubles player Kevin Clifford. "We had four amazing freshman come in and they fit right in to our lineup."
After a long 3-2 win over Chatham in the Group 3 semifinals earlier in the day the Tigers bounced back to face West Windsor-Plainsboro North in its own backyard. Adrenaline kicked in as third singles player Jon Tsipunyuk got Tenafly on the scoreboard first. He broke in the tenth game to take the first set then came up big again late in the second set. He did not have a single unforced error in the second-set tiebreak to win his match 6-4, 7-6 (7-3).
Kevin Clifford was half of Tenafly's second doubles team that picked up a huge point.
West Windsor-Plainsboro North evened the match with a win from Nolan Shah at first singles. He outlasted freshman sensation Juju Wu, 6-3, 7-6 (7-2). As all three of the remaining matches headed to a third set the Tigers needed to win two. None of them came easily with the closest match coming at first doubles.
Andrew Kim and Luke Han both showed poise well beyond their years in their biggest match of the season. The two freshmen came back to force a tiebreak and then trailed 3-2 in the third-set tiebreaker before putting it all together. They scored five of the next seven points without committing an unforced error to put the Tigers in front with a 6-1, 3-6, 7-6 (7-3) triumph.
"Within our own matches and as a whole it was about finding the pieces to the puzzle and putting them together," said Han. "We tried not to do too much and keep the ball deep. I thought we did a better job as the match went on of picking our spots when we were poaching at the net. It's about trusting your partner and trusting each other to get the job done."
The clinching point was the most surprising of the day for Tenafly. Hunter Neuman was bumped up into the starting lineup to pair with Clifford. Neuman came up with a big reaction volley to secure the first-set in a tiebreak. He had a nearly identical volley followed by a huge topspin lob for a winner by Clifford for a late break of serve in the third set that helped the Tigers close out the match and end the long state title drought with a 7-6 (7-5), 3-6, 6-4 victory.
Luke Han and Tenafly will play Group 2 champ Lawrence in the first round of the Tournament of Champions.
"In the third set we needed to take advantage of the opportunities that we had," said Neuman. "In the third set we got back to how we were playing in the first set. We really wanted to advance to the T of C and we couldn't do that by giving the other team opportunities to win points at the net."
Tenafly (22-1) got its final point from Alex Merson at second singles. After a nightmare first set the sophomore fought back with powerful ground strokes from the baseline to control the pace of the match and eventually earn the all-important break of serve in the third set en route to a 2-6, 6-1, 6-4 win.
As the only team in North Jersey remaining, Tenafly heads to the Tournament of Champions on as the No. 4 seed. They will take on fifth-seeded and Group 2 state champ Lawrence. With all the pressure now off, the Tigers are excited to simply play and see how far they can take this.
"We have a lot of confidence and we've accomplished so much already," added Neuman. "Now that we've won a county championship and a state championship we did what we set out to do. If we accomplish more in the T of C, that's great. If not, we still had a great season and it will make us hungry to come back and get more next year."
FOR MORE PHOTOS FROM THIS EVENT PLEASE CLICK HERE. TO BUY A COLLECTOR'S PRINT OF THIS STORY PLEASE VISIT 4-FeetGrafix.com.