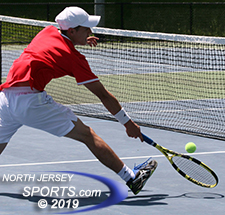 Ronaldo Jacome and Lawrence held off NV/Demarest, 3-2, to win the Group 2 state title on Wednesday at Mercer County Park.
WEST WINDSOR – Northern Valley/Demarest had passed every test this season on its way to a sweeping its way through the North 1, Group 2 playoff bracket and winning a third straight state section title. The season was an out and out success before the Norsemen ever got on the bus for Wednesday's state semifinal and final rounds, but what was a grueling day physically eventually took its toll and brought an unfortunate end to an another wise dream season.
Upstart Lawrence continued its upset-laden run through the state tournament and won a close third set at second doubles as Demarest's season came to a close in the Group 2 state final with a 3-2 loss at Mercer County Park in West Windsor.
"This is a tough one for sure there's no way around it," said Northern Valley/Demarest head coach Dave Johnson. "It's a team sport. We worked really hard as a team to get here and we had opportunities to put the match away that we didn't take advantage of."
Lawrence came into the Group 2 state final fresh off of three consecutive upsets. After knocking off top seed and perennial state power Holmdel in the section semis, the Cardinals beat No. 2 seed Hopewell Valley to win the program's first-ever section title. They followed that up with another impressive win over Haddonfield in the Group 2 semis before the showdown with Demarest.
The Norsemen also came into the match on fire. They won a three-hour, 3-2, battle with Summit in the other Group 2 semifinal but the effects were shown when they had to take the court just an hour after finishing that match to take on Lawrence. The Cardinals caught an early break when Demarest's standout first singles player Carlos Vasquez, who won his match 10-8 in a third-set super tiebreak to clinch the win over Summit, was forced to retire due to injury in the first set.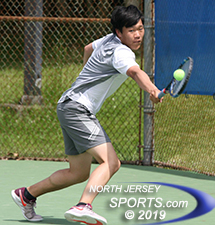 Russell Oh, who won at third singles, is one of four freshmen that will return to Demarest's starting lineup next season.
Demarest got that point back at first doubles as the lone senior in the starting lineup, Justin Kim, along with partner David Berenfeld switched up their strategy to a more aggressive style that turned the tables of their match. After dropping the first set, Kim and Berenfeld never trailed the rest of the way in a 1-6, 6-0, 6-3 victory to even the score at 1.
Lawrence took the lead back when Ronaldo Lacome won a first-set set tiebreak then broke late in the second to beat Demarest's Ben Jacobs, 7-6 (7-4), 6-3, at second singles.
With Demarest's third singles player Russell Oh up a set and a break in the second set (which he would eventually win 7-5, 6-4) it was apparent that the Group 2 state final would hinge on the third set of the second doubles match. The Norsemen's freshmen duo of Jaden Lazurus and Aaron Zelman had consecutive volleys to close out a game and open up an early lead but could not hold it against the steady play of Lawrence's senior tandem of Nikhil Kotta and Aaditya Rajgopalan with Lawrence (17-2) scoring a break to to win the third set 6-4.
The loss will certainly sting for quite some time for Northern Valley/Demarest (20-3). With six of the seven players in the starting lineup returning next year the Norsemen will use this experience to try to snap a 40-year state title drought.
"They had a lot of experience and we had four freshmen in our starting lineup, I think that played a factor," said Johnson. "I think now those younger players have a taste of what it's like down here and what you need to do to win. Six of our seven starters come back next year. This will leave a bad taste in their mouths and hopefully they work hard all off-season to get back here next year."
FOR MORE PHOTOS FROM THIS EVENT PLEASE CLICK HERE. TO BUY A COLLECTOR'S PRINT OF THIS STORY PLEASE VISIT 4-FeetGrafix.com.