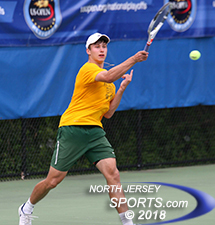 West Windsor-Plainsboro South senior Robert Siniakowicz won his second straight State singles title with a straight-sets victory over Cresskill's Chikaya Sato.
WEST WINDSOR – Cresskill's Chikaya Sato has ripped through the competition by dictating points and flustering opponents with strong baseline play, quick starts, and strong finishes. Just two sets away from an undefeated season and a state singles title, the junior left-hander got off to a 3-0 lead in the first set against West Windsor-Plainsboro South senior Robert Siniakowicz and it looked like Sato was on his way another record-setting victory. But this was no ordinary opponent nor was it an atmosphere like any other he had ever played under.
Siniakowicz showed why he is the defending state champion as he won the final five games of the first set before breaking Sato's serve early in the second set to retain his state singles title and hand Sato his first loss of the season with a 6-4, 6-2 win in the NJSIAA state singles final on Thursday at Mercer County Park in West Windsor.
The two competitors met in the state semifinals last year with Siniakowicz blitzing Sato early with booming serves and heavy topspin forehands en route to an easy win. The second time around Sato dictated the pace of the match early with a variety of tough shots both from the baseline and at the net. He broke Siniakowicz's serve before holding his own serve and grabbing a 4-1 lead.
"I could tell just how much Chikaya has improved from last year to now by the way he started in this match. He had me on my heels," said Siniakowicz, who will play next year at Brown University. "It was a wake-up call for me. I had to keep fighting and get back in the first set. It's a state final. I had to be more aggressive and take some chances."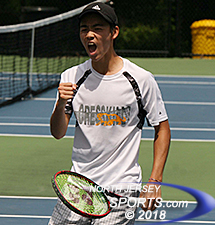 Cresskill's Chikaya Sato, just a junior, finished with just one loss this season.
After struggling to return serve well, Siniakowicz got into a rhythm to earn a big break. With a raucous home crowd cheering louder with every big point he won, Siniakowicz fed off the adrenaline rush. That changed the momentum as he ripped off five straight games to stun Sato and grab the first set.
"That first set I should have put away," said Sato. "I know being only up one break against a good player like (Siniakowicz) is not that big of a lead. I had my opportunities but they got away from me."
Both players held serve in the second set before the first point of the third game set a tone for the remainder of the match. Sato hit what looked a perfect approach to the deep corner. That forced Siniakowicz to make a one-handed backhand stab of a lob. It worked out though as it landed just in front of the service line. The lob kept the point alive long enough for Siniakowicz to rip a winner past Sato.
Siniakowicz never trailed after scoring a service break in that third game and got stronger as the match wore on. With only one double fault and four unforced errors in the entire match, he did not allow Sato a chance to get back in the match and became just the fifth player in the 69-year history of the tournament to win back-to-back titles and the first player since Ramapo's Jonathan Carcione did it in 2011-2012.
"I didn't even think I'd win one won state singles title, to win two of them back-to-back is an incredible feeling. It's been my goal the entire season and to have such support from my family, coaches, teammates, and friends makes it that much better."
After being a quarterfinalist as a freshman, a semifinalist as a sophomore, and a finalist as a junior, Sato has improved by one round each of his three seasons in a Cresskill uniform. There is only one step left to take for his senior year and that will be his focus.
"Losing this match is really tough. I think it will just give me even more motivation for next year," added Sato. "I just have to get stronger physically and mentally. I started off strong but overall I didn't play the way I wanted to for the entire match. This tournament is always a good challenge and I want to be as ready as I can be to make another run at it next year."
TO BUY A COLLECTOR'S PRINT OF THIS STORY PLEASE VISIT 4-FeetGrafix.com. FOR MORE PHOTOS FROM THIS GAME PLEASE CLICK HERE