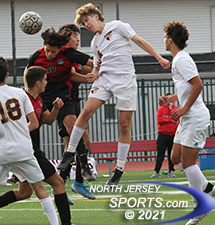 Graham Buchanan's first career goal proved to be the game-winner for Summit, which won its first state sectional championship since 1977 with a 2-1 win over Cliffside Park.
CLIFFSIDE PARK – With thrilling wins over Millburn and Chatham in the two previous rounds, Cliffside Park was riding a wave heading into playing a section final on its home field. The Red Raiders had seen all types of teams and in-game scenarios throughout the season. However, this particular game would be different. They faced a Summit team that on the surface would be considered a surprise to reach the section final despite its No. 2 seed.
The Hilltoppers went 3-8 in the pandemic-shortened season in 2020, but it was clear right from the opening whistle that this would be a unique sort of challenge. No matter how hard the Red Raiders played, which they did right until the final minute, it was just Summit's time to win a long-awaited section title.
Summit dominated when it came to corner kicks. They cashed in on two of those with the goals coming from unlikely sources. Sweeper Jordy Hodges scored his fourth goal of the season to tie the game late in the first half. Fellow defender Graham Buchanan then netted his first career goal, which stood up as the game-winner as second-seeded Summit won its first section title since 1977 with a 2-1 victory over top-seeded Cliffside Park in the North 2, Group 3 final on Thursday afternoon at Cliffside Park High School.
The Hilltoppers went on the attack early and had one dangerous scoring chance after another, but on the Red Raiders' first real attacking chance in Summit's end of the field they earned a corner kick. Kelvin Quevedo took the corner kick and it skipped through. Justin Rua was there at the back post to volley it in, giving Cliffside Park a 1-0 lead in the 17th minute. It was the first goal Summit had allowed in the state tournament.
That did not deter the Hilltoppers in the slightest. In fact, it only made them hungrier to net an equalizer. Over the next 15 minutes, Cliffside Park goalie Cristian Argueta twice punched shots over the crossbar. Samuel Solis and Arianit Qerimi both cleared balls off the goal line and two other shots hit the post. Summit could only be held off for so long before finally breaking through. Gabe Malik took the corner kick and Hodges moved into the box to knock it home with 5:44 remaining in the half to tie the game.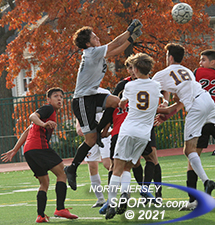 Cristian Argueta and the Cliffside Park defense faced 18 corner kicks.
"It was very important for us to get a goal before halftime," said Summit head coach Ben Stuart. "It was about staying patient and not panicking when they went up. I was still confident in our ability because we're a high-scoring team. We knew at some point Cliffside Park would come on really strong, which they did later in the second half. We knew we had to keep pushing through and if we were going to win this game that we'd have to earn it."
The intermission was only a brief respite as Summit used its outside midfielders in the 3-5-2 formation to create chaos in the Red Raiders' defensive third of the field. Summit earned a whopping 18 corner kicks on the afternoon and it proved to be the difference. The Hilltoppers scored a nearly identical goal to the one Cliffside Park scored in the first half. Sean Hendrie sent in a bender into the box with Buchanan at the back post to put it in the back of the net and give Summit a 2-1 lead in the 51st minute.
The sense of urgency heightened for the Red Raiders from that point on. They made substitutions to get more attacking players on the field and the started to play with a flow late in the game. That went all the way into the final minute when Sebastian Arias had to come off of his line and make a reaction kick save to push a ball wide of the post with 48 seconds to play. Cliffside Park (15-3-3) had two corner kicks in those final 48 seconds but could not get a shot off on either one as Summit celebrated its first section title in 44 years.
"Give credit to Summit, that's a great team they have there," said Cliffside Park head coach Carmine Cambareri. "We settled down a little bit late and had some big chances to tie the game. I'm proud of this team and what we accomplished this season after starting the year with three wins in our first seven or eight games. We left it all on the field and that's all I can ask, but when you give up 18 corner kicks, something bad is about to happen."
Summit (17-5) will face another Bergen County foe and unlikely section champion in the Group 3 semifinals. The Hilltoppers will face Pascack Valley, who was the No. 12 seed in North 1 Group 3, before overtime wins over top-seeded Ramapo in the semifinals and second-seeded Roxbury in the title game, 2-1, on Thursday.
"It's a great feeling to get the job done and we'll enjoy this one," said Hodges. "We'll get back to work as soon as possible. Hopefully there are two games left in the season. To be Group 3 state champions would be a dream come true for us. Now that's in our reach we're going to go for it."
FOR MORE PICTURES OF THIS EVENT PLEASE CLICK HERE. TO BUY A COLLECTOR'S PRINT OF THIS STORY PLEASE VISIT 4-FeetGrafix.com.