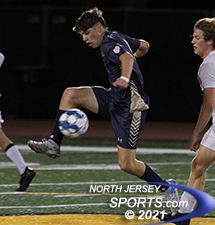 Vincent Tredici scored the game's lone goal in the sixth minute and Ramsey held on for a 1-0 win over Pequannock in the North 1, Group 2 state sectional final on Thursday.
RAMSEY – Seeing out a state tournament victory, especially this deep in the playoffs when a quality opponent is trying to keep its season alive, was never going to be easy for Ramsey, but senior goalkeeper Ryan Haskell had plenty of reasons to remain calm.
He named those reasons…
"Pa[trick] Weir, sophomore, best center back I have ever played with. Peter Soldano, senior, on my right, Christian Bender, right back and Max Nierenberg…the kid is huge. He wins every header," said Haskell. "It's a great back four and other guys rotate and it is really like a bubble in front of me, a shield."
Haskell joined with those immediately in front of him to absorb a whole lot of pressure late as Pequannock fought right down to the nub in Thursday night's North 1, Group 2 state sectional final. The back line held and made Vincent Tredici's sixth minute goal stand up the rest of the way in a 1-0 victory that puts Ramsey in the Group 2 semifinals at home on Tuesday against Hackettstown.
"It's the nature of the game. You go up early by one goal and naturally you just want to defend that lead. I thought the boys worked hard and found their opportunities going forward, but we always preach that defense wins championships," said Ramsey head coach Cesar Blacido. "It's that ability to hold that lead and just fight on every play on every opportunity they get and just weather the storm."
Sebastian Hill was a handful in the middle of the park for Pequannock.
Pequannock had a goal waved off by an offsides call less than 20 seconds into the game and then the momentum flipped decidedly in Ramsey's favor as Tredici provided the lead that the Rams protected the rest of the way in the sixth minute. He got free just outside the top of the box in the left channel and made no mistake in picking the lower corner at the near post.
"George Haskell, our captain, headed it right to me. I saw one defender coming, I took him on and I said, 'Hey, why not?" said Tredici, a junior. "I decided to rip a shot, it went into the back of the net and we got rewarded. That is how it happened."
It's not like Ramsey parked the bus after that, but it is a counterattacking side to begin with and was careful to not get too stretched against a Pequannock team that was dangerous, especially in the middle of the park when Sebastian Hill had the ball. Ramsey, which scored 14 goals on its run to the title, continued to seek opportunities on quick changes of possession, while Pequannock spent considerable time in the offensive third trying to unlock the Rams' sturdy back line.
"We respect every opponent and they might have had a little bit more of the ball, but we don't just sit back. We throw ourselves at the ball, we throw our bodies at the ball and tried to keep them as far away from the goal as possible," said Ryan Haskell, the leader of a defense that has allowed just two goals in four state playoff games. "Cesar's tactics are spot on. We absorb the pressure, win the ball, play out and then catch them on the counter. After Vincent's strike we were like, 'Hey, this is our game to win,' so we stuck to our plan and got it done."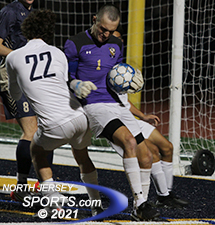 Ryan Haskell kept the clean sheet for Ramsey, which will host Hackettstown in the Group 2 state semifinals.
Neither team shied away from contact at any point in the game and that led to some tense moments. The head referee decided against early yellow cards and was consistent in allowing contact until having his whistle forced into action. Ramsey's Hector Andrade picked up a yellow card in the 52nd minute for a professional foul that mitigated a Pequannock foray forward, but led to a free kick opportunity for Hill, who launched one into 50/50 position at the 6. Ryan Haskell got up to grab it in traffic.
Having tried to beat Haskell in the air, Hill went the low route in the 63rd minute with another free kick chance after Damjan Dimitrovski was taken down 30 yards from goal on a slight left angle. He hit a hard one-hopper that made it all the way to Haskell, who slithered low to save.
With just less than eight minutes to go and as desperation was starting to set in, Hill ran onto a loose ball and cracked it into the scrum in front of the next. It was struck low and hard, but never made it as far as Haskell as Weir cleared it away before it could threaten the goal line.
The Rams' Edward Ko almost provided an insurance goal inside the two minute mark as he got in deep on the left side, but Pequannock keeper Michal Margiera slid out and blew up the play.
Ramsey was forced to defend to the end, which it did and now it is off to the state semifinals for the first time since 2014 when it also beat Pequannock in the section final. The Rams won the section title last season, but that was a bracket reconfigured by COVID and the season ended right there.
With 17 seniors graduated from that team, the Rams have reloaded and now it is Hackettstown on Tuesday in a home game that is the result of good fortune. North 1 schools are hosting the state semifinals this season, while North 2 will provide the home venues next year.
"It is such a family environment here. This team is great to coach and there are some many guys behind us that I have coached over the past three years and guys that I played with in my time here. Everybody is just so supportive," said Blacido, a Ramsey alum who is in his third season as its head coach. "This is great for everybody in this community. We have had great fan support and I am just so happy for the boys, for the past players, for the past coach [Jamie Phillips] and for this community."
FOR MORE PHOTOS FROM THIS EVENT PLEASE CLICK HERE. TO BUY A COLLECTOR'S PRINT OF THIS STORY PLEASE VISIT 4-FeetGrafix.com.