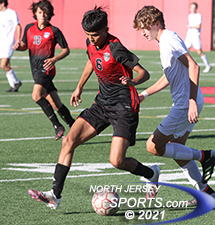 Kelvin Quevedo assisted on both goals for Cliffside Park, which advanced to the North 2, Group 3 state sectional final with a 2-0 win over Chatham on Monday afternoon.
CLIFFSIDE PARK – There was a bunch of figuring to do when the Quevedo brothers hovered around a free kick opportunity near the midpoint of the second half in a still scoreless North 2, Group 3 state sectional quarterfinal. Kerry, a left foot dominant senior thought it might be better for his brother Kelvin, a right foot dominant junior, to take the restart from about 25 yards out. Kelvin was not so sure.
"I thought Kerry would have a better shot because he is a lefty and he had a better opportunity to curve the ball around the wall. He thought I had the better opportunity to pop it right into the top bin," said Kelvin Quevedo. "I wasn't really trying to put it over the wall because they are really tall and the goalie was really tall, too, so my chances were kind of slim and I tried to improvise. I tried to hit it at the far right player in the wall so he would stick his arm out or something. I was looking for a bank shot."
The older brother was right to let his younger sibling take the kick and all of Kelvin's calculations were right on. Kelvin hit a liner that ricocheted off the arm of the last defender in the wall. It was right there in the open for all to see and the resulting penalty kick was taken and buried by Randy Alburez as Cliffside broke the stalemate with 24:37 to go in regulation.
That was the only goal that the Red Raiders needed, but not the only one they would get in a 2-0 win over fifth-seeded Chatham in a Monday afternoon matinee in Cliffside Park. Technically the Raiders are heading for their third state sectional final in the last four years, but really it is three in a row because COVID kept them from participating in the state tournament last year. Cliffside will host No. 2 Summit on Thursday in a 2:00 p.m. start.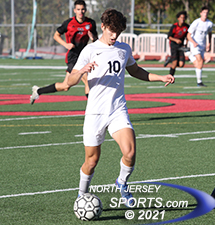 Gabriel Toledo had two of Chatham's best first half scoring chances.
"I wouldn't say we came out flat, but maybe too calm. Once we got our urgency back and we started playing the ball around we played really well," said Cliffside Park head coach Carmine Cambareri. "This is the states, it's late in the season and you are not going to play your best soccer every minute of every game, but we did enough to get the job done and a win is what it is all about right now."
While Cliffside is at its best when the ball is moving and all 11 players are sharing it, Chatham has a more direct style with Gabriel Toledo often the target. He was on one sequence in the 16th minute when he beat a defender to a high bouncer and had a chance to go in alone, but Cristian Argueta, Cliffside's keeper, read the play early in slid in low to break up the game's first real scoring chance. The ball never left that side of the field before Toledo had another go of it, a bullying run up the right in which he held off two defenders before his shot from a tight angle on the right hit the outside of the nearest post.
It was not too long after that that Cliffside found its rhythm, maybe provided by the snare drum being struck in time from the top row of the packed home stands. Ahmet Mert on the left and Justin Rua on the right started to pressure the flanks, which pulled Chatham wide and created some runnable gaps. The Raiders earned a throw in from deep and two corner kicks in the span of two minutes that did not lead to a goal but did signal the shift momentum.
With seven minutes left in the first half Kerry Quevedo drew contact in the box as he tried to split two defenders although no call was made. Two minutes later Kerry Quevedo put a header over the bar on the business end of an Alburez corner and the Raiders almost worked a short corner to perfection inside the final three minutes of the first half. Alburez played it to Gerson Gonzalez, who served one for freshman Henry Valles, who flicked it on for Kerry Quevedo, who pounced from the back side. He was in on his favored left foot, but his shot hit the outside of the near post as the game remained scoreless heading into the break.
Cristian Argueta made a couple of saves in the second half to preserve the shutout for Cliffside Park, which will host Summit in the section final on Thursday.
Cliffside kept up the pressure when play resumed with Kerry Quevedo racing into open spaces, which was how he won that free kick on which he collaborated with his younger brother. That ended in the ice-breaking goal and the Raiders added another in the 63rd minute, which might have been the result of the Chatham fatigue that comes with chasing the ball all over the park.
Kelvin Quevedo played a ball on an arc from the back right into the triangle created by an attacking Alburez, a retreating defender and the oncoming goalkeeper, Chatham's Sam Paone in this case. There was a pileup and the result was Alburez emerging behind the pack with the ball at his feet and nothing in front of him besides an empty net. Alburez walked the ball in for the insurance goal that sealed Cliffside's place in the section final.
It's every high school soccer players goal to win a section title but for the tightly knit Quevedo family, it is personal.
"I didn't want this to be my brother [Kerry's] last game. I really want him to leave with something, a ring and a legacy because my older brother [Limver] had his last season cut short last year because of COVID," said the well-spoken and thoughtful Kelvin Quevedo. "I want to get my coach [Cambareri] a ring and I want all of my senior teammates to leave here with that feeling that we accomplished something for ourselves and the program."
Cliffside's soccer history is well-documented, that is why it is a bit surprising that the Raiders have not won a section title since 2012.
Cambareri will coach in his third final on Thursday, but is not one of those win-or-bust kind of guys. He wants to win, but sees the whole process in the proper perspective.
"It would be great to win one and that is the goal. We have a home game and a chance and that is all you can really ask for," said Cambareri. "As long my kids come out and give 100-percent, if they give everything they have then I will be proud of them no matter the outcome."
FOR MORE PHOTOS FROM THIS EVENT PLEASE CLICK HERE. TO BUY A COLLECTOR'S PRINT OF THIS STORY PLEASE VISIT 4-FeetGrafix.com.