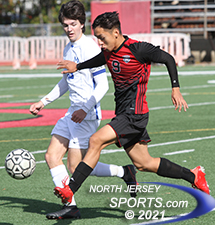 Gerson Gonzalez's goal with 1;45 left in regulation got Cliffside Park even before it used a PK in overtime to beat Millburn, 2-1, in the North 2, Group 3 state sectional semifinals on Thursday.
CLIFFSIDE PARK -- The last two postseasons that the Cliffside Park boys soccer team participated in ended in the same way. In 2018 the Red Raiders were shutout by Millburn in the North 2, Group 3 state sectional tournament. In 2019 it was a loss in a penalty kick shoot against Millburn and history was so close to repeating itself.
There was less than two minutes left in Tuesday afternoon's North 2, Group 3 quarterfinal and Cliffside, the home team, was trailing by a goal against, who else?...Millburn.
Desperation had set in, so much so that senior Kerry Quevedo thought that attempting a diving header on a corner kick sent in by Randy Alburez that never got more than a foot or two off the ground was a viable option to try to extend the game and, in turn, his high school soccer career.
"Anything. I was going to try anything to try to get that goal and a diving header…Why not?" said Quevedo. "And I thought it was going to go in."
It didn't but it did set off a chain of events that changed the course of the game and each team's season. Quevedo got enough of a piece of the restart to force the ball into the mixer and it fell right to the foot of Gerson Gonzalez, who showed absolutely zero hesitation when he ripped the sitter into the back of the net to tie it with just 1:45 left in regulation.
"I just had to make sure I put it on net," said Gonzalez. "But I didn't even really think about it. I saw the ball there and I drove it as hard as I could. I didn't want anybody getting a touch on it."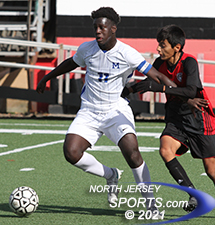 Millburn's Baruch Akwaboah gave Cliffside fits with his hold up play in the offensive half.
Cliffside forced overtime at the wire and then ended its Millburn hex in the extra session. Right after goalkeeper Cristian Argueta made a nervy save, Cliffside headed to the other end, got the ball in the box and got a whistle that it was all too happy to hear. A handball in the box call gave the Raiders a penalty kick with 2:29 left in the overtime and Alburez buried it for a 2-1 victory that puts Cliffside, the top seed, in the semifinals where it will host No. 5 Chatham on Monday.
"It was a crazy game. We have just missed so many opportunities against this [Millburn] team over the years. A few years ago we missed a couple of breakaways against them and lost, last time they beat us in penalty kicks. It is always a great battle and today maybe the luck was on our side a little bit," said Cliffside Park head coach Carmine Cambareri. "We went down 1-0 early, we have lost to this same team twice in this same kind of situation and that can get to you a little bit. There were definitely a couple of nervous moments."
A lot of those nervous moments came courtesy of Millburn junior Baruch Akwaboah, whose ability to hold the ball up gave Cliffside fits in the first half. Akwaboah laid his big frame onto defenders, kept possession in close quarters and allowed his wingers to run off his flanks. It was exactly that set up nearly led to a few first half goals and then eventually to the one that gave the eighth-seeded Millers the lead.
Akwaboah stepped on the ball in the middle of the field before teeing up freshman Joshua Hwang, who got his laces through it from inside the area. The shot, which was on frame and heading for the back of the net anyway, took a slight deflection, which made it all the more unsavable as Millburn took a 1-0 lead with 16:22 left in the first half.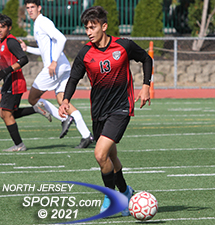 Cliffside's Randy Alburez hit the corner kick that led to the equalizer and the PK that ended the game.
While Millburn (7-8) was buzzing around in the first half and stayed on the front foot at the start of the second, Cliffside eventually took the game over. Lured into long balls often early, the Raiders started to move the ball quickly along the ground, which put increasing pressure on a Millburn defense that naturally sagged a bit as it tried to protect its lead.
Cliffside (14-3-3) had three good looks on the same sequence 12 minutes after halftime when Isaac Ulloa laid a pass back for Quevedo, whose hammered one from the top corner of the box that was turned away by Millburn senior keeper Brayden Fischer, who then scurried for the rebound and made a kick save of a Ahmet Mert follow-up attempt. Kelvin Quevedo had the final attempt of the trifecta, but his shot scooted past the right post.
Fischer, who commanded his box authoritatively all game long, punched away a throw-in with 3:30 left in the second half and it looked like one of Cliffside's last opportunities had gone with it. But then Kerry Quevado sold out on his diving header attempt to set up the tying goal that extended the game.
Cliffside clearly had the momentum heading into overtime and, if not for Fischer, would have won the game classily in the 85th minute. Ulloa got under the second ball off a Alburez corner and headed it toward the inside of the second post only to see Fisher, in do-or-die mode, dive over and push away the attempt that seemed destined for the net, which had been momentarily empty.
Two minutes later Millburn had its best chance to advance when, given space near the top left corner of the box, Ron Zuckerman hit one low and hard toward the first post. With top spin, the ball was always going to take that hard skip forward on the rug. It was not the toughest save Argueta ever had to make, but there were plenty of ways he could have gotten it wrong, so he stayed low behind the ball, put his arms in a V in front of him and kind of scooped the ball to the outside where it made its way down to the other end in a hurry.
When the decisive cross came in, Kerry Quevedo challenged for it and then saw the hand ball happen at close range.
"I was going for the ball and me and the defender were both jumping. It took a bounce, I missed it and I guess he misjudged it, too," said Quevedo. "It went over his head and when he turned around he hit it with his knee and then his hand. His whole hand hit it and I started claiming handball. The ref saw it too, I guess."
He did and pointed to the spot from where it was still not a sure thing with as well as Fischer was playing in the Millburn net. Alburez was tasked with taking the PK as he has been all year.
"He trusts me," said Alburez, pointing to Cambareri, his head coach. "He has trusted me to take them all year, so I was confident when I stepped up there."
Fischer actually guessed correctly as he laid out to his left, but Alburez pulled the okie-doke, a stutter step before striking the ball that threw off the keeper's timing. Fischer was smothering his left post while the ball rolled in goal side of his feet to seal the victory for Cliffside.
"We had high expectations for this team, but you never know how far you are going to get and we are happy to still be included in the state tournament right now," said Cambareri. "It's not going to get any easier. We have Chatham in the next round, they won pretty big today and we are pretty banged up right now. This was a physical game, but we have a few days to recover and hopefully we come back strong on Monday."
FOR MORE PHOTOS FROM THIS EVENT PLEASE CLICK HERE. TO BUY A COLLECTOR'S PRINT OF THIS STORY PLEASE VISIT 4-FeetGrafix.com.