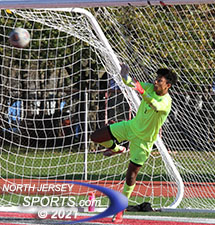 Freshman Joshua Bells showed no nerves in his first state tournament start as he made a host of huge saves in Fair Lawn's 1-0 win over Ridgewood in the North 1, Group 4 state sectional tournament opener.
FAIR LAWN – A freshman playing in his first state tournament game, Fair Lawn goalie Joshua Bells should have been a nervous wreck. On Monday, the Cutters faced a Ridgewood team that was much better than its seed and a side that was shutout just twice all season Bells knew he would be tested.
How he handled the pressure under a consistent wave of shots would be a direct correlation to whether his team's season would go on or end on Monday. It was right where he wanted to be and why he has already emerged as one of the better goalies in Bergen County. When the stakes were the highest Bells was at his best.
Bells made one spectacular save after another throughout the match. He finished with a clean sheet making Ryan Fife's goal in the 11th minute stand up as sixth-seeded Fair Lawn advanced to the North 1, Group 4 quarterfinals with a 1-0 first-round win over No. 11 seed Ridgewood at Sasso Field in Fair Lawn.
Right from the opening whistle Ridgewood used a quick passing game to take control of the possession game. Led by Bells and sweeper Ian Vann the Cutters held firm all game until an early hustle play provided the only goal of the match. Senior captain Justin Cedeno blocked a clearing attempt and Jonathan Hunal sent a long cross towards the top corner of the box. Ridgewood keeper Lucas Barreles came out to play the ball, but Fife never stopped running up the left flank. He beat Barreles to the ball and collected with Barreles now caught in no man's land. Fife chipped it into the side netting inside the far post to put Fair Lawn ahead, 1-0.
"My only thought was to hit the net," said Fife. "I called for the ball and the ball found my feet on a great pass from (Hunal). I dribbled around the keeper and looked for an open spot. Overall, it was a great team play."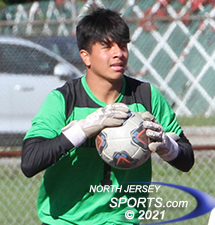 Luca Barrales was outstanding between the pipes for Ridgewood.
After the Cutters began to find their footing Ridgewood needed an offensive spark. They found one off the bench when speedster Elisha DeSilva came on. He made an immediate impact as Ridgewood came within inches of scoring twice on shots from Liam Winograd and DeSilva. As close as those shots were the Maroons had a trio of even better scoring opportunities in the final 90 seconds of the first half. Taiki Yanagihara bent a free kick around the wall that looked destined for the upper right-hand corner.
Bells laid out to make an outstanding save by not only stopping the shot by securing it to make sure there was no rebound. He then made a save on a point-blank save on a shot from DeSilva from the six-yard box. DeSilva then tried to backheel a shot that Bells kept off the line with the Cutters surviving the first half with the lead still intact.
Although there was no scoring in the second half it was full of excitement and quality scoring chances. Fair Lawn had a pair of chances, one from Fife and the other from John Bednarz to make it a two-goal lead but Barreles (10 saves) a pair of nice saves to keep the Maroons in the game.
Ridgewood (10-6-1) pushed numbers forward in the final minutes to try and net the equalizer. Bells commanded the box all game and was able to cut down the angle every time the Maroons had a scoring chance. He made four remarkable one-handed reaction saves in the second half before dropping down to make his 12th and final save of the afternoon on a hard shot from Winograd with a minute to go.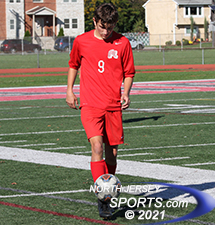 Ryan Fife scored the goal for Fair Lawn, which will play Clifton in the quarterfinals on Thursday.
"We communicated really well in the back and it's my job to keep things locked down," said Bells. "Once we got the lead, I had to keep any shot my way out of the net. I had to stay locked in because one mess up would have changed the entire game. You've got to keep your mind right and stay focused on everything that's happening in front of you."
Fair Lawn moves into the North 1, Group 4 quarterfinals on Thursday. The Cutters will travel to face this year's Passaic County champion and perennial state power Clifton. It will be a tall task to beat Clifton on its home field. But with plenty of momentum, a nothing-to-lose team attitude, and a hot goaltender the Cutters feel they have a good chance to pull the upset.
"We know Clifton is a phenomenal team and they make far runs in the states every year, but we have the motivation to go toe-to-toe with them," said Cedeno. "You have to stay focused for a full 80 minutes against a team like that. I feel as if the team we have with the way we defend, the way we finish, and our attitude overall gives us a chance."
FOR MORE PICTURES OF THIS EVENT PLEASE CLICK HERE. TO BUY A COLLECTOR'S PRINT OF THIS STORY PLEASE VISIT 4-FeetGrafix.com.