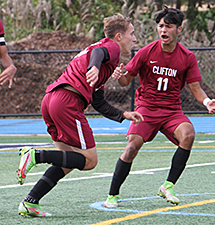 Vitaly Datyk celebrated his first half goal during Clifton's 3-1 win over Kennedy in the Passaic County final on Saturday.
WAYNE – Having graduated 14 seniors from a ballyhooed class it was possible that this might be the year that Clifton's boys soccer program finally took a step back to the pack. Is this the Mustangs most talented team that it has fielded in its illustrious history? Probably not, but there is something to be said for togetherness, desire and tradition, After losing out on a league title the Mustangs channeled their energy towards making up for it in the Passaic County Tournament.
Clifton is well known for its quick combination passing game and scoring pretty goals, but, facing upstart Kennedy, Clifton head coach Stan Lembryk felt his team might have an advantage by playing more direct.
His notion was a correct one and it set the tone.
Vitaly Datsyk and Lukas Ferrara scored hustle goals in the first half. Kennedy got a goal back early in the second, but that was as close as the Knights would get. Senior captain Juan Carlos Vizcaino closed it out with a goal as top-seeded Clifton defended its Passaic County Tournament crown with a 3-1 win over third-seeded Kennedy on Saturday afternoon at Wayne Valley High School.
"When you're in a tournament final sometimes it's not always pretty, sometimes it pays to be more direct," said Clifton head coach Stan Lembryk. "We were so aggressive and hungry to put the ball in the net. Our strategy paid off for us, we anticipated plays on our set pieces and that's what you need to do in championship games."
Instead of two-touching through the midfield the Mustangs often sent long balls up the flanks with success. Then they kept it simple by sending crosses in front and crashing the net. Paterson Kennedy struggled communicating in the back and it cost them early. Midway through the first half Paterson Kennedy goalie Brandon Parra attempted to punch away a cross but it deflected off a defender and back towards the top of the box. With two defenders looking at one another to see who will clear it, Datsyk slipped in between them to bury it into the open net to put Clifton ahead. Minutes later off of a Vizcaino corner kick, marking back Lukas Ferrara also got in between a pair of defenders and volleyed it home to make a 2-0 halftime lead.
"At Clifton, we're always pressing and always looking to attack," said Ferrara. "When you play aggressive and hard sometimes you find yourself in the right place. Especially on set pieces when you have nothing to lose I just tried to get inside the defender and be ready when that ball came my way. We want to be the team that always strikes first. Then if a team catches us, we want to hit back when harder."
Paterson Kennedy was unable to mount much offense in the first half but made up for it with its first rush forward in the second half. Luis Portillo found the back of the net on a pass from Justin Granizo to trim Clifton's lead to 2-1 just 3:20 into the second half. That gave the Knights much needed boost and they started to play with more urgency. Clifton's back line held firm through allowing only one shot on net over the final 36:40.
Led by Dylan Perez and Vizcaino the Mustangs settled down in the midfield and controlled the tempo. The lead was still a tenuous one until Vizcaino did what a senior captain and leading scorer on the team does in clutch moment. After taking a pass from Wiktor Wiszkiel, he shielded the ball from a defender then squared him up. He made a shoulder fake to create just enough to take a touch and ripped a left-footed shot through traffic and into the lower right-hand corner to put the game away.
"After they scored to make it 2-1, we had to show that fight that this team has," said Vizcaino. "We were playing well but we needed that breathing room with another goal. I had a spot in mind but I had to get some space to get the shot off. We had to execute our gameplan and we came in determined to finish it off. It's not just about winning a county championship for this team. It's also showing the younger players how it's done at Clifton and continuing that tradition that's been here for a long time."
With a Passaic County championship now in hand the Mustangs will look to continue to add to its trophy case in the North 1 Group 4 state tournament. It will not come easy as the No. 3 seed in a loaded bracket. There is no shortage of confidence though as the Mustangs are excited for the challenge.
"We know there are no easy games from here on, we have to be ready to go for a full 80 minutes or more," said Lembryk. "This is a great opportunity for this group, especially being so young. I'm so proud of these guys for winning a county title. We had a great opportunity today and we took advantage of it. Now we have another great opportunity starting on Monday. This team is really establishing ourselves as the next group to keep our tradition going."
FOR MORE PICTURES OF THIS EVENT PLEASE CLICK HERE. TO BUY A COLLECTOR'S PRINT OF THIS STORY PLEASE VISIT 4-FeetGrafix.com.