Senior Skylar Bogdanowitsch led a stout NV/Demarest defense that battled Cliffside Park to a scoreless draw on Monday.
CLIFFSIDE PARK – The first ball of the second 10-minute overtime period was not kicked until 6:41 p.m. The official time for sunset on Monday was 6:45 p.m., which meant that Northern Valley/Demarest and host Cliffside Park were still searching for that elusive goal well into the night. It was entertaining and there were plenty of chances, but none of them found the mark and the Big North Conference crossover match finished in darkness and in a scoreless draw.
"Cliffside Park is a great program and has been for many years. I have nothing but respect for them and they always play hard," said Demarest head coach Rob Romeo. "To walk out of here with a draw we had to work really hard. We possessed the ball a good percentage of the game; we had numerous shots on goal and numerous opportunities. They just happened to get some defenders the way of our shots on net."
The teams have contrasting styles. Demarest had the size advantage, especially along its back line. Cliffside uses its speed to try to create and exploit gaps, but dragging the central defensive pairing of Skylar Bogdanowitsch and Andrew Tendler is not so easy and their ability to break up counterattacks allowed the Norsemen to build an edge in possession. The Norsemen are not a kick-and-run side, but they do play direct with senior striker Jack Scuro the most often favored target man.
Demarest set the tone with four corner kicks in the first four minutes of the game although they could not get any of them past Cliffside Park goalkeeper Cristian Argueta, who had a busy day. Argueta made two of his 5 saves in rapid succession in the 28th minute, the first when Tendler moved up on a Scuro corner kick and put a hard shot on target. Argueta pushed that one away and then scrambled back into position to turn away Seth Kaufman, who won the race to the second ball off the rebound.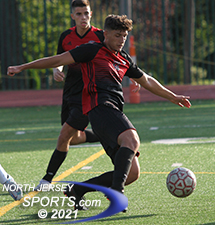 Arianit Qerimi cleared a ball off the line and made plenty of other contributions to the Cliffside Park defensive effort.
Argueta parried Johan Colorado's rip of opportunity over the bar in the 31st minute and then needed some assistance to maintain the clean sheet four minutes later. Demarest left back Raphael Guizonne rolled a diagonal cross through to the opposite post where Colorado's first touch was hard and back across the face of goal. It would have gone in if not for the hustle and proper positioning of Arianit Qerimi, who cleared the ball off the line.
Qerimi, Cliffside's bulwark of a central defender, kept his backline organized for the duration of the 100 minutes against heavy and sustained Demarest pressure.
"It was hard but at the end of the day we well because we did not allow any goals. We communicated with each other and we stayed together," said Qerimi, a senior. "We are trying to win a league title for the fourth time in a row and then we are aiming for good runs in the counties and states, too. We'll see how it goes and we know we have work to do."
Demarest (3-1-1), which reached the state sectional final for the first time in the history of the boys soccer program last season, stayed on the attack after the intermission and it nearly paid off 10 minutes into the second half. Quinn Postman sent in lofted service and it landed on Gavin Dai, who looped a header over Argueta, but onto the crossbar as the Norsemen had another near miss.

Cliffside (3-2-2) had one if its best chances in the 52 minute when Isaac Ulloa was fouled in a dangerous spot, 10 yards from the endline to the right of the penalty area, and Kerry Quevedo teed up Jonathan Soto, who blazed over the bar. With just over 10 minutes to go in regulation, Samuel Solis took advantage of a rare miscommunication in the back and took possession in the area. His hurried shot looked dangerous before Tandler retreated to clear the ball before it seriously threatened the goal line.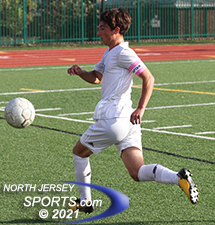 Target man Jack Scuro was in the middle of many of Demarest's best chances.
"It was a good game back and forth and it could have gone either way, we just have to fix some of the mistakes that we make too often. We'll continue to work on them in practice," said Kosar Taalu, who is serving as the Cliffside Park head coach for two games while Carmine Cambareri takes a state-mandated two-game hiatus. "Our defense is basically brand new and they responded well to the pressure today. Arianit Qerimi in the back, Jon Soto and Kelvin Quevedo on the outsides and Skylar Saric as our defensive mid, they have stepped up. We lost some big players from last year and the new kids have come in and learned on the fly and when they make mistakes Cristian [Argueta] has been great behind them."
Demarest is vastly more experienced in the back. Bogdanowitsch was a key to Demarest's league title run as a sophomore in 2019, he scored in last year's section final and is an organizer among a talented crew that gets tested game-in and game-out against a competitive league slate. When a road game at Cliffside Park is a crossover, the schedule is obviously a stern test.
"I am proud of the defense today. We did not concede against a good team on the road. I am disappointed that we did not score, but we did well as a whole team to possess the ball and create more chances," said Bogdanowitsch. "Everything is still in our hands. It is not like we have to rely on luck to win the league and we are still on track for a good place in the county [tournament] and the states. It's been four years on this team, three years of playing with a lot of these guys and I hope that this turns out to be the best of them."
FOR MORE PHOTOS FROM THIS EVENT PLEASE CLICK HERE. TO BUY A COLLECTOR'S PRINT OF THIS STORY PLEASE VISIT 4-FeetGrafix.com.