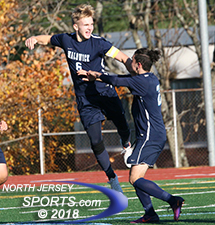 Connor Conyngham's first half goal gave Waldwick the lead for good as the Warriors beat Park Ridge, 2-0, to win their first state sectional title since 2015.
WALDWICK – Waldwick came into the season with championship aspirations only to have those dreams dashed in a span of five days by a pair of one-goal losses. A tough loss to rival Park Ridge cost the Warriors a league title and that was followed by a defeat against Ramsey in the Bergen County Tournament semifinals that ended an upset-laden run through that competition.
With only one chance left to hoist a trophy in the state tournament, it was all or nothing, but waiting in the North 1 Group 1 final was Park Ridge, who shutout the Warriors in both of their regular-season meetings. With their season on the line and a title at stake, the Warriors picked a good time to put forth their most complete effort of the season.
Connor Conyngham scored in the first half to give top-seeded Waldwick the lead. Goalkeeper Lucas Mainenti made several big plays to preserve the lead until an insurance goal from John McHugh put the game away and gave the Warriors their first section title since 2015 with a 2-0 victory over second-seeded Park Ridge on Thursday afternoon at Waldwick High School.
"We've wanted this all year after watching Pompton Lakes celebrate after beating us in the section final last year," said Conyngham. "In the back of our mind we knew we had to win every ball. (Park Ridge) packs it in and they're real tough defensively. We just had to stay poised and wait for the right window to make something happen."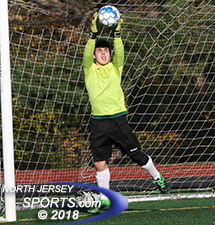 Nick DiPasquale made 8 saves for Park Ridge, which finished the season with a 19-3 record.
Waldwick has used a methodical attack that uses the entire field to dissect opponents all season. Although that had not worked in the Warriors' two previous games this season against Park Ridge, they came in with the same approach. They saw success by winning 50-50 balls and doing whatever it takes to keep the ball in the Park Ridge defensive third to apply pressure. That strategy finally paid dividends in the 31st minute.
Jagger de Silva blocked a clearing attempt along the sideline and sent a long cross that looked as if it would harmlessly bounce over the end line. Dom Scardigno was able to track it down though and popped up a lefty cross towards the back post. Park Ridge keeper Nick DiPasquale (eight saves) leaped to get his fingertips on it but could not corral it. With a defender draped all over him Conyngham, ould not get a foot on the loose ball but got enough of a leg on it to knock it in to give Waldwick a 1-0 lead.
"It was all about desire and doing whatever I had to do to get the ball in the net," added Conyngham. "We didn't let them clear it out, we didn't let it go out-of-bounds, that whole play was all desire and heart."
After being largely inactive during the first half Mainenti had to make several big plays in between the pipes throughout the second half.  The biggest of which came off of a long throw-in by the Owls' Dustin Glynn. Alex Uva got a head on it but Mainenti laid out full-extension to make a one-handed diving save, pushing the shot off the post before it was cleared out of danger.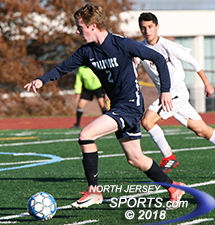 John McHugh added the insurance goal for Waldwick, which will play New Providence in the Group 1 state semifinals.
With Park Ridge (19-3) pushing numbers forward the one-goal lead was far from safe until a whacky play set up the Warriors. A ball played back to the keeper off the foot of a defender was picked up. That resulted in an indirect kick from eight yards out. Chris Borgese made the touch and strong-legged John McHugh ripped a shot directly into the wall. The ball took a fortunate bounce right back to him. With a second chance from close range the only thing stopping McHugh's blast this time was the back of the net. His shot into the lower left-hand corner with 10:23 to play gave the Warriors a more comfortable two-goal lead.
"My shot got blocked but I stayed focused and never lost sight of the ball," said McHugh. "All season we've stayed composed and play our brand of soccer. No matter what happens, we just stay in the moment. When I got a second opportunity I just wanted to get it on frame and tuck it away."
Led by senior co-captain Garrett Mironenko, the Warrior defense was rock solid all afternoon and held high-scoring striker Nardi Lita (29 goals that included game-winning goals in both meetings against Waldwick) without a single shot on net. From that point the countdown was on until the final buzzer sounded and the home crowd poured onto the field to celebrate the Warriors' first section title since 2015.
Waldwick now advances to the Group 1 state semifinals where they will face North 2 Group 1 section champion New Providence. That game will take place at Indian Hills High School in Oakland with a 5:00 P.M. start. The section title was the sixth in the successful 21-year tenure of head coach Jon Nochese. The Warriors are still looking for their first Group 1 state title in school history and the 2018 squad wants to be who brings it home.
"All year on all of our tweets we've had the #ub for unfinished business, that's driven us the entire season," said Conyngham. "We worked all year to complete what we started last year and it feels great to get the job done. We just want to keep on going and see how far we can go."
FOR MORE PHOTOS FROM THIS EVENT PLEASE CLICK HERE. TO BUY A COLLECTOR'S PRINT OF THIS STORY PLEASE VISIT 4-FeetGrafix.com.