Sophomore Devin Usal stepped in at center back and Old Tappan did not skip a beat in a 4-0 win over Pascack Valley in the North 1, Group 3 state sectional quarterfinals.
OLD TAPPAN – At this time of the season there is no time to over-think problems. Player gets hurt? Grab another guy, throw him in there and hope for the best. That is what Northern Valley/Old Tappan did when it found out that senior Colin Eifert would be unavailable for Friday's North 1, Group 3 state sectional semifinal against Pascack Valley. In his last three playoff games, Eifert had scored five goals, anchored the defense in the middle of the field, but when he was ruled out after a particularly physical contest against West Milford on Tuesday, in stepped sophomore Devin Usal, who assumed all of those responsibilities with little time to prepare.
"An hour before the game I learned that Colin was not going to be playing and I just got really nervous, but I knew that my job was to step up for the team," said Usal, who scored a goal in the win over West Milford. "Mike [Pankauski] was back there with me, he helped guide me on where to be and I knew if I messed up he would be right there to cover for me. I tried not to think too much, just had to play the game as best I could."
It would have been hard for Old Tappan's defense to do much better as it pitched a shutout against a team that his given it fits over the last two seasons and won a lot of balls that turned into opportunities on the other end. Old Tappan kept the field spread and varied its attacks from the flanks to right down the spine of the field.
Sam Kang, a senior playing out his lone season of high school soccer, made the most use of the open spaces as his hat trick propelled the third-seeded Golden Knights to a 4-0 victory and into the North 1, Group 3 state sectional semifinals where they will host No. 7 Sparta, a double-overtime, 1-0 upset winner over No. 2 Northern Highlands.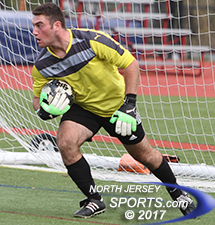 In his final high school game at the end of a standout career, Pascack Valley keeper Josh Ulin had a busy day between the pipes.
Not only was Old Tappan without Eifert for the full 80 minutes, but it also lost senior JeeHo Yun, a dangerous attacking option, to an ankle injury less than two minutes into the game and he did not return. That did little to discourage Kang and his teammates from getting forward.
Kang, who played inside the academy structure for his first three years of high school eligibility, opened his account and the game's scoring just 14 minutes in when he found time and space just outside the box and curled one up and over the best effort from Pascack Valley keeper Josh Ulin.
"I tried not to think about how [the injuries] were going to affect us. Just like any other game I just tried to come out and play my hardest. No matter who you are up against [in the state tournament] you know that they are going to be a good team and you have to be at your best," said Kang, who will play at New York University next season. "You have to come out strong and play like it might be your last game because it could be. We did that today and hopefully we can keep this going and win the whole thing."
Pascack Valley's best chance of the first half met stiff resistance as Nate Dedrick stepped into a rip from the right side. He let loose a diagonal shot that had everyone beat until it crashed off the crossbar in the 25th minute.
Old Tappan had the better of chances throughout the first half, Pascack Valley, which went 1-0-1 against the Knights during the regular season and won the Big North National Division title, had a chance to erase the 1-0 halftime deficit twice on the same sequence early in the second half. First, senior midfielder Justin Schaumberger had a go at the bottom corner from about 30 yards out and his shot was dangerous enough to force Old Tappan keeper Matt Burstein into a full dive to his right just to push the ball around the post.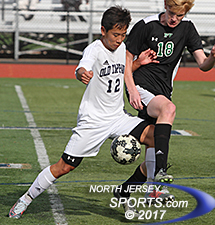 Sam Kang had a hat trick for Old Tappan, which will host Sparts in the semifinals on Tuesday.
On the ensuing corner kick, Burstein came out and got just enough of Dedrick's in-swinger to break up the timing, but the ball sat there on the near post where Nick Londono had a fleeting chance before Usal came over and booted the ball out of trouble. As so often happens after a near miss at one end, a game-changer happens soon after at the other. Less than a minute after the traffic in front of the Old Tappan net, there was a clearer path in front of the PV goal after Danny Yun won the endline and slotted the ball for Kang, who made it 2-0 with just under 30 minutes to play.
Kang set up Old Tappan's third goal by knocking down a clearance in the midfield and sending in Deenae Sujak in a 1-v-1 situation. Sujak outran a defender, touched the ball around a charging Ulin and made it 3-0 with 27:31 remaining and Kang finished off his hat trick and the game's scoring when he converted a penalty kick earned by Yun with 8:23 remaining. Not long after that, the benches were emptied.
"[Pascack Valley] definitely had the better of the play at the start of the second half and that was to be expected. They were going to make adjustments, they have a great coaching staff from top to bottom, they have boys that can play and they have been in big games," said Old Tappan head coach Mark Torrie. "Our second goal was against the run of play and we had to figure it out. Once we were able to do that we were able to show what we had at this [offensive] end of the field."
TO BUY A COLLECTOR'S PRINT OF THIS STORY PLEASE VISIT 4-FeetGrafix.com. FOR MORE PHOTOS FROM THIS GAME CLICK HERE!