Monday, October 3, 2016
By Cory K. Doviak
NJS.com Editorial Director
Miles Franklyn scored twice in the first half with the second standing up as the game-winner in Bergen Catholic's 4-1 win at NV/Old Tappan on Sunday.
OLD TAPPAN – One day after the cutoff for qualification into the Bergen County Tournament in which both are included, Bergen Catholic and Northern Valley/Old Tappan each looked at Sunday's soccer match through a different lens. For the undefeated Crusaders, it was a chance to keep the momentum going from a successful first month of the season. For Old Tappan head coach Mark Torre, it presented the perfect opportunity to see not only where his team measures up against one of the county's top teams at this point in this season, but also where it might stack up against like team later this year and in future ones.
It was kind of mission accomplished on both sides as Bergen Catholic kept it rolling with a 4-1 win, while Old Tappan, resting some regulars due to injury and fatigue, introduced some younger guys to the speed of the game as played by one of the best teams in North Jersey led by one of its best players.
Miles Franklyn is that player and the senior striker who will play at Syracuse University next season scored twice in the first half to put Bergen Catholic in front for good. Franklyn is a unique player who can be just as effective taking a free kick as he is heading one in. He has the speed to run by defenders and the moxy to take them on, but also has the smarts to pick his spots. He can be both facilitator and finisher.
"What he brings to the team is an offensive phenomenon that makes everybody better. He is the most unselfish player, the kind who would rather get an assist than a goal and that helps everyone," said Bergen Catholic head coach Peter Berkanish. "It's been a pleasure with Myles because he is at Bergen Catholic to help his school, to help this team and, after that, to help himself."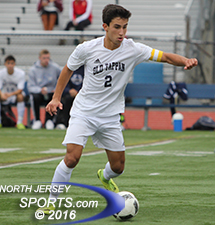 Peter Livanis scored the Old Tappan goal off a free kick in the 10th minute.
The assault on the Old Tappan net started just after the opening whistle as the Crusaders got off two quality shots at the goal inside the game's first minute. Joseph Barile pressed Old Tappan keeper Jake Fiore into action right off the tap as he caught up to a rolling through ball and forced Fiore to use a shoulder and a foot to deny the effort. Bergen Catholic nearly scored again on the ensuing corner kick when Joseph Kelly's restart was headed just high of the mark by Giancarlo Gomes, who came up from the back.
Old Tappan had its best first half sequence in the fifth minute when a burst from senior Chris Jamgotchian gave him a step near the left endline and he sent in a hard cross that was just beyond the lunge of Danny Yun at the far post. One minute later, however, the Golden Knights found themselves in arrears as Franklyn got a step in behind and then scored a pretty goal.
In one-on-one in close proximity, Franklyn forced Fiore to make a choice and the keeper made the only real one available as he raced out to cut the angle. In response, Franklyn lifted a nifty chip up, over and in for a 1-0 lead that lasted less than five minutes.
At the other end, Yun was taken down a parallel run across the goal line 25 yards out. That gave Peter Livanis a chance to line up a free kick, which he took before the BC wall could set itself. While the five-man barrier was still receiving instructions from keeper Nicholas Vafiadis, Livanis hit one clean into the upper right hand corner to tie the game at 1.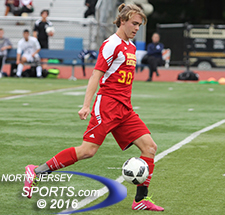 Cole Bosch scored the third goal for Bergen Catholic, which is now 6-0 and the No. 3 seed in the Bergen County Tourney.
Henry Mouawad saw his chance to give Bergen Catholic back the lead, but his curler after stepping inside a defender finished just wide of the left post and Fiore preserved the tie, momentarily at least, with a brave challenge near his right post. Franklyn found Cole Bosch in a dangerous spot, but Fiore broke up the foray and then won the scramble for the rebound. Just over one minute later, Franklyn put his team in front for good.
Franklyn raced up the right side, shouldered past a defender and slotted one back across the goalmouth and inside the opposite post to make it 2-1 with 21:07 left showing the on the first half clock and the score stayed that way until the intermission.
Bosch scored nine minutes into the second half when he put away a through ball by Barile that squeezed through two defenders and Andrew Graf added the finishing touch with his goal inside the final five minutes as Bergen Catholic improved to 6-0 on the season.
The draw for the Bergen County Tournament was released and both of these teams were included. Although the selection committee chooses not to officially seed any team in the draw, it takes a little bit of studying o figure out where they were placed. Bergen Catholic occupies the line that would normally be reserved for the No. 3 seed with a first round by and a Round of 16 matchup against the winner of Hackensack versus Lyndhurst. It looks like Pascack Valley, a semifinalist last year, is the No. 2 seed and Ramapo, the defending champion, is No. 1.
Ramapo, still undefeated this year, has won the event in three of the last four years and Bergen Catholic is in this year's tightly bunched chase pack.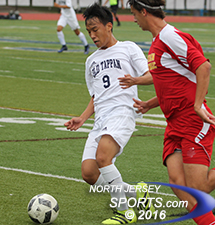 Danny Yun set up the goal for Old Tappan, which is now 5-3 and awaits the winner of Hasbrouck Heights/Indian Hills in the Bergen County Round of 16.
"We are trying to keep it one game at a time, but it is hard nowadays to do that. We are a team so we talk about, 'What if we make it to the final? Who would we play?' So Ramapo, yes, we definitely have our eyes on them, but we are keeping our eyes on a lot of good teams. PV is out there, Tenafly is out there, Fort Lee is out there. No matter who we play we would have to face a lot of good teams before we even got to a final," said Franklyn, who is enjoying this last run as a high school player before the stakes get raised next year in the Atlantic Coast Conference. "My Mom and Dad tell me every day, 'Hey, make sure you have some fun out there.' This is all supposed to be fun. Yes, it's serious and all, but you will not be able to play well unless you are out there enjoying it."
Old Tappan, the defending North 1, Group 3 state sectional champion is enjoying another solid season even after losing a deep senior class to graduation. The Knights are now 5-3 on the season and also have a first round county tournament bye while awaiting the winner of Hasbrouck Heights/Indian Hills in the Round of 16.
While Torre , obviously, is looking to make a deep run in this year tournament and then match the magic the Knights found in the state tournament last year, he is doing it all with an eye on the bigger picture as well.
"It was good for me to bring up some freshmen and JV players and see them play against a good team. Sometimes you bring them up against a team having a rough year and it looks like they might be ready, but against a team like we played today, you get a real idea of what we have once the JV season is over. We don't have a big bench this year and when we are in the sectional tournament can they come up? Can they play? And I think we got some answers to those questions," said Torre, whose team's three losses are to Ramapo, Pascack Valley and BC, the top three seeds in the county tournament.
"I think a lot of the success we had at the end of last year was down to our rotation of players. Throughout the year you don't want your boys playing minutes they shouldn't be playing, wearing the tread on their tires. It's a short season, but it's a long season in a lot of ways and at our level, at the Group 3 level, there are a lot of battles. I am not scared to go to the bench. I am here to run a program and develop a program. I am not here to win every game at all costs and I thought this was a worthwhile exercise."
CLICK HERE FOR MORE PHOTOS FROM THIS GAME. TO BUY A COLLECTOR'S PRINT OF THIS STORY, PLEASE VISIT 4FeetGrafix.com.