Friday, September 16, 2016
By Cory K. Doviak
NJS.com Editorial Director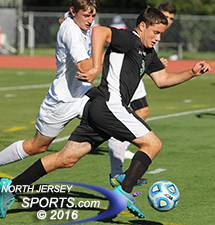 Ryan Miller scored twice, the second time with 13 minutes left, to give Pascack Valley a 2-1 win over Demarest.
DEMAREST – Pascack Valley made it all the way to the semifinals of the Bergen County Tournament last season and six of the players from that team are back for their third seasons as varsity starters. With that kind of resume and experience, it is safe to say that the Indians will not be sneaking up on any opponent this season. This season is going to be a hard slog through a grueling schedule filled with teams that would like nothing more than to make names for themselves by knocking off PV, one of a handful of favorites to with this year's county championship.
"We've talked about embracing that target on our back. We have to be ready for everybody because we are not going to be able to jump out of the weeds and surprise anybody," said Pascack Valley head coach Roy Nygren. "You have to stay focused and go out there and provide an effort game in and game out."

Coming off a game in which it got a late winner in a postseason atmosphere on Monday night in Old Tappan, Pascack Valley was looking for a sweep of the Northern Valley in a decidedly more subdued atmosphere on Demarest's home field on Thursday afternoon. It was a tester, especially without the services of Michael Lin, one of the most versatile scoring threats in North Jersey.
Lin is nursing a slight injury and should be back for the Indians' next game, but his absence left a hole up top that was filled by Ryan Miller, who scored one in each half, the second time on a volley in front of the net with 13 minutes to go in the game, to give Pascack Valley a 2-1 victory, its third straight to start the season.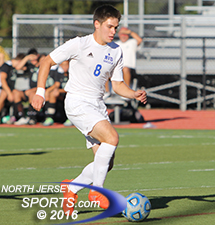 Jamie Gonzalez scored in the 56th minute to get Demarest all square at 1.
"We put one away early and maybe we kind of took our foot off the pedal a little bit thinking that we had the game won. Demarest kept playing, they tied us and we had to keep fighting," said Miller. "Without Michael [Lin] today and he is a key piece to our team, obviously, but our motto is, 'Next man up.' We rotated people in at forward and we did the best with what we had. It feels good to get this win. It was important."
Miller was a handful all game and he served notice early by getting on the end of a free kick struck by Jon Dinnell in the seventh minute. From about 40 yards out on the left, Dinnell's restart flew over the scrum in near the edge of the area and Miller, running in behind, got a head on it, but the redirect flew high of the mark.
Pascack Valley's high pressure created some chances and Miller finally turned one into a goal in the 16th minute. He forced a shaky clearance on the right side, picked up the loosed ball and used a burst to leave a defender behind his left shoulder. From a tough angle and on the dead run, Miller rolled one across the goal mouth with pace. The shot barely eluded the dive of Demarest keeper Robbie Cammalleri, who dove out to cut the angle, before the ball bounced off the inside of the far post and in to give the Indians a 1-0 lead.
Demarest does not have the kind of offensive threat that will take on three players on a 30-yard run and then finish, but what the Norsemen do have is a strong midfield that wins balls and tries to send a variety of players forward into space. After chasing the game for the first half of the first half, the Norsemen eventually found some holes and got dangerous.
Emilio Quevedo assisted on Pascack Valley's game-winning goal.
Sophomore Taylan Akdag was hustling in support of a run by Victor Souza when the ball found its way off a shin and backwards where Akdag was waiting to line up a rip. He hit it hard, but the shot finished on the outside of the left post and left the Norsemen trailing 1-0 at the break.
Demarest carried some momentum into the second half and forced Josh Ulin, Pascack Valley's standout keeper into action twice in the first 15 minutes. The Norsemen won their first corner kick of the game 10 minutes after the break and it was a good one by Serban Ionita. There was a pile of players waiting at the back post and one of them might have been able to head the service in, but Ulin made sure that none got the chance and he got up to push it up and over the scrum.
Three minutes later, Michael Suh got a head to Alex Croen's cross to force another Ulin save before some hustle finally got the Norsemen even in the 56th minute. Suh got involved in a challenge at the top of the area and knocked the ball free and into the path Jamie Gonzalez, who found himself in 1-v-1 against the keeper. Gonzalez chose the left side to even the score.
"These guys have been with me for a long time now, they have been through the program and they know that it takes one shot, it takes one tackle, it takes one 50-50 ball and we had that today," said Demarest head coach Dan Bautista. "We got to one 50-50 ball and got the game tied and that is what this team is all about."
But Pascack Valley (3-0) did not fold in the face of the new-found adversity. Nygren kept his rotation long; his players never panicked and found a way to pull out a win against a determined opponent on the road. The game-winner started with Carson Weiss' long through from the right, and continued with Nico Prospero and Emilio Quevedo keeping the ball moving in the air until Miller could volley it home from in front of the net.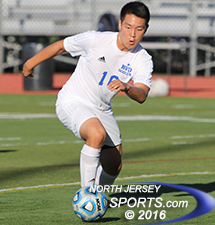 Senior Michael Suh set up the goal for Demarest, which fell to 1-2 on the season.
"This was a catch game for us and I knew it was going to be tough. Coming here on the away field against a Demarest team that always seems to battle and bring a lot of energy. They do enough to make it difficult and, coming off of Old Tappan, which was a great soccer game for September 12, to come here on a Thursday after school, this was set up perfectly for us to get picked off," said Nygren. "We couldn't find a way to separate, but there is something to said for our effort. Miller finds a way to get on the end of balls, there were two good head passes, and I do believe they were passes, to set up that last goal. It was a good bit of work and this is a nice win for us to keep things moving in the right direction."
The loss dropped Demarest to 1-2 on the season, but the Norsemen, against a schedule packed with many of North Jersey's best public school sides, knows that every game is going to be an 80-minute battle for a result. The Norsemen have lost to Tenafly and PV, two teams that were in the Bergen County Final 4 last season, they have a win over Teaneck and they will play rival Old Tappan, the defending North 1, Group 3 state sectional champion, the next time out.
"Today was another one of those games where we challenged one of the best teams in the county. We had them on their heels at certain points in the game and that is good for our fellas because they know they can compete," said Bautista. "We know it is a long season and we know what we have to do to get better."
CLICK HERE FOR MORE PHOTOS FROM THIS GAME. TO BUY A COLLECTOR'S PRINT OF THIS STORY, PLEASE VISIT 4FeetGrafix.com.