Wednesday, September 14, 2016
By Rich Barton
NJS.com Staff Writer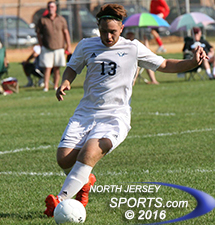 Luka Bojic got Wayne Valley on the board first and the Indians held on for their first win of the season, 2-1, over West Milford on Tuesday in Wayne.
WAYNE – After scoring just over a minute into the second half of its game against West Milford, Wayne Valley held a two-goal lead and was in complete control of the match. To the untrained eye it appeared that outcome of the match had already been decided, but Wayne Valley head coach Sam Roca knew that if his team started to relax that there was potential for trouble. That traouble nearly materialized as West Milford came storming back to make it interesting right until the final whistle.
Luka Bojic and Aymen El Kherchi scored the goals for Wayne Valley and goaltender Eric Lee made it stand up. He made a huge save and picked off a dangerous cross in the final five minutes as the Indians held on for their first win of the season with a 2-1 triumph over West Milford on Tuesday afternoon in Wayne.
Wayne Valley set the tone early with a goal in the fifth minute. Luke St. Denis sent a cross to an unmarked Bojic just inside the top of the box. He made a nice play to settle the ball on the short hop with his chest before bending a perfect volley into the upper right-hand corner for a 1-0 lead.
"I saw that I got away from the defender, I aimed for the upper 90 and was happy that it went that way," said Bojic. "It's always good to start the game strong and take control. I thought after the goal that we really dominated the first half."
Although they did not score a goal for the remainder of the half, the Indians dominated possession by winning nearly every 50-50 ball and using the width of the field to its advantage. That spilled over into the second half with the Indians quickly finding the back of the net. Center midfielder Brandon Vecere sent a through ball into space that El Kherchi used an overlapping run onto it with West Milford goalie Zack Licursi bearing down on him. El Kherchi got the ball first and slid a shot past the charging keeper into the lower left-hand corner to give Wayne Valley a 2-0 lead.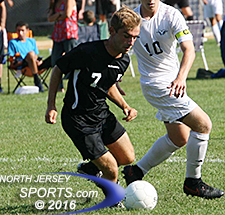 Marc Janisheski got West Milford back to within one goal with 29 minutes left.
"I usually like to pick out the bottom corners, especially when the opposing team has a tall goalkeeper," said El Kherchi. "Aiming for the bottom corner against a tall goalie gives it a better chance to go in. When I knew I was going to get to the ball first my thought was to go for that spot. I feel like we thought we had the game in hand but how the game ended showed that we still have a lot to work on."
It looked like Wayne Valley might run away with the match but the Highlanders were undaunted by the deficit. Dave Pagella made a hustle play to win a ball and then get past a defender before lofting a cross towards the back post. Marc Janisheski was all alone and volleyed it home to cut the deficit to 2-1 with 29 minutes remaining.
West Milford made one last push with three quality scoring opportunities in the final seven minutes. Pagella bent a shot just over a top corner in the 73rd minute. Two minutes later, Andrew Finke was in the clear and nearly ran onto a through ball in the box. Lee charged off of his line to meet Finke and the ball at the same time and cleared it out of harm's way. Then, with just over minute to play, Lee snatched a high cross to seal the victory.
"We dug ourselves a bit of a hole and almost climbed our way out of it," said West Milford head coach Ray Ferriola. "We were missing two of our captains and another starter today. I think it took us a while for us, especially the younger players, to get used to the physicality of the game. I thought we got used to the pace of play and started to get comfortable in the second half. It was a little too late today, but we'll learn from this game and it will help us grow for the future."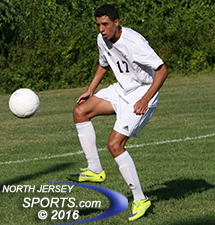 Aymen ElKherchi's goal early in the second half stood up as the game-winner for Wayne Valley.
Lee made three saves for Wayne Valley, which improved to 1-0-1 on the season. Licursi finished with six saves and sweeper Lucas Zamser was impressive making plays all over the field for West Milford (0-1-1).
Wayne Valley got out of this one with a much-needed 'W,' but to reach the lofty championship goals it set for itself, Roca knows his team needs to string together solid performances in all facets of the game to achieve them.
"If you're going to be a team that competes for championships, you have to put forth total effort and play a complete game," said Roca, who starred at Wayne Valley before playing at both the University of South Carolina and High Point University. "I'm happy we got the win but there are a lot of things we need to fix. It will have to be a quick fix being that we face Wayne Hills on Thursday night and then Passaic Valley on Saturday morning. We've been preaching ball possession and moving the ball. When we're on our game, we're a tough game. But when we get into a kickball type of game and get away from our strengths then it will be tough for us to be successful. It's something we'll continue to work on and hopefully we'll learn a lot from this game."
CLICK HERE FOR MORE PHOTOS FROM THIS GAME. TO BUY A COLLECTOR'S PRINT OF THIS STORY, PLEASE VISIT 4FeetGrafix.com.