Friday, September 9, 2016
By Rich Barton
NJS.com Staff Writer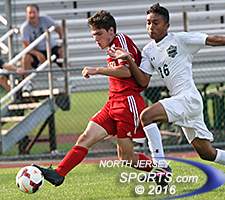 Matt Pierce opened the season with a hat trick for Lakeland, which rolled to a 4-1 win over Passaic Valley in Little Falls.
LITTLE FALLS – Last year, the talent was there for Lakeland but the execution up front was not. The Lancers were able to hang with most of their opponents, but they simply could not put the ball in the back of the net. Scoring just 27 goals in 19 games last fall, they struggled to a 5-12-2 season. With seven starters returning from that team now in their senior seasons, the expectations are much higher. All the Lancers needed was someone to step forward and become a true offensive threat up top; a role that Matt Pierce wasted no time in making his own.
Pierce scored just two minutes into the game and added two more in the second half for his first career hat trick to help Lakeland get its season off to a hot start with a 4-1 victory over Passaic Valley on Thursday afternoon in Little Falls.
Before the teams could even get the butterflies of an opening-day game out of their system the Lancers grabbed the lead. Pierce pounced on a defensive miscue in the back and scored for a 1-0 lead. Sophomore Hasson Klingen came off the bench later in the first half to make an immediate impact. After a hustle play by Pierce to win a 50-50 ball, he touched a ball off to Klingen, who hit a cracking shot past the charging PV keeper to make it 2-0.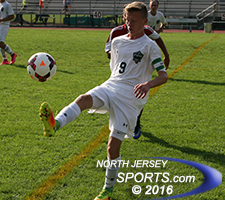 Zach Fitzgerald scored the lone goal for Passaic Valley.
"With the 4-3-3 formation, we wanted to keep (Passaic Valley) under pressure and we forced an early break that led to a goal," said Pierce. "I think we came into this season with more confidence and more experience. I think our chemistry has been great all pre-season and it carried over into today."
Lakeland was in control until one failed clearance at the worst possible time changed the complexion of the game, at least momentarily. Passaic Valley took advantage with Juan Patino feeding Zach Fitzgerald in front for a goal with a minute to play that cut the deficit to 2-1 and gave the Hornets some momentum heading into the second half.
Passaic Valley had a chance early to tie the game but Lakeland keeper Josh Schaffer came out to dive on a dangerous through ball. From there it was all Lancers with Pierce having a knack for being in the right place at the right time.
Less than 10 minutes into the second half, the senior striker got his foot on a bouncing ball in front and slipped it inside the far post to give Lakeland a little breathing room at 3-1.
"That goal before the end of the half gave them some momentum and we had to bounce back," added Pierce. "The important thing was that we still had the lead. I thought we stayed positive and stayed aggressive. We felt like if we kept attacking that we'd get back on track."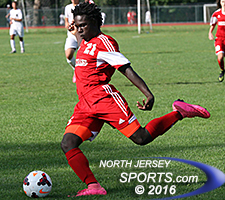 Sophomore Hasson Klingen came off the bench to score a goal for Lakeland.
He capped the hat trick with an outstanding individual effort. James Holm bombed a ball out of the defensive third that Pierce collected just past the midfield stripe. He raced past a defender before cutting back and splitting two other defenders before finishing it off by touching around the keeper and knocking the ball into the open net for the final 4-1 margin.
Schaffer made five saves to get the win in net for Lakeland (1-0). Passaic Valley (0-1) will have to wait until Monday to try to get back on track against another tough opponent in Wayne Hills.
Oddly enough, the last time Lakeland scored four goals in a game was the season-opening win last year (4-0 over Hawthorne). This senior-laden squad, though, feels that the offensive outburst will be more of the norm than an aberration.
"Scoring four goals in a game is just something we didn't do a year ago, but now see that we can actually do when we put 80 minutes together," said Lakeland head coach Don Peterfriend. "There are some things we need fix and we'll get it squared away. But with the weapons we have up front led by Pierce and the stability we have in the back, if our midfield can win balls and control possession I think we can have a huge turnaround this season."
CLICK HERE FOR MORE PHOTOS FROM THIS GAME. TO BUY A COLLECTOR'S PRINT OF THIS STORY, PLEASE VISIT 4FeetGrafix.com.