Friday, May 6, 2016
By Rich Barton
NJS.com Staff Writer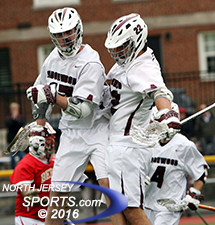 Dylan Peabody (left) celebrating one of his four goals as Ridgewood got past it old nemesis, Bergen Catholic, 11-9, in the Bergen County Tournament semis.
RIDGEWOOD – Having to watch a rival celebrate winning a county championship is about as sickening of a feeling that a high school athlete can have. As talented as the Ridgewood boys' lacrosse teams have been the past two years, they could only sit and watch Bergen Catholic hoist the Bergen County championship trophy. When the teams squared off for a third straight year in the Bergen County Tournament, the Ridgewood seniors knew that this was their last shot to get the past of the Crusaders.
Trailing by three goals, Ridgewood hit its stride late in the first half and never looked back. The top-seeded Maroons scored the final four goals of the first half and used a stern defensive effort in the second half to hold on for an 11-9 victory over No. 4 seeded Bergen Catholic on Thursday in the Bergen County semifinals at Ridgewood High School.
"This definitely feels good to beat a team like Bergen Catholic and get to another county final," said Ridgewood captain Cooper Telesco. "Everyone made contributions and we got big plays from everyone at certain times of the game. Our coaches did just a great job of preparing us for this game. We knew eventually that good things would start happening and things would click."
For the entire first quarter and into the second it was pattern similar to a heavyweight boxing match. Bergen Catholic delivered the first blow then Ridgewood would counter-punch. Three separate times the Crusaders took the lead only to watch the Maroons quickly tie the game back up.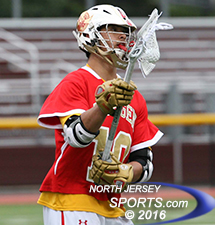 Jeremy Magno scored a team-high four goals for Bergen Catholic.
It looked the Crusaders seized control when Jeremy Magno drilled one home and Dwayne Mattichuk followed with a goal just 13 seconds later. Trevor Weingarten took advantage of a man-up situation with a goal to make it 6-3 and the Crusaders won the ensuing draw in what turned out to be a crisis moment for the Maroons. Falling any further behind BC might force them to change their style of play or start getting flustered. But a great check forced a BC player out-of-bounds and gave the ball back to Ridgewood. It was all the opening that was needed to take some much-needed momentum into halftime.
Kevin Mollihan scored on a pair of whistling shots off assists from Jack Kiernan to get the Maroons back within striking distance. Dylan Peabody took over late by scoring the tying goal with 1:17 left in the half and the go-ahead goal with just 21 seconds remaining as Ridgewood grabbed a 7-6 lead after a wild first half.
The Maroons used an offensive flurry to take the lead going into the second half, but if that lead was going to hold up it was going to come down to the Ridgewood back line doing the job of shutting down a powerful Crusader attack.
Fortunately, Ridgewood happens to have one of the best in long stick defensive-minded middie Brett Kennedy. After what he felt was a disappointing first half personally, the physical Kennedy was all over the field in the second half disrupting BC's offense at every turn.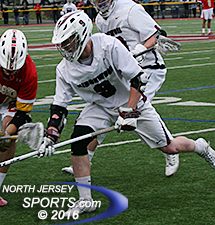 Brett Kennedy and the Ridgewood defense were tough in the second half.
"Our offense was doing a great job and as a defense as we had to pick up the slack," said Kennedy. "Our coaches challenged us to be better, even against one of the best offensive teams in the state. I thought we were more physical in the second half but we held our composure when we needed to. We needed a couple of big stands with a man down and we stuck together to do our part."
Magno was able to find enough room to get a shot through traffic that tied the game at 8. The Crusaders had a chance to go ahead but Kennedy forced a turnover and Ridgewood capitalized on it. Peabody stayed scorching hot with his fourth goal in less than 10-minute spanning the second and third quarters to give the Maroons the lead for good, 9-8.
It was still a one-goal lead into the fourth quarter when Kennedy made another great defensive play to force a turnover. Peabody scooped up the loose ball and the rush up the field ended with a goal by Mollihan to give Ridgewood a little breathing room, 10-8.
The Crusaders desperately tried to get back within a goal in the final minutes but the Maroons were up to the task. Goalie Ben Pounds made three huge saves in the final four minutes to help Ridgewood hold on for its customary berth in the Bergen County final.
Mollihan and Peabody each netted four goals to lead the way for Ridgewood (13-0). Telesco (who also had three assists), Kiernan, and Griffen Peene had the other goals. Pounds finished with six saves and Teddy Murphy had three. The Syracuse-bound Kennedy was the lynchpin defensively leading all players with four forced turnovers and scooping up seven ground balls.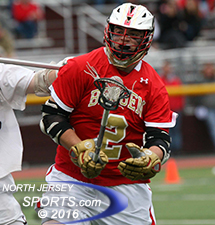 Frankie Feaster had a goal and an assist for Bergen Catholic, which fell to 9-6.
Magno scored a team-high four goals for Bergen Catholic (9-6). Weingarten, Mattichuk, and Frankie Feaster each added a goal and an assist. Goalie Matt DiScola stopped eight shots.
Ridgewood will face another familiar foe in the Bergen County final on Saturday. The Maroons will take on second-seeded Northern Highlands, who scored seven seconds into overtime to slip past Ramapo, 4-3, last night in the other BCT semifinal. That game will be played at Ridgewood High School with a 5:00 scheduled start time.
The two teams met three weeks ago with Ridgewood needing a late comeback to pull off a 9-8 win. The Maroons know as gratifying as it is to beat the team who has beaten them in each of the last two BCT finals, they know that without lifting the BCT trophy themselves that it is all for naught.
"We're enjoying this win but not for long, we're looking ahead to playing in another county final on Saturday," added Telesco. "This is a great accomplishment but now that we're past it we have to move forward. It's been awhile since Ridgewood has taken home a county championship and we're excited that we have another opportunity to take it home."
CLICK HERE FOR MORE PHOTOS FROM THIS GAME. TO BUY A COLLECTOR'S PRINT OF THIS STORY, PLEASE VISIT 4FeetGrafix.com.