Sunday, May 1, 2016
By Rich Barton
NJS.com Staff Writer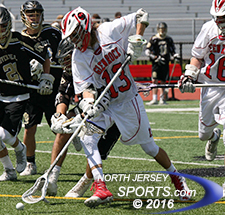 Rob Ray scored a goal and was a key to Glen Rock's defense and transition game as the Panthers topped River Dell, 9-4, in the opening round of the Bergen County Tournament on Saturday.
GLEN ROCK – When the current crop of seniors led by Max Egermeyer, Rob Ray, and Tommy Pulzello first stepped on the field as freshmen playing varsity their mission was simple: to put their stamp on the Glen Rock boys' lacrosse program and help make the Panthers a team to be reckoned with in Bergen County. After three long years, the Panthers are finally seeing their hard work pay off with a successful season. But to make headway into the upper echelon, the Panthers knew they had to win game in the county tournament.
Facing River Dell on Saturday, the Panthers wasted little time in making sure that their stay in the Bergen County Tournament was not short-lived.
Glen Rock put together a dominant first half with early goals from Justin Douenias, Egermeyer, and Ray setting the tone as the sixth-seeded Panthers led wire-to-wire to advance to the quarterfinals with a 9-4 first-round victory over No. 11 River Dell at Glen Rock High School.
"We got off to a great start by playing fast and playing smart," said Egermeyer. "They have a couple of guys who are really dangerous on the attack. The best defense for us is a good offense. The more we controlled the time of possession and the more patient we were, the better off we
were going to be."
The Panthers forced the pace early and caused five first-quarter turnovers. Justin Douenias turned an errant pass into an easy goal to get the Panthers on the board. Egermeyer took advantage of another turnover and knifed his way in close for another goal. As the long stick middie, Ray knows his job is not necessarily to be an offensive threat, but when the opportunity presented itself he proved he deserved the attention of opposing defenses. He got past a defender and whipped one inside the far post to make it 3-0 just 5:25 into game.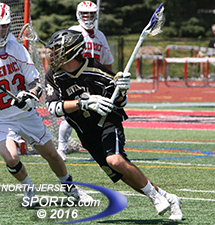 Matt Coppola, North Jersey's leading goal-scorer, netted twice for River Dell.
An unsung hero for the Panthers was Trevor Douenias. He won five of six draws in the first half to help give Glen Rock a whopping edge in time of possession during the first half. In addition to facilitating offensive opportunities, Trevor Douenias' ability to win faceoffs kept the ball off the stick of the leading scorer in North Jersey, River Dell's Matt Coppola.
Eric Spada scored from long-range late in the first quarter and again for the lone tally of the second quarter as Glen Rock held a commanding 5-0 lead at the half.
"I think we came out flat and we just turned the ball over too many times to get any momentum going," said River Dell head coach Matt Winchell. "Glen Rock is a solid team and you can't make the mistakes we made today. I think a positive is that we showed we can play with the better teams in the county, but to be successful you have to be able to do it for 48 minutes."
Nick Strico broke the long scoring drought with a shot through traffic to finally get River Dell on the scoreboard with 4:24 left in the third quarter. The Hawks started to gain momentum from there and got within three twice in the fourth quarter. Each time though, Egermeyer and Ray came up with big plays to keep the Hawks at bay.
Egermeyer scored a nice goal with 6:33 to play. Four minutes later, the Panthers scored the backbreaker. Ray forced a turnover and the fast break led to an assist by Egermeyer to Eamon Morley for an 8-4 lead.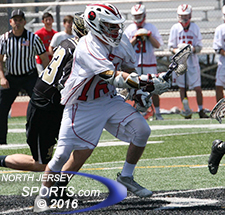 Trevor Douenias' ability to win face-offs gwas a huge factor in Glen Rock's hefty advantage in time of possession.
Goalie Mike Gallo came up with eight saves to earn the win for Glen Rock (9-3). Egermeyer netted four goals, scooped up two ground balls and added an assist. Ray and Pulzello anchored a stout defensive effort that held the Hawks, who averaged over 11 goals a game coming in, to a season-low four goals.
Coppola and Strico accounted for all four goals for River Dell (8-4) with two each. Alex Surhuel finished with 13 saves.
The Panthers are enjoying this win but are also looking ahead. Next up in the Bergen County quarterfinals is third-seeded Ramapo. A win there will give the Panthers the respect they feel they deserve.
"This is the first win anyone on this team has had in the county tournament so it's a big win," said Ray. "We don't overestimate or underestimate anyone. With a strong group of seniors like we have, we feel confident. We're finally putting full games of offense and defense together. If we can keep doing that, we'll be a dangerous team for the rest of this tournament."
CLICK HERE FOR MORE PHOTOS FROM THIS GAME. TO BUY A COLLECTOR'S PRINT OF THIS STORY, PLEASE VISIT 4FeetGrafix.com.