Tuesday, April 26, 2016
By Cory K. Doviak
NJS.com Editorial Director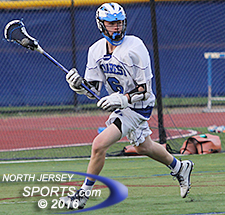 Henry Ferber, one of four seniors honored on Senior Night, had three goals in Demarest's 16-1 win over Bergen Tech.
DEMAREST – In the 11 year history of the Northern Valley/Demarest boys lacrosse program there have been on the other end of Senior Night celebrations. As it struggled to get up to pace in varsity lacrosse, Demarest was the kind of opponent that would provide the opportunity for the opposition to send its seniors out for a comfortable win in a celebratory atmosphere. Those days are officially long gone now and Monday night offered Demarest the chance to experience the other side of the festivities.
This year's Demarest side has already clinched the first league title in program history, it has won nine of its last 10 games and when the postgame buffet table was laid out with a full spread to honor its four seniors on Senior Night there were smiles all around after a comfortable 16-1 victory over Bergen Tech.
"It feels good to have a game like this on Senior Night, especially during this season. In the history of our lacrosse program we have never done this well. We are 9-2 and it is really an honor to be part of a senior class on such a good team," said Henry Ferber, one of the four members of the Class of 2016. "We started hot right from the beginning tonight and that was good. The last three games we started out kind of slow, getting behind teams that we should have been up on, so to get out fast right from the start and not have to worry about fighting back was nice."
Demarest took the lead for good 2:32 into the game when Travis Hinds picked off a pass in the middle of the field and drive straight toward goal. He walked in and opened the scoring and the Norsemen would add five more goals in the first period to go up 6-0 and doubled their lead by halftime. The 12-0 spread at the break meant a running clock for the duration of the second half.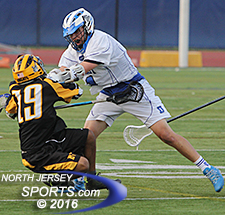 Mikey Herkert had a team-high 4 goals for Demarest, which improved to 9-2.
"The kids played great today and we are kind of rolling with some momentum right now. We won our first league title in school history, that has added to the excitement and we just have to keep it going," said Demarest head coach Tony Mottola. "The kids have bought into the program. They have bought in to playing together as a team and we have some very good young players that have contributed. When we beat P[ascack] V[alley], the overtime goal was by a freshman, Travis Hinds. We only have four seniors that are leaving us and we'll miss them, they have done great things, but we expect great things for the future, too."
The four seniors are Ferber, Mikey Herkert, Nick Kayserian and Liam McCabe and all four of them contributed against Bergen Tech. Herkert led Demarest with four goals and added three assists, Ferber notched three goals with three assists, McCabe won a couple of draws and Kayserian was a rock in the middle of the Demarest defense that did not give up a goal until there was just 8:31 remaining in the game and he wasn't even on the field when the shutout was broken up.
"It's nice for my senior year to be 9-2. That is the best record that we have ever had and in our league now we are the hunted instead of being the hunters," said Herkert, who is looking forward to Saturday's county tournament opener against Ramsey, a team that beat Demarest by two goals on opening day. "We are playing with confidence right now and we are looking forward to getting another shot at Ramsey. They are good, but that first game was one that we thought we could have won so we are definitely going to go in there thinking we have a good chance."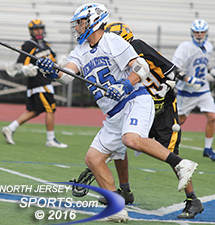 Nick Kayserian led a Demarest defense that did not give up a goal until midway through the fourth quarter.
Herkert and Ferber combined for seven of Demarest's 16 goals on Monday while four other players – Cole Hinds, Travis Hinds, Greg Derfus and Sean Jansson, who also had three assists -- chipped in with two apiece. Jonathan Zeiri had the other goal for the Norsemen, who held a whopping 45-14 advantage in ground balls controlled and a 14-3 edge in face-offs won. Pat Lee made three saves in the Demarest net before being replaced midway through the second half. Pantelis Paliovias had the goal for Bergen Tech and goaltender John Wiech made 14 saves on a busy day between the pipes.
So, now that the festivities are complete Demarest can fully turn its attention toward trying to the county tournament. Although official stats were not available on the sidelines after the game, it is probably safe to say that the Norsemen have never won a county tournament game but have more than a puncher's chance on Saturday in the 8/9 game.
"Ramsey is a good team and we are excited to go to their place and have another shot at them, but we also know that we have to play better than we did the first time," said Mottola. "You don't get a lot of second chances in life, but we are getting one in this situation and we feel lucky to have it and I hope we can take advantage of it."
CLICK HERE FOR MORE PHOTOS FROM THIS GAME. TO BUY A COLLECTOR'S PRINT OF THIS STORY, PLEASE VISIT 4FeetGrafix.com.