Tuesday, April 19, 2016
By Rich Barton
NJS.com Staff Writer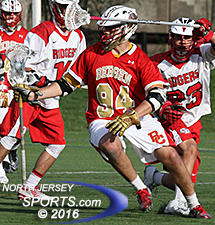 Trevor Weingarten had two goals and two assists for Bergen Catholic, which won its third straight game, 14-8 on Monday on the road at Glen Ridge.
BLOOMFIELD – Regardless of the personnel or the varsity experience marshaled by any particular group, the Bergen Catholic lacrosse team's expectations remain the same year in and year out and they include competing for county and state titles. This season did not get off to the kind of start that the Crusaders had hoped and frustration mounted during a five-game losing streak and a winless record in the always competitive Gibbs Division.
Facing perennial Group 1 power Glen Ridge, which has also struggled to a slow start this season, the Crusaders set the tone early with a much-needed offensive explosion.
Bergen Catholic scored seven first-quarter goals, three of them by Jeremy Magno, on just 10 shots in a wire-to-wire 14-8 victory over Glen Ridge on Monday at Watsessing Park in Bloomfield.
Coming off of a win over Lawrenceville to snap the losing skid, the Crusaders came out on a mission. They forced a normally composed Glen Ridge side into numerous first-quarter turnovers. Dwayne Mattichuk opened the scoring off of a turnover. Less than three minutes later, Magno scored twice off of turnovers less than 60 seconds apart for a quick 4-0 lead.
Nathaniel Johns got the Ridgers on the scoreboard but it did little to slow the Crusaders. Frankie Feaster, Magno, and Trevor Weingarten all scored in the final four minutes of the period to give Bergen Catholic a commanding 7-1 lead.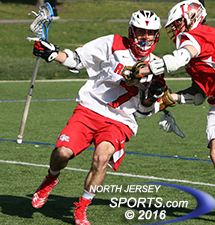 Chris Harris and Glen Ridge fell to 2-6 on the season.
"We knew that we had to dictate the overall flow of the game and push the tempo as much as we could," said Weingarten. "The Lawrenceville win gave us our confidence back. We had some nice plays early on and turned some ground balls into goals to get us going."
Glen Ridge bounced back by holding the Crusaders without a goal in the second quarter. Goals by Johns and Michael Faugno trimmed the lead to 7-3 by halftime. The Crusaders bumped the lead up seven after a strong third quarter where they dominated when it came to ground balls. Magno scored the first two goals of the quarter and Weingarten scored late to make it 11-4.
"They were playing zone and you can't push the issue against a tough zone," said Magno. "I thought we were really patient and because of that we got off quality shots. We trust the system, we moved the ball around and it all worked out."
Glen Ridge's Owen Gleeson bounced in a hard shot to cut the lead to five with just under seven minutes to play. The Crusaders responded with a quick burst to put the game away. They scored the next three goals with two of them coming from Shawn Fable for a 14-6 lead.
Magno led all players with five goals and an assist to cross the 100-point mark for his career. Weingarten had two goals and two assists while Mattichuk dished off a season-high three assist to go with a goal for Bergen Catholic (3-5). Johns led the way for Glen Ridge (2-6) with four goals.
With the rough patch now well in the rear-view mirror and the start of the Bergen County Tournament around the corner, the Crusaders are focused on getting back to their customary role as a team that can hot and become a champion.
"Early on in the season we showed our lack of experience and had some tough losses," added Weingarten. "We can't worry about our record. That's in the past. We're starting to mesh together and our chemistry has really grown over the last week. I think we're getting better every day and we're going to keep working hard for some big games coming up."
CLICK HERE FOR MORE PHOTOS FROM THIS GAME. TO BUY A COLLECTOR'S PRINT OF THIS STORY, PLEASE VISIT 4FeetGrafix.com.